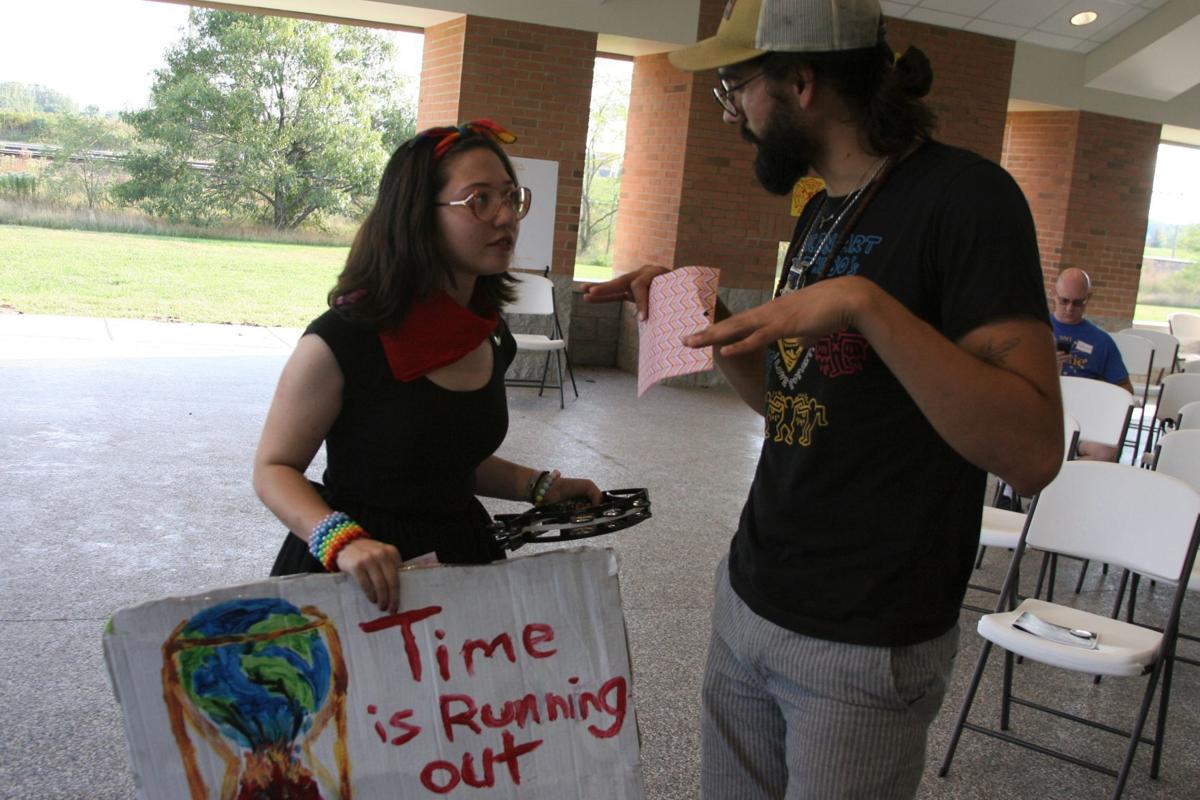 PORTAGE – "One, we are the youth." "Two, we are united." "Three, we demand climate justice for Mother Nature."
That was among the chants from youth and adults alike at the Global Climate Strike Friday at the new open-air pavilion.
The local rally was part of an international effort to demand transformative action regarding climate change. Friday's gathering came three days ahead of the United Nations Summit on Climate Change, when world leaders will convene in New York.
More than 6,000 people in 150 countries pledged to organize events Friday and during the following week. That includes 800 climate strikes across the U.S.
Carrying a sign that read, "Time is running out," Ethyl Ruehman, 19, of Portage, organized the rally.
"There is a presence and a desire for change in Northwest Indiana," said Ruehman, a student of sustainable public and environmental affairs at Indiana University Northwest. "The main thing is the victims of climate change and people affected by industry. It's not just about enforcing EPA rules, but strengthening them."
Ruehman recalled returning to her native country, the Philippines, and coughing up black soot due to diesel fuels.
Tamara Toles O'Laughlin, among the national organizers of these events, said, "We stand with communities demanding economic transformation that works for our collective right to a sustainable, healthy and livable future."
Friday's Climate Strike was an inter-generational effort involving youth and adults in communities across the country.
Bella Auricchio, 16, a Chesterton High School junior, is planning a student walkout for Sept. 27.
"We think it's important," Auricchio said. "We can have an impact on our future and our children's future. We need to take action and make a difference."
Roseanne Nabhan, of Portage, was among the adults at the rally.
"It's high time we acknowledge there is a problem and start caring for the environment," she said. "I'm highly alarmed by the toxic materials in our lakes and rivers."
The U.S. Youth Climate Strike, made up of eight national youth-led climate groups, demands transferring the economy to 100% clean, renewable energy by 2030 and phasing out all fossil fuel extractions, and to halt all leasing and permitting for fossil fuel extraction, processing and infrastructure.
Common fossil fuels include gasoline, alcohol and coal.
Other demands include respect of indigenous lands, environmental justice, implementation of sustainable agriculture and protection and restoration of biodiversity. Protesters seek to halt all deforestation by 2030.
Addressing an audience representing Porter, Lake and LaPorte counties, Dani Sipp, 15, of Gary, cited environmental racism in Northwest Indiana.
"The youth in Gary know this issue," she said. "They're taking a stand. We have a lot to say and a lot of work to do."
Marta Frank, 17, of East Chicago, cited the need to address environmental issues as a unified group.
"It just can't be us," Frank said. "The key is consistency. We can't just stop."