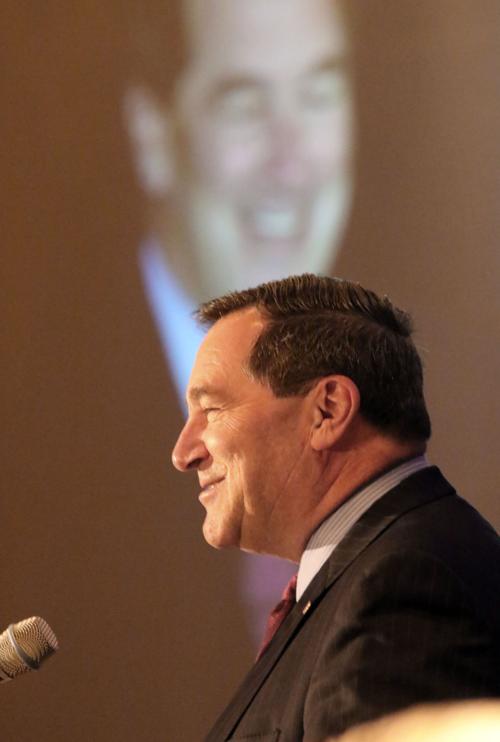 Sen. Joe Donnelly said a lot of complimentary things about Northwest Indiana last week and had a few choice words about Washington, D.C.
"We've built the infrastructure. It's in place. By being next to one of the greatest cities in the world, it's a sweet spot," Donnelly said at One Region's annual meeting last Thursday.
Donnelly, who was critical of Indiana's road and bridge conditions, noted Northwest Indiana's proximity as a key to its success.
"You put a circle around the region here, and within 300 miles, there's more people than anywhere else in the United States. So you want to locate your business here," he said.
Donnelly represented the 2nd Congressional District in the U.S. House of Representatives before he ran for Senate. That district included LaPorte County. Then the Indiana General Assembly changed the district boundaries following the 2010 Census to make Donnelly's district more Republican.
"I told the state Legislature if I can't represent LaPorte County in the House, I'll represent LaPorte County in the Senate," Donnelly said.
That sounds like a true Democrat. It set up a later point he made about the struggle to anoint a new Speaker of the House.
"There's a lot more wisdom in Northwest Indiana than in Washington, D.C.," he said.
He urged bipartisanship here and in the federal government.
"We weren't hired to help our party. We were hired to do what's right for the United States of America," he said.
That sound bite resonates, but what's he like when he gets back to Capitol Hill? A lot of our elected federal representatives say one thing in the district and another on Capitol Hill. Does Donnelly put that bipartisan rhetoric in practice?
Donnelly is a strong supporter of veterans. He has done oral histories for the Veterans History Project, just as I have done. I know how much time goes into it. And he does them personally; he doesn't just assign a staffer to do it.
He also has been pushing for years to reduce the number of military suicides. That's one of the best ways to help veterans I can think of.
The National Defense Appropriation Act was a typical partisan fight last week. Republicans added $38 billion more than permitted under the 2011 budget sequestration caps by reclassifying ordinary military spending as emergency overseas contingency funding.
U.S. Rep. Pete Visclosky, D-Ind., sits on the Defense Appropriations subcommittee and expresses anguish over the broken federal budget process because it continues spending without a serious review of what's needed, rather than what has been going on for years.
President Barack Obama threatened to veto the military budget this year, setting it up for a typical partisan vote in the Senate. Donnelly sided with the Republicans, rather than the Senate Democrats and the Democratic president, because the Republican legislation included his mission to reduce the number of military suicides.
So to those who wondered whether Donnelly practices what he preaches when it comes to bipartisanship, there's your answer.
Catch the latest in Opinion
Get opinion pieces, letters and editorials sent directly to your inbox weekly!