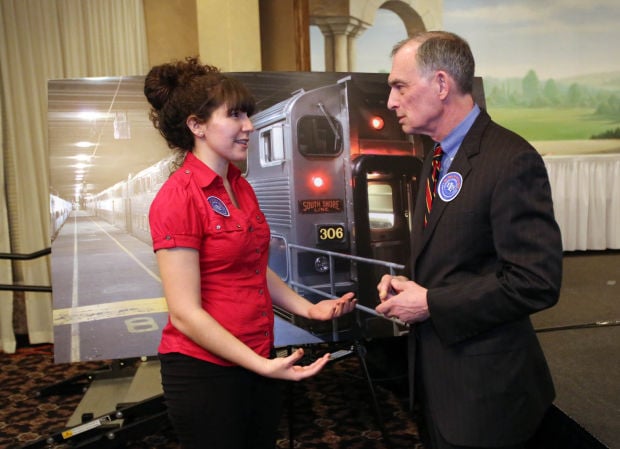 Two events this week show Northwest Indiana isn't satisfied with the status quo. It's moving forward, and everyone should get on board with these two movements.
On Monday, the new Emerging Leaders Network launched a big push to support expanding commuter rail service in Northwest Indiana. On Thursday, the region's Shared Ethics Advisory Commission held a breakfast to disseminate ethics pledges to existing municipalities and counties that are not yet members, and to candidates running for public office this year.
The emerging leaders want the South Shore Line extended to Dyer, creating construction jobs as early as next year and improving access to high-paying jobs in Chicago when the rail line is built.
"The way forward is connecting to the global powerhouse that is the Chicago economy," said Ben Bochnowski, of Peoples Bank.
"Expanding the South Shore is how we claim our place in that global economy," he said.
Bill Hanna, president and CEO of the Northwest Indiana Regional Development Authority, urged the region to "be the leaders that we were destined to be, standing next to one of the most powerful cities on the planet.
"Here we stand at the finish line, almost, of one of the biggest things that could happen in our time," Hanna said.
U.S. Rep. Pete Visclosky emphasized the need to invest in the next generation, the way previous generations invested in ours by building the Borman Expressway and other major investments.
The West Lake Corridor idea first surfaced in 1987. "A generation has passed since that first conversation took place," Visclosky said. 
The clock is ticking on Visclosky's March 31 deadline for local funding commitments. 
With the local match in place — the federal government pays half the cost — a train could be running on those new tracks nine years from now.
Visclosky singled out today's seventh-graders as being among the first to be able to commute to Chicago via rail, staying in Northwest Indiana instead of leaving home for greener pastures.
My son is a seventh-grader. His speech hit home for me. But it hits home for others, too. Lake County has nearly 7,200 seventh-graders. I hope their parents are listening, too.
This project wouldn't require new taxes, only a portion of the taxes already being collected.
There are a lot of naysayers, but I hope they're drowned out by people with vision.
The same is true of the Shared Ethics Advisory Commission's push for ethics training and awareness in local government.
The commission hosted former U.S. Rep. Lee Hamilton, who served on the House Standards of Official Conduct Committee, at its annual Ethics in Government breakfast meeting Thursday.
" 'At least he's not a convicted felon' does not sound like a high ethical standard to me," Hamilton said.
There are critics who say all politicians are crooks. They're wrong, of course. And there are politicians who say they don't need ethical guidance. They're wrong, too.
Both the South Shore extension and ethics-in-government movements must go forward. These are both vital quality-of-life issues for the region.