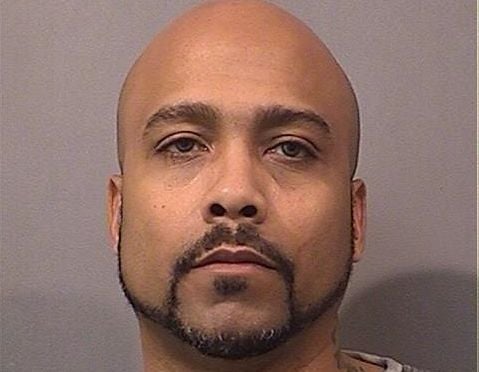 Lake County government sustained the most violent of black eyes recently, with sitting County Councilman Jamal Washington pleading guilty to battering his wife.
It's not the sort of thing one would expect anyone to celebrate.
Yet a day after the guilty plea, multiple Lake County officials say they were contacted by Washington to join him for drinks at a Merrillville restaurant to "celebrate" the reduction of his charges from felony to misdemeanor.
At least two of those officials told me they thought better of attending the gathering, noting it wasn't appropriate to raise a glass to an admission of domestic battery.
It's important to note Washington's plea to misdemeanor battery spared him a trial on felony strangulation and invasion of privacy charges. Under Indiana law, a felony conviction would have automatically removed Washington from public office.
Admitting to misdemeanor battery against his wife allowed him to hold on to his elected seat on Lake County government's fiscal body.
Washington told me the "informal" gathering wasn't to celebrate his guilty plea to lesser charges.
He said he viewed the gathering as "personal time" with a group of friends who were there for him during "the most difficult year" of his life as he faced the domestic violence charges.
Washington confirmed his criminal defense attorney Paul Stracci, Lake County Commissioner Mike Repay and Region building and trades union official Randy Palmateer were all in attendance.
I watched all of those men head into the Merrillville gathering Dec. 9, a week ago Friday evening.
Washington pleaded guilty to the misdemeanor battery charge Dec. 8.
It's impossible to know exactly how Washington cast this gathering as he invited friends to attend. I surely wasn't invited.
Palmateer said he invited other friends and business and political acquaintances. As far as he was concerned, the gathering had nothing to do with Washington's court case.
"It was a holiday gathering of 20 to 30 people," Palmateer said.
Washington was not the center of it, Palmateer stressed to me on the phone Friday.
Repay, who is one of three elected commissioners in Lake County's executive branch, did not return calls seeking comment about the gathering.
But three other officials said they were told the gathering was to toast Washington's reduction of charges. One of those officials even used the phrase "victory party."
Regardless of the gathering's true purpose, Washington should get used to this type of controversy following him around, perhaps for the remainder of his elected term and into the 2018 campaign if he opts to run for re-election.
A man can't stand in open court and admit to battering his wife without repercussions — both social and judicial.
In Washington's case, he can add potential political repercussions to the mix.
In a large way, this is why I — and other members of The Times Editorial Board — have implored Washington to resign.
The law gives him every right to hold on to his political office.
In doing so, however, he'll continue to drag the name of Lake County government and all "friends" around him through the proverbial mud by association.
And what of the example his guilty plea presents to others, especially young aspiring leaders?
A week ago, the example at the very least was plead guilty to battering your wife on Thursday and head out for holiday cocktails with your friends on Friday, with no loss of political stature.
Is this really what the voters of Lake County want or deserve?
Is it really something with which Jamal Washington's political "friends" want to be associated?
Perhaps it's time to ask Indiana legislators not so close to the matter to consider new laws allowing voters to recall leaders who do damage to their political stature — and sacrifice the faith of constituents — in such a manner.
Until then, as was stated in a previous Times editorial, county residents can and should be calling the Lake County Council office in Crown Point at (219) 755-3280 to voice their displeasure.
Even if Washington refuses to do the right thing, it's incumbent on anyone — who believes admitting to battering one's wife is a quality in contradiction of leadership — to demand it.