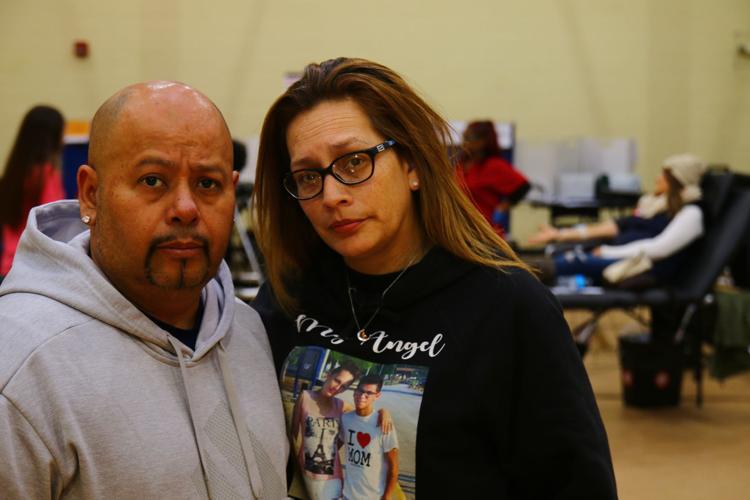 First it was the excruciating loss of her teenage son in a car crash caused by the boy's best friend, who at the time had marijuana in his system.
Then it was a long case against that friend, with each hearing or meeting with prosecutors forcing Hammond's Veronica Guerra to relive the day the light suddenly left the eyes of her son Mario, a kind and athletic teen with a promising future.
Follow it all up with disgraceful social media posts in which the responsible party, Michael Phillips, 19, flashed obscene hand gestures at a tattoo of her son's name, and Guerra had virtually no reason to find forgiveness in her heart.
Few parents among us would.
But Guerra and her family clearly have a goodness — a collective heart — far beyond what most human beings would be capable of exhibiting.
It's worth all of our time to get to know Guerra and her story. The compelling narrative shows a mother finding a way forward, wrapped in forgiveness and a desire to honor her son Mario's life while attempting to spare others from such loss.
The beginning of this lesson in great humanity, even in the face of unspeakable personal tragedy, was a single-car crash on Nov. 8, 2015.
Phillips, then 17, was driving east on U.S. 231 near Crown Point with passengers in his vehicle, including his friend since early childhood, Mario Arroyo Jr., of Valparaiso and Hammond, in the front seat.
A short way west of County Line Road, Phillips' car crossed the center line of the two-lane country road and hit a utility pole, injuring two people and killing Mario.
Mario's mother, Guerra, of Hammond, will never forget the call she received from Phillips' mother that Sunday afternoon, telling her there had been an accident involving the boys and that she should hurry to Franciscan Health hospital in Crown Point.
Mario was living with his dad in Valparaiso at the time, and the boys were on their way to Hebron and then Valpo so Mario could go home and get ready for school the next day, Guerra told me.
The entire drive from Hammond to Crown Point, Guerra kept trying to call Mario to check on him. Though a feeling in the pit of her stomach hinted at the worst, she did not yet know he was gone.
That news came in the Franciscan ER, bringing a then sobbing Guerra to her knees.
The car the teens had been traveling in hit a utility pole with enough force to shear the pole in half, Guerra learned, and caused a widespread power outage.
It's believed Mario died on impact.
It was the only semblance of positive Guerra said she could glean from the tragedy.
"At least I know he didn't suffer on that road," she told me last week. "He wasn't lying in pain in the car, with none of the family who loved him around him."
That detail was small solace for the life cut short of a caring brother, son and multiple-sport athlete who had aspirations of attending Vanderbilt University.
This tragic reality set the stage for some of the ugliest and then incredibly benevolent examples of the human condition.
Phillips, now 19, would be charged with reckless homicide in the case.
Last month, he pleaded guilty to the charge, one for which many parents among us would vehemently be calling for prison time.
Instead, Mario's family met prosecutors and Phillips' defense attorney, recommending a plea deal that would prescribe four years of probation for Phillips.
There are meaningful strings attached to this benevolence.
During each of the four years of probation, Phillips must visit and give presentations to students in at least three schools per year.
Keep reading for FREE!
Enjoy more articles by signing up or logging in. No credit card required.
Phillips, who declined an interview with me, will have to talk to students about the choices he made and accident he caused that ended Mario's life.
In 2018, the first year of this requirement, Phillips will have to deliver presentations to three public schools Mario attended while living in Hammond.
"A big part of this is Michael (Phillips) taking ownership of what happened here," said Lake County Deputy Prosecutor Nadia Wardrip, who helped broker the deal.
Wardrip said it's a unique sentence and solution not before tried in Lake County.
And it was made possible, in no small part, thanks to the heart of Mario's family, Wardrip said.
Phillips' defense attorney Matthew Fech agrees.
"I have nothing but the utmost respect for Mario's mother and family for being part of the resolution in this case," said Fech, who vowed to accompany Phillips to every school presentation to ensure he stays on point. "This was a very heroic thing on their parts."
The heart shown by Mario's family becomes even more pronounced when considering the defendant's actions ahead of his sentencing hearing earlier this month.
Guerra admits to being filled with anger and renewed heartbreak when a social media photo of Phillips was recently brought to her attention.
"There were other posts, too, through the process of this case," Guerra said. "In one case, I had posted thank-yous to supporters who showed us kindness after Mario died."
On those same Facebook posts, Phillips responded with a "laughing face" icon, she said.
In other posts, Phillips blamed Mario for not wearing a seat belt, Guerra added.
But the worst — a post that left a sick feeling in her stomach — was an Instagram photo posted shortly before sentencing that depicted the obscene hand gesture in the direction of Mario's name.
The photo, which was provided to the Lake County judge overseeing Phillips' sentencing, shows the teen flashing a vulgar hand gesture at Mario's name, which is tattooed on one of Phillips' arms.
Defense attorney Fech makes no excuses for his client's clearly deplorable social media behavior.
"He reacted immaturely," Fech said. "I confronted my client and told him it was time to grow up. He has accepted responsibility for the death of his best friend, and we're moving forward."
They're doing so, thanks in no small way, to Guerra and her family.
Guerra and Mario's other relatives could have advocated for harsh prosecution from the start — and certainly could have advocated against the prison-less plea deal, particularly in light of Phillips' social media behavior.
Instead, Guerra said she continues to see purpose in the probationary requirements of Phillips speaking to other youth, hoping to prevent similar tragedies.
It's not the only way Guerra continues to seek meaning and benefits for others in the wake of her family's personal tragedy.
When I interviewed her Jan. 12, it was from a Red Cross blood drive organized in Mario's honor at Hammond Academy of Science and Technology, where Mario was once a student.
Dozens of people attended the drive that day, donating blood to help save lives.
Mario also was an organ donor. Guerra said her family learned the teen's corneas and tendons have helped other patients in need.
"He wanted to make a difference," Guerra said. "He is making that difference."
So is the family Mario left behind, showing us all that the most punitive measures aren't always the best or most meaningful resolutions to personal tragedy.