The parents among us know the sweet exhilaration of our children's victories.
First steps, first words, Little League base hits and stellar report cards give all proud parents a vicarious winning rush.
For Valparaiso mother Sara Whitcomb, a somber triumph came in what most of us would consider stark tragedy when her 14-month-old son, Liam, drew his last breath.
The ravaging effects of childhood cancer had robbed Liam of his winning smile and the radiating light from the gaze of his entrancing blue eyes. Sara couldn't save her little boy. His suffering — and a lack of cures to take it all away — left a kind of hopelessness that only death could reconcile.
"It's as if the death was a victory," Whitcomb told me recently, recounting the pain of Liam's cancer-shortened life.
Nearly all parents I've met who've lost young children to cancer were forced to this same excruciating conclusion.
No parent should ever have to see victory in their child's death. No child should ever have to know the pain of cancer.
These are the driving reasons why I'm raising money for childhood cancer research through the St. Baldrick's Foundation. On March 12, for the second time in two years, I'll shave my head and beard-gone-wild along with other Baldrick's participants in Merrillville.
Visit the web link attached to this column to donate to this effort online. We need the help of generous Times readers.
Today, I'm introducing you to three children whose memories I will honor next month as a razor and clippers shave my head and face clean. I hope their stories inspire you to help if you can.
It's one of Sara Whitcomb's happiest memories.
Clad in a gray T-shirt and plaid shorts, Liam raised little hands in ecstasy while playing in the sands of Michigan City's Washington Park Beach, his name scrawled in giant sandy letters in front of him.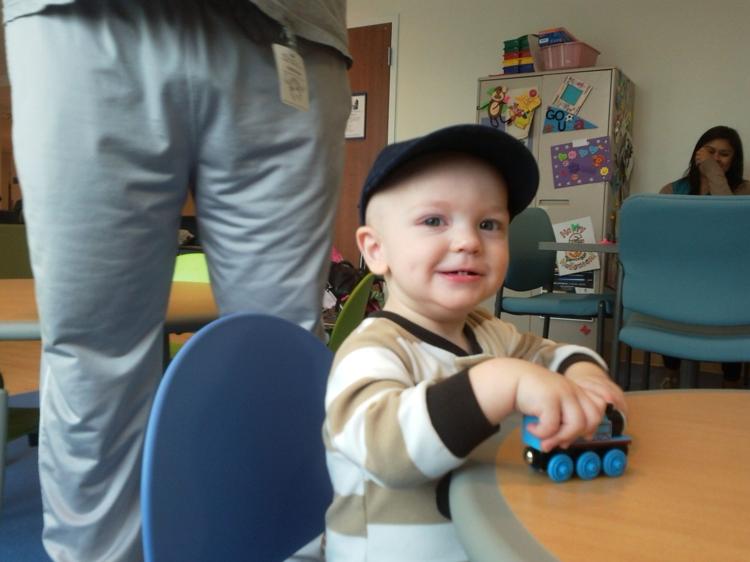 A photo of the memory reveals the intoxicating eyes of a toddler known for his ability to hold eye contact with a stare of deep blue.
It's one of the happiest memories before an extremely rare form of kidney cancer, which caused regular gastrointestinal struggles and required arduous chemotherapy and radiation, killed Liam in early 2013, two months after his first birthday.
Liam was born Oct. 28, 2011, 10 days before his expected due date, Whitcomb recalls.
"As fate would have it, he had to get on with things," she said.
On Jan. 4, 2013, Whitcomb and her family said goodbye to a little boy whose body and bright personality had faded to the likes of cancer.
Liam left behind a sister, Emily, now 7, who had to say goodbye to her brother and playmate when she was 3.
Death was the only solution beyond the morphine injections to control Liam's pain. It was the only way to beat cancer's suffering blows on such a little body, short of true cure.
Stephanie Shelbourne, of Griffith, remembers her 3-year-old son, Adler, folding his arms behind his head and exhaling in a sort of resigned relief.
Adler was happy to be headed home and not back to the hospital for yet another round of cancer treatment.
At the end of a brutal struggle with brain cancer, Adler was returning home to die with a definite sort of peace.
His treasured toy fire trucks and Thomas train sets awaited his final days. He'd be able to cuddle with his beloved dog and spend time with the people he loved.
Keep reading for FREE!
Enjoy more articles by signing up or logging in. No credit card required.
Adler's battle with cancer began with headaches, nausea and vomiting and led to months of intense surgeries and cancer treatments at children's hospitals in Indianapolis and Chicago.
"He was so scarred and beaten toward the end," Shelbourne said. "He hated going back to the hospital — being picked at, poked and prodded."
Adler died Sept. 10, 2012, while on home hospice care.
In the end, cancer instilled a sort of wisdom in a dying boy — that it was OK, comforting even, to let go.
Her picture is enough to melt the hardest of hearts.
Valparaiso's Miranda Jackson — a 2-year-old with pigtails and cherub cheeks — had a penchant for pacifiers and a smile that persisted, even when cancer took the pigtails and her childhood.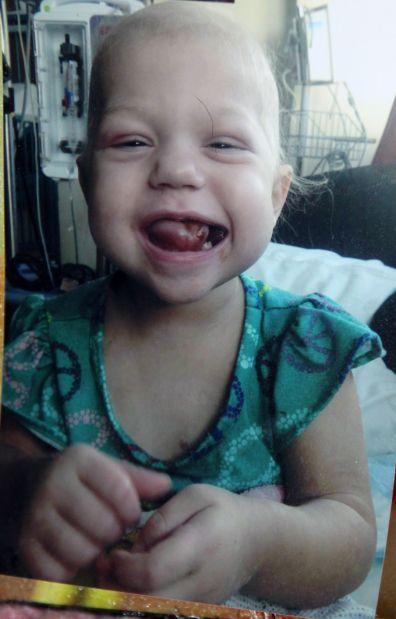 Miranda was first diagnosed with acute myeloid leukemia when she was a mere 4 months old.
But after about 100 days in University of Chicago Comer Children's Hospital and five rounds of chemotherapy, her cancer went into remission. She seemed to be on the road to recovery, her parents recalled.
Then came a family vacation in July 2012. Miranda, then 2, developed a high fever near the end of the trip.
Blood samples taken when they arrived home confirmed the cancer was back.
Back came the chemotherapy treatments and hospital stays. Only this time, with an ever-weakened immune system, Miranda also caught a rare mold infection.
By mid-October, the end clearly was approaching.
Miranda's parents decided leaving the hospital for home hospice care was in the little girl's best interest.
On Oct. 30, 2012, in a home adorned with Halloween decorations donated by County Line Orchard, Miranda died.
Liam, Adler and Miranda all suffered the fate of far too many children whose lives are cut short by cancer. As a society, we can't let their deaths be the final chapter in this struggle.
Childhood cancer is one of the leading causes of youth death in our nation and Region.
Cancer ranks as the fourth-leading cause of child death in Northwest Indiana, having killed at least 75 Lake, Porter and LaPorte county youths between 1999 and 2010, Centers for Disease Control and Prevention data show.
In far too many cases, it reduces the light of joyful children to the darkness of suffering and eventual death.
Liam, Adler and Miranda all went through dramatic transformations in both appearance and will.
In a small way, shaving my head and beard during the March 12 St. Baldrick's Foundation event will represent that transformation. I've been growing both for more than a month for the occasion.
But the only way to make it truly mean something is through donations to continue exhaustive research toward childhood cancer cures.
I hope you'll remember the precious lives at stake and donate to a worthy cause.
No parent should ever be forced to accept any measure of victory in the cancer death of a suffering child.