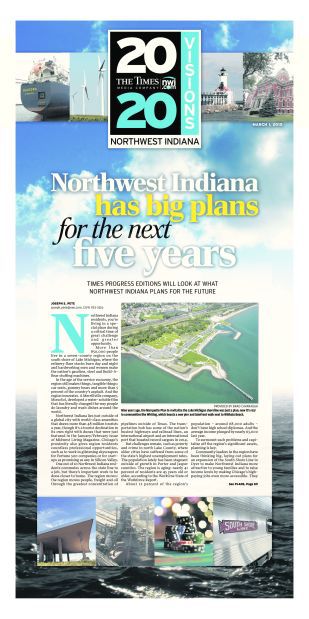 Over the previous four Sundays, The Times presented a 228-page special report on the future of Northwest Indiana. You can find it online at nwi.com/2020.
Community and regional leaders were asked to give their five-year vision for their community or for the region. The specifics might differ, but there are some common themes.
Accentuate the positives. It's easy to be so focused on what needs to be improved that you miss what should be celebrated. Don't forget we're fortunate to have not only proximity to Lake Michigan, but also public access. And that access has been improving in recent years. We're making progress in improving the quality of life. We have great community theater and other performing arts, too. The arts scene in Northwest Indiana is vibrant. We have proximity to Chicago, with all of its attractions, without having to pay the sky-high taxes Illinois residents, particularly those in the city, have to endure. We have leaders who are planning a brighter future for Northwest Indiana, doing everything from planning transportation improvements to improving the quality of education to making sure future generations remember the past.
Come together. In unity there is strength. Whether it's working together on regional planning to building public-private partnerships to government consolidation to simply agreeing to listen to other views, the importance of regional cooperation cannot be overemphasized. When Gary residents were in trouble a year ago, Portage Mayor James Snyder dispatched some of his city's snowplows to Gary. It was the neighborly thing to do. We need more cooperation in the region.
Build a vision, then make it a reality. Valparaiso Mayor Jon Costas deserves credit for developing a vision for the city before his first mayoral campaign. It was, in effect, a business plan presented to the city's investors – its voters and taxpayers. The Northwestern Indiana Regional Planning Commission has won awards for its 2040 comprehensive plan, which was crafted with the input of hundreds of region residents. It is a good model to follow. Each municipality, each government agency, each county, each piece of the region needs a vision and a plan.
Lead, follow or get out of the way. This incorporates the three previous points. Northwest Indiana needs to build new leaders. There are a number of programs in place to achieve this orderly transition of power. But the leaders, and everyone else, must work together. Too often, Northwest Indiana has been accused of balkanization, of infighting that harms the region's reputation and its chances for assistance. Negative thinking won't help. Constructive criticism will.
Working together, we can bring a brighter future to Northwest Indiana. Let's make those 2020 visions a reality.
Catch the latest in Opinion
Get opinion pieces, letters and editorials sent directly to your inbox weekly!