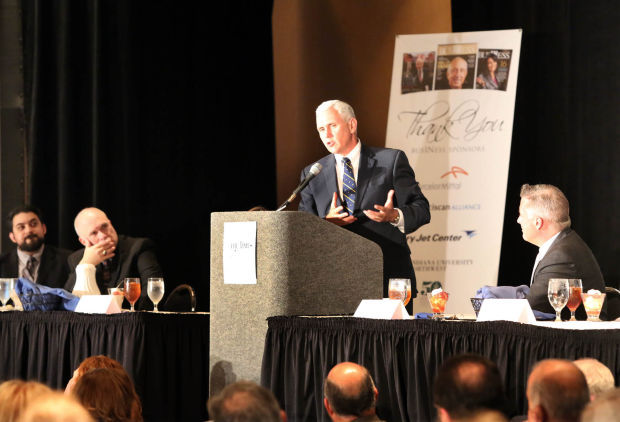 Five individuals are to be honored today at the Business and Industry Hall of Fame induction ceremony in Merrillville. They are among many heroes who are, and should be, recognized for their service to their community and their region.
Beth Wrobel is CEO of HealthLinc, a federally qualified health center breaking down barriers to care. She serves a variety of boards. She is on the Valparaiso Human Relations Council and is president-elect of the Rotary Club of Valparaiso.
Michael Schrage is president, CEO and board chairman of Centier Bank, one of the largest independently owned and operated banks in the Midwest. Schrage has served on a number of boards as well.
Richard Schepel is president of Schepel Buick-GMC. He has received numerous accolades for customer service, a primary focus for his business. Schepel, who has been heavily involved in his church, has helped many needy individuals and families. For years, he was a member of the Board of Directors of the Bible League International, visiting many of the countries where the League distributes bibles, and contributing his time, effort and financial resources to its mission.
Roy Berlin is president of Berlin Metals, a steel service center in Hammond. He is active in the Metal Service Institute Center, a national trade association.
Joe Coar is former vice president of operations at Tonn and Blank Construction. He is being given the Partners in Progress award, given to a business person who has made exemplary regional progress.
What all of these individuals have in common isn't just their business successes, but also their community service and philanthropy.
The South Shore Leadership Center is honoring 14 "Leaders as Heroes" later this week.
Those honorees include Scott Angel, a State Farm agent; Geoff Benson, Dunes Learning Center executive director; Scott Bourell, Crown Point first class patrolman; O'Merrial Butchee, Ivy Tech Center for Innovation director; Dion Campbell, Michigan City police resource officer; Richard Christakes, Alsip Nursery CEO; Tiffani English, First Tee executive director; John Hoeck, Belstra Milling Co. vice president of pig production; Greg Mance, Griffith police chief; Marcus Martin, Grace Beyond Borders founder; Alicia Nunn, Arise founder; Kimberly Smith, Early Learning Partnership executive director; Tyrone Spann, Foundations of East Chicago director of programming; and Michael Sutton, Liberty Bible Church pastor.
"These individuals are committed to their work, and most importantly, to making a difference in our region," South Shore Leadership Center President and CEO Keith Kirkpatrick said.
The same consideration is given to inductees of the South Shore Wall of Legends, for example. It's not enough to achieve career success. Service to the community is expected, too.
Special recognition must go to individuals who take time out of their busy lives to improve the quality of life for others, whether it's serving on a board or mentoring a young person. Credit must also go to their employers, who allow this time away from the job in recognition of the value to the greater good.
This is what makes Northwest Indiana a better place to live.