CEDAR LAKE — The Hanover Community School Corp. is the latest district lending its voice to bus safety advocacy.
This month, portable billboards will be going up across the district reminding drivers, "DON'T PASS THE FLASH."
The distinctive signage, featuring the image of a Hanover kindergarten student unboarding a bus, is set to be posted in several of the school corporation's busiest areas, including 133rd Avenue and Osborne Street, and U.S. 41 near Corky's Dogg House restaurant.
Hanover transportation coordinator Bryan Fuller said he worked with Cedar Lake police and district bus drivers to identify bus arm violation "hot spots," to target with the new signs. Increased patrols also will be assigned to these locations, Hanover Superintendent Mary Tracy-MacAulay said.
"We have violations occur daily across the district," Tracy-MacAulay said. "This is about preventing an accident and saving a child's life."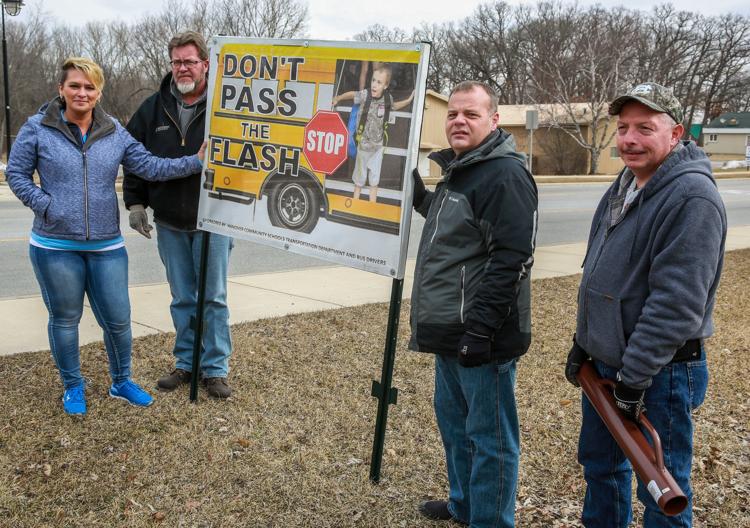 The portable billboard campaign is just the latest in Hanover's multipronged approach to addressing bus safety following the October 2018 death of three Rochester, Indiana, students unboarding their Tippecanoe Valley School Corp. bus on a rural highway.
Last month the district produced a "Hanover Hazard Initiative" video encouraging drivers to not only stop when they notice a bus stop arm extend, but also to turn on their blinking hazard lights to alert other drivers around them that a bus is coming to a stop.
"It's to give extra awareness," Fuller said. "It's taking that extra step that would make others stop and think, and make others behind you more aware of what's going on."
Both initiatives are an attempt to tackle what Fuller said is needed most today in bus safety: public education.
Fuller said the district works hard to educate its students and bus drivers about road safety — encouraging students to stay alert, to remove earbuds and other distractions when crossing in front of a bus, and to always look to make sure a bus driver has signaled their crossing before leaving the bus.
Now, Fuller's working to share that message with drivers, some of which seem to be increasingly in a rush and distracted themselves.
"You just have to always be cautious when you're around, or when you see, children," Fuller said. "Kids could drop something, run around to grab it and not look. You just expect that children are going to go their own way and do their own thing."
The "DON'T PASS THE FLASH" banners are being posted across the district with the support of community partners who volunteered their yards for use of the signs.
Fuller said he hopes to keep the message fresh by moving the signs every few weeks as the district gains approval for new locations. He said beyond targeting problem areas with heightened violations, the school corporation is looking to post its banners in highly trafficked areas to reach more drivers.
"If I could, I would plaster it all up and down 41," Fuller said. "That seems to be the worst area."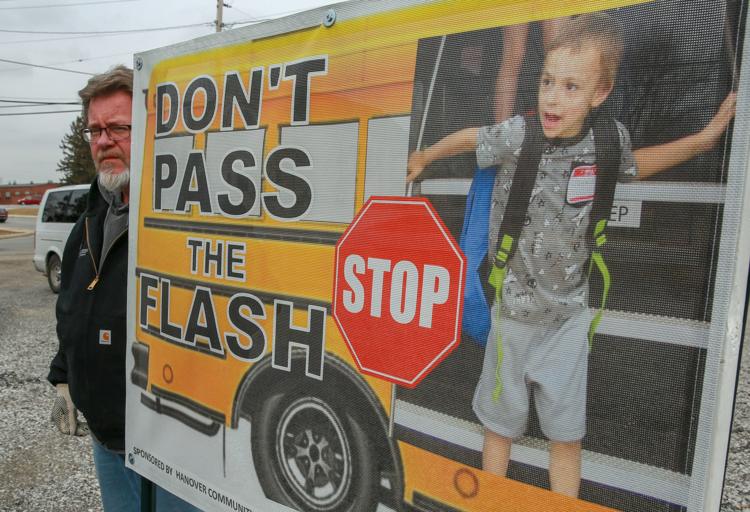 Implementing new technology
The cameras, which can in some models capture vehicle traffic passing up to four lanes away, help already busy bus drivers capture valuable information needed to turn over to police to make a reliable case against offending motorists.
Hanover began testing its first model camera mounted by the bus' stop arm in November, but Fuller said the camera didn't yield the results he expected. The district continued with testing a second camera system last week. This one — mounting three cameras to the top front, top rear and passenger side of the bus — has provided a clearer image with more angles of passing vehicles, he said.
A clear image is vital in helping drivers file a robust police report with the vehicle and driver description, and license plate number needed to prove a violation has occurred — a task Fuller said is nearly impossible for drivers to note without the help of a camera.
"It's very difficult for drivers to get that, depending on the speed they're going and the direction they're going, because their focus is on the students," the transportation coordinator said.
Hanover is currently running its demo cameras on one of its designated "hot spot" routes where Fuller said violations regularly occur. Equipping a single bus with a camera system can cost as much as $3,000. Fuller said his department will test a third system before asking the Hanover school board to support a roll-out of the cameras for every bus in the district's fleet.
"There's nothing in life worth risking and hurting the life of a child because you disobeyed a stop arm," Fuller said. "It only takes a second to change your life or some else's life."
Be the first to know
Get local news delivered to your inbox!