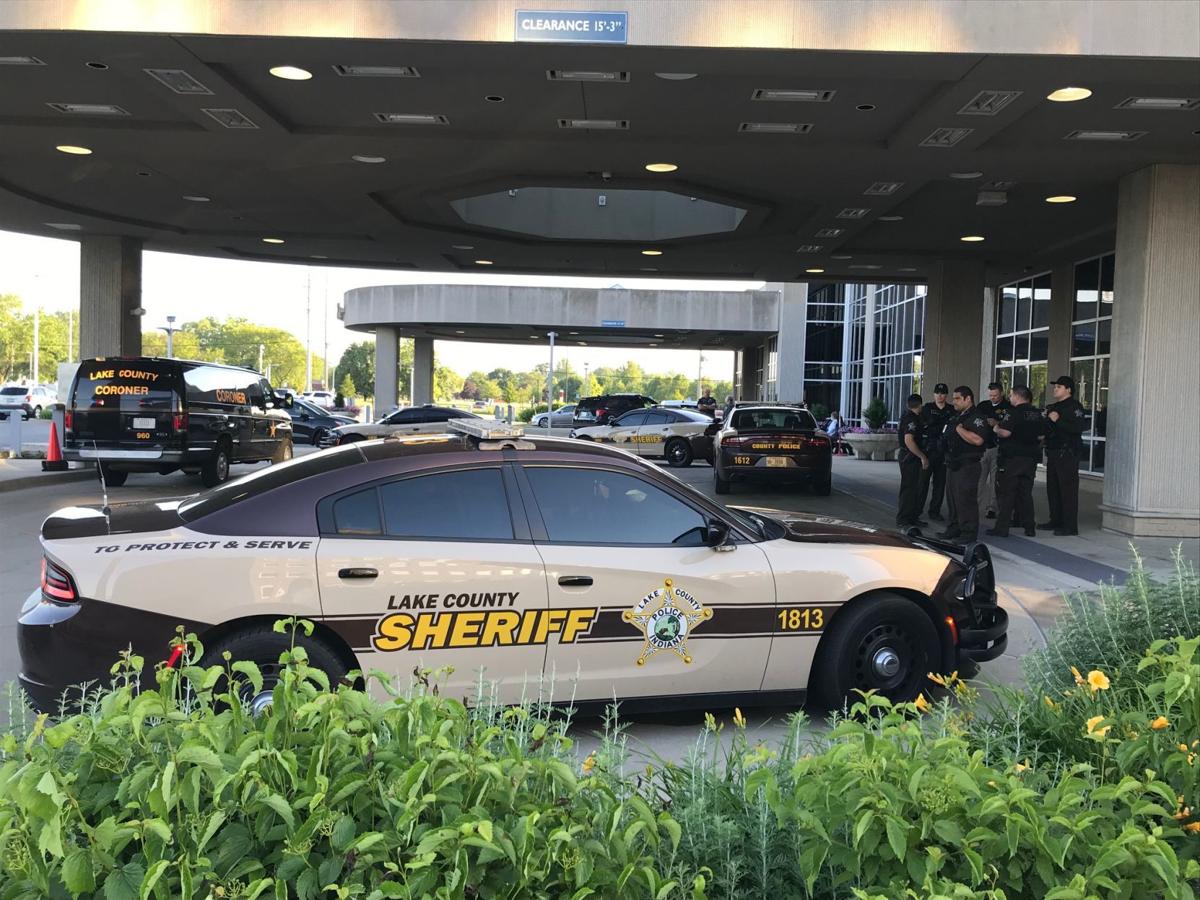 MUNSTER — Retired Lake County cop Ryan Askew begged his partner to shoot as a psychiatric patient, who had just beaten a nurse, choked Askew to near unconsciousness inside a Munster hospital early Tuesday morning, prosecutors said.
In the middle of the violent struggle, Benny Freeman, another retired Lake County cop who was working security with Askew at Munster's Community Hospital, opened fire, Lake County Prosecutor Bernard Carter said.
The rounds ultimately killed both Askew and the psychiatric patient, Jamal Williams, 22, of Lansing, Carter said.
It began about 1:15 a.m. Tuesday when personnel at Community Hospital, located on Calumet Avenue, alerted security that a psychiatric patient was threatening staff, Carter said.
When security responded to the area of the hospital in question, the patient, later identified as Williams, grabbed and began assaulting a nurse in the room, holding the nurse while striking her in the head, Carter said.
Retired Lake County police Officer Askew, 59, then tried to intervene but was overpowered by Williams, who began choking and assaulting Askew, prosecutors said. Williams was described by authorities as standing at 6 feet, 5 inches tall and weighing 300 pounds.
Contrary to earlier police reports that Williams had loosened Askew's gun from its holster, Williams never gained control of or fired the weapon, Carter said.
Instead, Askew reportedly told fellow hospital security guard and retired Lake County Officer Freeman to shoot Williams, who was choking Askew to a state of near unconsciousness, Carter said.
Freeman fired shots, striking Williams in the head and Askew in the arm and chest, Carter said.
Both Williams and Askew died from their wounds, and Freeman was hospitalized following the incident with an undisclosed condition, Carter said.
The condition of the nurse who was assaulted was unknown Tuesday afternoon, Carter said.
"I'm told he was beating the nurse pretty badly," Lake County Sheriff Oscar Martinez told The Times about 6:40 a.m.
The sheriff said his department remained in shock Tuesday that one of their own retired officers was gone.
"I knew the dead officer and know the other one personally, and they're great guys," Martinez said. "As a young officer myself, I trained under these guys as a rookie. This is just shocking. Our whole department will be suffering from this loss."
Freeman, who reportedly fired the fatal shots, is a former jail warden, Lake County SWAT team member and previously served as the sheriff's department's sharpshooter and sniper.
A heavy police presence remained at the hospital just before 7 a.m. Tuesday, with a row of about 10 Lake County sheriff's police squads in front of the facility, located on Calumet Avenue.
Munster police were conducting an investigation Tuesday with assistance from the Northwest Indiana Major Crimes Task Force.
The Times' Sarah Reese contributed to this report.
Check back later at nwi.com for further updates.
Be the first to know
Get local news delivered to your inbox!