As cash-strapped public schools increasingly turn to taxpayers for funding, education foundations are working to fill the gap in classroom services.
Historically, these nonprofit organizations have helped fund students scholarships and teacher grants, but today they're taking on more creative roles.
A first for any Northwest Indiana area director, Joshua Long, executive director of the Hammond Education Foundation, began his tenure this month as president of the Indiana Association of Public Education Foundations, providing support, resources and networking opportunities for more than 60 organizations across the state.
Long joined the Hammond Education Foundation four years ago, spearheading the foundation's Blueprint initiative to bring college readiness courses to each of the district's high schools. Long sat down with The Times recently to talk about the role of public education foundations at the state and local level.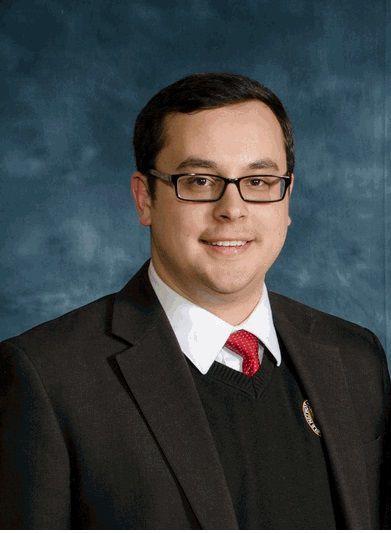 Q: "There are a lot of options for education today. Why should parents choose public schools?"
A: "There's something really special about going to your public high school and having that community support. For me going to Griffith and playing baseball, it meant a whole lot for a crowd from the community to watch you and it built up my self-confidence. It really meant a lot for the teachers in my school, for them to be living nearby, so in that sense, in my opinion, there's always going to be something better about going to school in the community that you're in for the exact reason that there is a community that's around you. Some schools are better than others, so instead of answering 'Why public education?' what I would say to a community is 'Be the reason a parent should choose to go to that community school. Build that community around the school.'"
Q: "What do you see being some of the biggest challenges in public education today?"
A: "No. 1, being a former teacher myself, we don't pay teachers enough, at all. That's real simple. One of the big things is we have a lot of women in education and maternity leave sucks for teachers. Teachers, who are probably one of the most important pillars to any community, have to bank sick days or try to get pregnant so that they give birth just before the summer. Salary and benefits right now for teachers aren't great. I think that would go a long way to keeping our best teachers, and also attracting more. If you double teaching salaries, then all of a sudden you get people looking at teaching who may didn't before and that's all's to say I think our teachers do a really great job, but I don't think they should have to sacrifice for the good job that they do.
So that's one. Another is, if I'm talking about Hammond specifically, one thing I try to beat the drum on is Hammond kids are really great, but if you're from the Region — like I went to Griffith and I know what I thought about kids that went to Gary and Hammond and that was completely unfair and untrue and that perception that folks have of Hammond kids, that's not lost on the Hammond kids themselves. So all of a sudden there's a self-fulfilling prophecy that's extremely unfair. The biggest thing I've learned in the somewhere between four and five years is that if you have high expectations for our students in Hammond, they will meet them.
As an example, the last two years in our program with the Blueprint, we've had a Lilly Scholarship winner and frankly it was the school district, it was us and it was Legacy Foundation coming together and saying we need to have higher expectations of what these applications look like and as soon as we worked with students to make sure they understood the expectations of what it takes to win something like this, they worked harder, they put together better applications and now we've had two winners, so I believe in our kids from Hammond and I hope and wish that the rest of the Region will get on board with that because it would actually have an effect on how our students feel, act and succeed."
Q: "How do foundations help meet some of these challenges?"
A: "Education foundations are small. It's not like we can come in and say, 'Here's everything the school district needs to do and here's how we're going to help.' We had an issue that was personal to us. We had one scholarship application and we said 'Maybe this is more than (students) didn't get access to the scholarship application. Maybe there's something else.' So, we peeled back the layers and from the beginning we worked with a teacher to help us sort of build and understand that problem and grew it from there organically and slow.
The other thing is data. One of the first things we did is an unofficial study on four-year college graduation rates for our students in Hammond, and nationally the four-year college graduation rate for undeserved students of color is very low. What we found is that Hammond's fell right in line with that. So first we identified we have a scholarship problem. Now we know these kids that are going to college, a lot of them aren't graduating. So, we worked with the teacher to say, 'You're working so hard to get them good AP scores, you're working so hard to get them to college. What do we need to do, what sort of investment do we need to make sort of right near the end to propel them to graduate in four, five or six years?'
From there we're now starting to look at 'OK, as we're getting kids closer to get ready for graduation, what does it look like to help them sort of get re-involved in the community and make sure we're getting as many as of them as possible to come back to Northwest Indiana and make an investment that way?' And hopefully employers are waiting to get ready to make an investment in them. So, in short, I would just say identifying problems that are scalable, but aren't so big that you feel lost in the fray."
Q: "Tell me a little bit about your role at INAPEF."
A: "We look at 'Where do we want education foundations to be?' and we look at 'What can we do to make education foundations better?' One of the things we've been looking at is standards for education foundations and putting together a system for an education foundation to be able to say 'Where do i stack up? How do I improve? How do I find resources to improve?' And then, more recently, is working on legislative matters.
There are a couple of bills going through that we support, specifically around tax credits. Right now, colleges are able to give tax credits for donations, scholarship granting organizations are — essentially if your school does vouchers, you're able to get a tax credit if you donate to one of those organizations. What we're saying is 'We want that for us.' One, because it would really allow private dollars to have more of an impact on public education and from a money side, we obviously want to be able to help our donors in that way and get more money in, but we think it's also a fairness issue. If colleges get this and scholarship-granting organizations get this, public education foundations should get this as well."
Q: "Is there anything you're seeing other districts do from your work at the state level that you hope to bring to Hammond?"
A: "What I would like to see is more collaboration and strategic thinking between us and the school district so our goals are more aligned and there are some education foundations that do a really good job of that. I think we have a lot of challenges in Hammond, and even outside of the education foundation-school district relationship, I would like to see more collaboration across other entities as well — private business, other governments, et cetera."
Q: "At Hammond level, how can folks in the community help you?"
A: "A lot of ways. I'm the only full-time employee (at the Hammond Education Foundation). We have one part-time employee. We always have a need for volunteers. Some cool things we do, in the spring, we do a sort of an alumni success day where alumni come back to our schools and talk about their careers and talk about how to be successful, so if people wanted to volunteer or get involved in the schools, we have ways of doing that. We also have a board and committees that decide where we're going, where we're putting our resources. And then, of course, I would be doing a disservice if I didn't say we always need more money and donors and support in that was as well."
Contact Joshua Long, executive director of the Hammond Education Foundation, at 219-933-2400 ext. 1044.