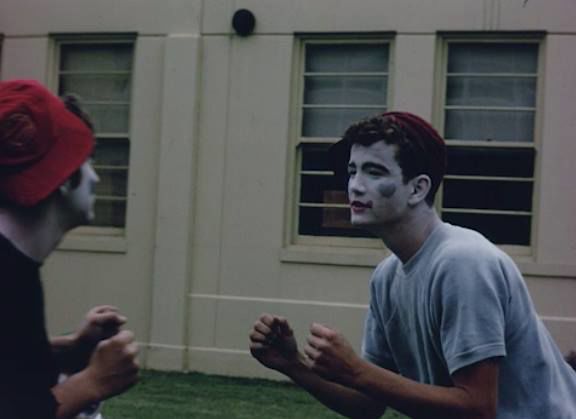 CROWN POINT — Fifty years ago, retired Crown Point High School theater/art teacher Marion Kellum made a film in response to the Vietnam War.
For 47 years, the film sat in a tin can in Kellum's basement disintegrating. That was until a former student, Weston Morris, offered to repair it.
When 1969 came around, the United States was already in the Vietnam War. In a recent interview with The Times, Kellum recalled his students getting drafted into the war.
Four, who all shared the name David, were drafted or volunteered to go to Vietnam. Three died, while one went on to become a photographer, he recalled.
"One after another, three were killed in action and it was a very hard," he said. "My heart went out to their families, of course, whose loss was greater than anyone's …
"The three young men who didn't come back, I can honestly say haunted me."
It was those men and his second-grader son who prompted Kellum to make the film, "DAVID".
"DAVID" is a pantomime film that tells a symbolic story about the war. It opens with the birth of a child and follows the child throughout his life, Kellum said.
"It's kind of simple on the one hand, and yet, if you're watching it, you're thinking, 'Where's this going? What does this all mean?'" he said.
It has been four years since Morris started to piece the film back together, something that Kellum sees as a gift.
"I knew that the splices were crudely done, not for sure that any of them had come apart, and I was kind of experimental as a new, never having done a film before," said Kellum, who is now 84. "So I thought, 'Well, that's a lost cause. I'll never get to see it again.' And it kind of made me sad because I would have liked to …
"It's like it never did disintegrate, which, in fact it did. My hats off to him, and I admire the work and I'm just in awe of what he's done."
For the first time in more than 40 years, the film was shown during the Crown Point High Schools Class of 1969 reunion. Now, the city's residents will have a chance to view the film, too.
At 6:30 p.m. Saturday, "DAVID" will be shown at the historic Lake County courthouse. The cost to attend is $5 and proceeds will go to the Lake Court House Foundation.
Restoring the film wasn't an easy task, Morris said. Though he has worked on the project over the course of four years, he estimates he has spent a year-and-a-half working on the film using Adobe programs.
"Being a former student of his, and he was a big influencer and a mentor to me, I just was curious," said Morris, who graduated from CPHS in 1986. "I kept clearly in touch with him over the over the decades and just was visiting him one day and I thought I'd ask him, 'So tell me about this, David.' and that's how it started."
Morris said the gesture turned into a gift for Kellum as time has passed, and when it all came together on the big screen for the first time, it was emotional.
"Just to watch everyone's expressions, you know, just in awe and laughter it's like I was almost watching them go back into time," he said.
After Saturday's showing, Morris said he's not sure what will become of "DAVID," but says the decision lies with Kellum.
"To me, this is his film. I just brought it back, that's all," Morris said.
A previous version of this story had the incorrect spelling of Weston Morris' name. The correct spelling is Weston Morris. The change has been reflected throughout the story.