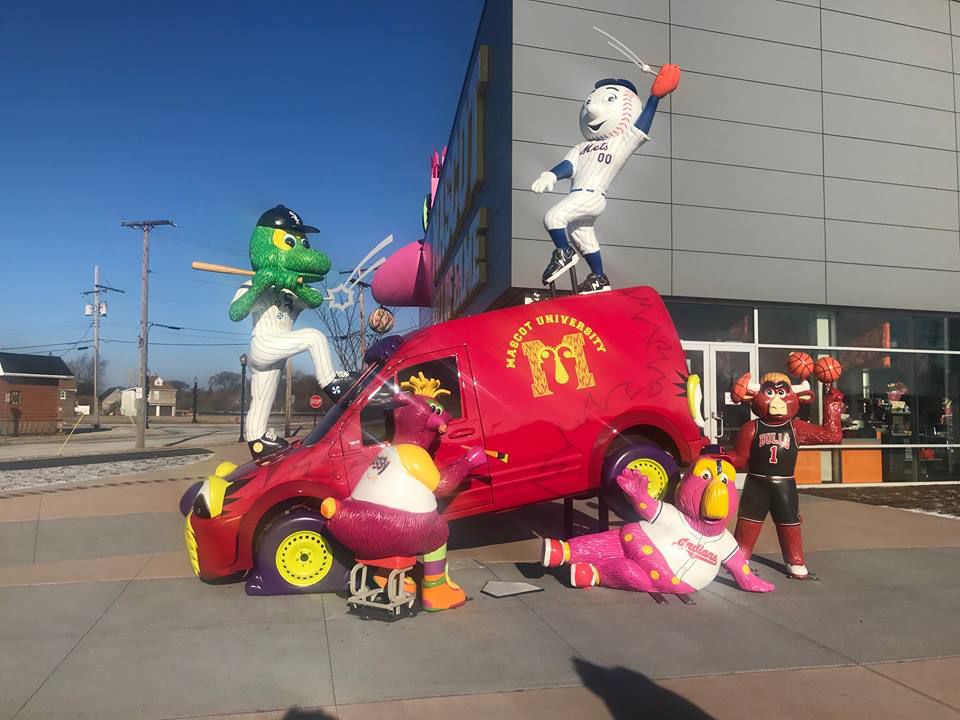 WHITING — Sports and mascot enthusiasts planning to head to the Mascot Hall of Fame festivities this weekend will need to keep a few road closures in mind.
On Sunday, 119th Street will be closed beginning at 9 a.m. from Schrage Avenue to the Hall of Fame building at 1851 Front St.
"We'll shut it down early at 9 a.m., but the parade should be done by about 10:30, 10:45," said Orestes Hernandez, executive director for the Mascot Hall of Fame. "We'll be routing traffic from Schrage all the way to probably 121st Street to come around the back end to the parking lot of the Hall of Fame."
The parade is scheduled to begin at 10 a.m. Sunday at Oil City Stadium on 119th Street and will end at the Hall of Fame, where a stage will be set outside for the 10:30 a.m. induction ceremony.
Although 119th Street will reopen at the conclusion of the parade, a portion of Front Street will be closed off as early as noon on Friday and will likely not open to traffic until sometime Monday morning.
Front Street will be closed from 119th Street to the entrance of the Hall of Fame parking lot.
"So that's about a 400-foot span," Hernandez said.
About half of that space will hold grandstands for spectators to watch the induction ceremony at which local favorites Benny the Bull (Chicago Bulls) and Tommy Hawk (Chicago Blackhawks) will join Nittany Lion (Penn State University) and Sluggerrr (Kansas City Royals) as they take their place among 17 other legendary mascots from professional and collegiate sports, most of whom will also be present and saluted at the ceremony.
"And the other half of that footprint is going to be what we're calling Mascot Fan Fest, which is vendors, local companies, national companies and then some of the teams that are going to have family-friendly, interactive activities," Hernandez said.
The Fan Fest is free and open to the public 10 a.m. to 6 p.m. on Saturday and 11 a.m. to 6 p.m. on Sunday.
The Hall of Fame will be open with regular admission costs.
Free parking will be available in the hall's parking lot that can be accessed by taking 121st Street and making a left on Front Street.
Parking in the lot could prove more difficult on Sunday because 14 or 15 spaces are expected to be taken up by a large, inflatable hockey rink the Blackhawks will have set up for a shoot the puck experience.
Another parking option, though slightly further away, would be to travel down 119th Street (except when closed Sunday morning) and turn left at Front Street to park in Whiting Lakefront Park.
Sunday is a major occasion for the Hall of Fame because it will be the first induction ceremony held since the interactive children's museum opened in December.
The hall previously had only an online presence.
Induction Weekend kicks off with an opening reception at from 6:30 p.m. to 8:30 p.m. Friday at the hall.
The admission cost for the reception for non-members is $20. There will be a cash bar and ballpark-style food will be served.
Mascot appearances will occur throughout the weekend.
Some of the other famous mascots already members of the hall and expected to be on hand are the Phillie Phanatic (Philadelphia Phillies), The Gorilla (Phoenix Suns) and YouDee (University of Delaware).
Be the first to know
Get local news delivered to your inbox!