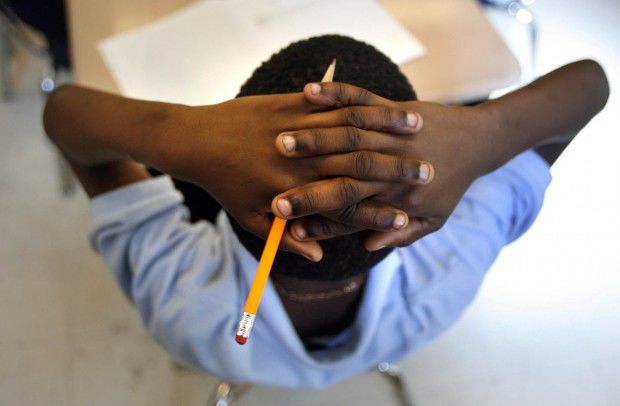 Every year, spring brings several certainties in the state of Indiana — among them, rain, tax day and standardized tests.
This week will bring the biggest shake-up in the last 30 years to one of those sureties. Monday opens the four-week statewide testing window for the Indiana Department of Education's ILEARN exams, a new series of assessments being offered this year in place of the state's former ISTEP exams.
ILEARN, or the Indiana Learning Evaluation Assessment Readiness Network, has been four years in the making, according to IDOE spokesman Adam Baker.
The IDOE began brainstorming what a new statewide assessment should look like after then-Gov. Mike Pence first called for changes in 2015. The IDOE formed committees of relevant stakeholders, including teachers, to weigh in on what they would like to see in a new assessment and issued its first request for proposals in 2017.
All told, Baker said more than 500 educators were involved in creating ILEARN.
"One of the driving forces or questions behind creating the new assessment is if we're going to evaluate our test, how do we make sure this is worthwhile?" Baker said.
"Anytime you can have the people in the actual classroom doing the actual instruction telling us we can do better, that's invaluable."
The new exams test the same core subjects for grades three through eight, but bring welcome changes the state hopes will streamline the spring standardized testing window — the first being everyone will test during the same April 22 to May 17 exam window.
Within that window, administrators can elect to test all at once or space it out, but the goal is to have all testing statewide fall under a uniform testing window, Baker said.
It's made possible thanks in part to the new technology being implemented with the state's ILEARN exam.
Gone are the days of sharpening those dull No. 2s and bubbling in a Scantron-style exam. Instead, students will take their exams on computers in modules developed by nonprofit educational software provider American Institutes for Research, or AIR.
This year, exams like ILEARN English/Language Arts and ILEARN Mathematics will feature computer-adaptive technology, responding to students' performance in real time and adjusting in difficulty to meet an individual's ability level.
ILEARN Science for grades four through six and ILEARN ECA Biology, a high school end-of-course exam, are slated to adopt this technology in the future, while the state's two remaining exams — ILEARN Social Studies for grade five and ILEARN ECA U.S. Government, an optional high school end-of-course exam — will remain as a "fixed-form" exam still taken on a computer.
The computer-adaptive exams draw questions from a wide-ranging pool personalizing exams to each student and reducing opportunities for students to cheat.
The computer-based exams in general, Baker said, also will allow for more descriptive assessment responses returned more quickly so teachers can more easily identify a student's proficiency and work with them on their needs even before the end of the academic year.
While teachers once waited until the following fall to receive ISTEP results, ILEARN will return responses within about a dozen days, Baker said. Although results will likely be returned in August this year for the first iteration of the test.
With 85% of Indiana schools currently at a one-to-one student-to-computer ratio, Baker said moving to the computer-based assessments just makes sense.
"It's insane how tech-ready our schools are and have been for so long," Baker said.
Also new this year, ILEARN exams will feature fewer questions, as compared to their ISTEP equivalents, and will be untimed, relieving some pressure on students.
"Students are able to sit in their chair, take a deep breath and really approach it with the ability to take their time," Baker said.
Accommodations drive debate
The state's new exams haven't been without criticism, most prominently drawing attention to accommodation features for students with disabilities.
Baker said, similar to ISTEP's alternative assessment ISTAR, ILEARN offers a companion exam called I AM, or Indiana's Alternate Measure, which provides enlarged print, paper and braille testing options. The exam also features a longer testing window and unlimited sessions.
However, some parents of students with reading disabilities have raised concerns about the absence of text-to-speech technology during certain sections of testing.
Similar to ISTEP, the state's new exam does allow for auditory instructions to be given for directional statements found typically at the beginning of a new section of questions. But unlike ISTEP, there is no option for students to have directional statements read aloud in the English/Language Arts exam.
In a recent Indiana State Board of Education meeting, Sen. Erin Houchin, R-Salem, drew attention to absence of the feature and the state's refusal to include the auditory reading of individual questions on the English/Language Arts exam, raising the larger question: How much assistance should students with reading disabilities be offered during a test of their reading comprehension skills?
"I firmly believe if he's testing without accommodations, his results will not be valid," Houchin said of her son who has dyslexia in the April 10 meeting.
"My son will fail ... not because he's not capable, but because he requires the accommodation to show you what he knows."
While it is unlikely the state will bring auditory capabilities to the full English/Language Arts test in the near future, Baker said text-to-speech, especially concerning directional instructions, is an ongoing conversation at the IDOE.
Throughout the coming weeks, IDOE testing coordinators will be on standby to answer questions throughout the roll-out of the new exams. Baker said more than 800 educators will be involved in scoring the exams proctored this spring.
"From development to scoring," Baker said. "It's a process that's been wrapped in educators."