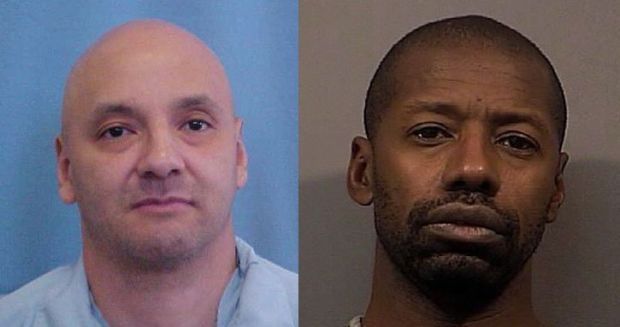 The investigation surrounding Darren Vann and a trail of dead bodies in the region last week bears eerie similarities to a serial killer captured in Hammond in 1997.
Andrew Urdiales, of Chicago's Southeast Side, captured national attention when he was arrested and charged in the murders of two women on the Chicago side of Wolf Lake near the Hammond border. 
Urdiales and Vann are both local residents and former Marines who were stationed in California in the early 1990s. Both served stints at Camp Pendleton in 1991.
The military veterans allegedly had sex with and killed prostitutes in the region. In the end, both men were captured by Hammond police due to encounters with call girls at Hammond hotels.
The investigation into the Wolf Lake murders led police to trace Urdiales' steps back to the bases where he served in the military. Those probes led to charges in four murders in Orange County, Calif., spanning from 1986 to 1995. 
Law enforcement officials in North Carolina, where Vann was stationed in briefly in 1992, last week said they are reexamining missing persons and unsolved homicide cases there after news of Vann's arrest in Hammond surfaced.
'Good, old-fashioned police work'
Retired Hammond Police Chief Brian Miller was the public information officer for the Hammond Police Department in 1997 when Urdiales was arrested.
"We had several prostitute murders at the time," Miller said.
Miller said officers who worked the downtown beat, including then-rookie Officer Warren Fryer, frequently talked to known prostitutes there, who often tipped them to other crimes.
Fryer, now a sergeant on the force, met Urdiales twice in 1996. During the first meeting, Fryer approached Urdiales in his vehicle with a known prostitute and saw a revolver under the seat of his pickup truck.
"I noticed he had military boots on and said they had a pretty good shine," Fryer told The Times shortly after Urdiales' arrest in 1997. "I asked if he was in the service and he said, 'Yes, sir. U.S. Marines.'"
The weapon was taken into custody and later discovered to have been used in the killings of three women. 
Fryer encountered Urdiales five months later when he was called to the former American Inn, 4000 Calumet Ave. An agitated Urdiales claimed a prostitute stole his personal documents.
The prostitute told Fryer about Urdiales' request to handcuff her, duct-tape her wrists and have sex with him in the back of his pickup truck in a secluded area near Wolf Lake. Fryer, who had not worked on the murder cases of the women found near Wolf Lake, recognized the similarities, compiled his information and handed it over to the detective division.
Fryer's work led to Urdiales' arrest and confessions in the murders.
Miller said Fryer deserves all the praise for Urdiales being behind bars.
"If it wasn't for his diligent work, Andrew Urdiales wouldn't have been captured when he was," Miller said. "It was just good old-fashioned police work."
Killings spanned 10 years
Urdiales was sentenced to death in 2002 in Cook County for the 1996 murders of Lori Uylaki, 25, of Hammond, and Lynn Huber, 22, of Chicago in the Wolf Lake killings.
His death sentence was commuted to life in prison by then-Gov. George Ryan. Ryan issued a moratorium on executions in 2000 when 13 people on death row were released after evidence showed they did not commit the crimes.
Just before leaving office in 2003, Ryan also commuted the death sentences of all 167 people waiting to be sent to death row, including Urdiales.
Ten of those were released and pardoned while the rest had their sentences changed to life in prison.
Urdiales was again sentenced to death in 2004 in the 1996 death of Cassie Corum, 21, of Hammond. He killed her and dumped her body in the Vermilion River in Pontiac, Ill.
Urdiales twice escaped the death penalty in Illinois but could face death in California. 
He was one of 15 men whose lives were spared in 2011 when Gov. Pat Quinn signed legislation that abolished the death penalty in Illinois.
The following day, California officials began the process of having him extradited.
Urdiales, now 50, is being held at the Orange County jail awaiting trial for the California murders.
Howard Gundy, senior deputy district attorney for Orange County, said last week he expects Urdiales to go to trial in 2015.
California does have the death penalty and Gundy said prosecutors intend to seek it for Urdiales.
No executions have been carried out in California since 2006. A federal judge last month ruled the state's law unconstitutional. The case is being appealed.