It all started when her doctor got popped by the feds.
It almost ended in her death.
Stephanie was finally stable. She had gone from snorting heroin to shooting it, using it on the weekends to all week, methadone to pain pills, rehab to Alcoholics Anonymous. She found her solution: Suboxone, an opioid-replacement drug.
Sure, she had to travel all the way from her home in LaPorte to Munster to get it, but it was worth it. She could function again.
Then the U.S. attorney for the Northern District of Indiana indicted her doctor, Jay Joshi, for prescribing painkillers without a legitimate medical purpose. (Joshi pleaded guilty in July to one count of illegally distributing a controlled substance, and his medical license was revoked.)
Stephanie was back to square one. That meant heroin.
So one day in April, the 34-year-old hopped on the South Shore Line at the 11th Street stop in Michigan City, rode an hour and 40 minutes to Chicago, took the L to a bus stop, the bus to her drug spot. She bought a half-dozen bags of heroin, enough to make the journey worth it.
She injected one of them right away, to get rid of her dope sickness. Then she did the trip in reverse: hopped back on the bus, back on the L, to the South Shore Line.
Stephanie (not her real name) got in her train car, amid first-shift commuters on the way home from work. She headed to the bathroom, where she shot up again.
Twenty minutes later, a teenager in the car said to his friends, "That lady has been in the bathroom for a while."
They knocked on the door. She didn't answer. They got the ticket collector. He knocked. No answer. The ticket collector got the train conductor, who pounded on the door. No response.
The conductor unlocked the door to find Stephanie folded in half on the floor, unresponsive.
He got on his radio, called in an emergency code, and walked off the car.
Molly, a 63-year-old financial administrator from Valparaiso, was on her way back from work in the city. She watched this all happen. She was startled: Was the woman alive? Dead? Hurt? Sick?
Another passenger announced she was a nurse and got up and went into the bathroom, yelling at Stephanie. No response. Molly walked over and asked if she could help.
Stephanie's skin was gray, her backpack open, a book and cellphone sticking out, drug paraphernalia messily dropped on the floor like kids' toys.
The two slapped Stephanie in the face, the arms, talked to her loudly and frantically, anything to get a reaction. Her body was wet spaghetti, a Raggedy Ann doll.
The two lifted her into a seated position.
"I've got a pulse," the nurse announced.
Jessie Watts Jr., transit police chief for the South Shore Line, was at the East Chicago station when he got the call: overdose.
He'd gotten used to this drill, having saved two drug users from the brink of death in recent years.
He alerted paramedics, and grabbed his kit of naloxone, the overdose-reversal drug, and a pair of rubber gloves.
He headed upstairs to the platform, where the train had pulled up. He found Stephanie slumped over in the bathroom, but still breathing.
She woke up with Watts standing over her. He explained what had just happened: She had overdosed, and he had given her a dose of naloxone, nasally, to revive her.
She was groggy, still high. She came to, slowly. She started talking.
Moments later, all eyes on her, paramedics carted her off the train.
"I hope you get help," one woman said to her.
"I'm fine," Stephanie said.
"You're not fine," the woman said.
Molly (not her real name) sat on a bench at the train station and started crying.
An elderly woman approached, saying she was glad Molly was there. Molly gave all the credit to the nurse, who had the sense to go in first.
"All I could do when they took her was put my head down and pray," Molly said.
"That's all I did the whole time," the elderly woman said.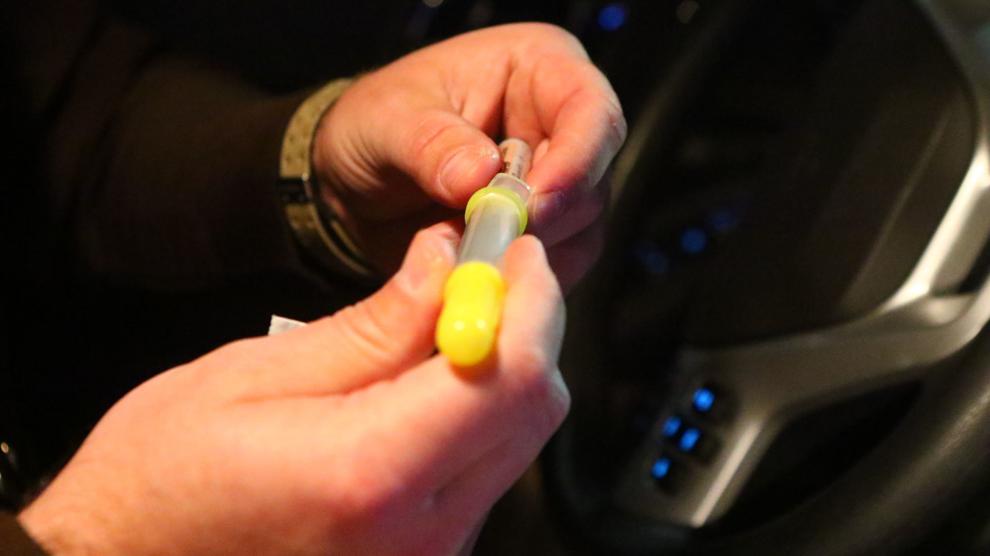 This incident is part of a growing trend in the nation and Region. The number of naloxone saves in the U.S. increased by 75.1 percent from 2012 to 2016, according to the Centers for Disease Control and Prevention. This reflects the rise in opioids overdose deaths, which grew by 79.7 percent in that time period.
"If we didn't have naloxone, our death rate would be insane," Cara Jones, program director for Porter County United Against Opioid Abuse, said at a recent opioid forum in Valparaiso.
Most, if not all, public safety agencies in Northwest Indiana carry naloxone, which is also known by the brand name Narcan. The drug is even available for citizens over the counter, and is often covered by insurance or low in cost. One of the people on the train with Stephanie that day had naloxone, and was approaching to use it before police arrived.
In April, U.S. Surgeon General Jerome Adams, the former Indiana health commissioner, recommended that anyone who takes opioids, legally or not, or who is in contact with people who use opioids, should get trained in and obtain naloxone.
"It is time to make sure more people have access to this life-saving medication," he stated at the time, noting that "77 percent of opioid overdose deaths occur outside of a medical setting and more than half occur at home."
Naloxone works by binding to the opioid receptors, blocking other opioids from reaching them. It takes a matter of minutes to work, and sometimes requires multiple doses (particularly if the person used fentanyl). People who awaken from an overdose are often so out of it they try to fight the person who saves them.
This has become a daily occurrence for emergency responders in the Region.
"I can guarantee you that there is at least one overdose a day in Northwest Indiana," said Porter County Coroner Chuck Harris, who believes naloxone use may be playing a role in Porter County's fatal overdoses this year declining for the first time since 2012.
Stephanie arrived at the emergency room, still out of it.
The medical staff wanted to give her an IV with fluids but couldn't find a vein, most of them collapsed from mainlining heroin.
They observed her for an hour or so — for brain injuries, to make sure she didn't overdose again — and let her go.
ER employees might use the occasion of an overdose to encourage patients with addiction to seek treatment.
"Sometimes people will come in and it's not their first time, so you try to give them this 'come to Jesus' talk about making a life change," said Dr. Airron Richardson, an emergency medical specialist for Methodist Hospitals.
"Some of them are very nonchalant about it: 'Oh, yeah. I've gotten Narcan before. I'm not ready to quit.' You worry that one of these days it's going to be their last time."
Stephanie called a relative to pick her up.
"Are you done now?" the family member asked.
The incident shook Stephanie.
As long as she'd been abusing opioids, she'd never overdosed. But nowadays heroin is often cut with fentanyl, a much deadlier opioid. She has two young sons, a husband.
She looked up doctors who prescribe Suboxone in Northwest Indiana. When she told them what type of insurance she had — Medicaid — they said they weren't accepting new patients.
She got in to see a psychiatrist, who wrote her a prescription for an antidepressant. She made an appointment to see a therapist. She tried entering a local rehab center but couldn't find a place to get the required blood work done.
"I was all set to go and now I don't know what to do," she said at the time, in June.
The next day she was back on the train.
On the return trip from scoring heroin, she stopped at the East Chicago station, talking nonstop, her face expressionless, her pupils dilated. Her arms were scarred, bumpy, bruised.
"Using heroin is the best feeling," she said, holes in her T-shirt, dirt under her fingernails. "If you think someone's going to walk away from that willingly, it's not reasonable. If your life is s---, if you have a crappy life and you're using this drug that makes you feel wonderful, more wonderful than anything, you're not going to willingly walk away from it."
She recounted her addiction story. She first tried heroin with her husband about 10 years ago. It was a weekend habit, then a weekday habit, then daily.
She eventually attempted to get clean by using methadone. But coming off that was harder than heroin. She went to AA and treatment. She had periods of recovery, and relapses, driven by personal crises and tragedies, like a close loved one's suicide.
During one stretch of sobriety, she hurt her spine in a car accident. Doctors prescribed her pain medications. She got hooked on those, and went on another opioid-replacement drug.
When her insurance changed, she became a patient of Joshi a year and a half ago, using Suboxone. Then the feds came a-knocking.
Now she found herself on a train platform in the middle of a sunny weekday in northern Lake County, bags under her weary, bloodshot eyes.
"I've been doing this for too long," she said.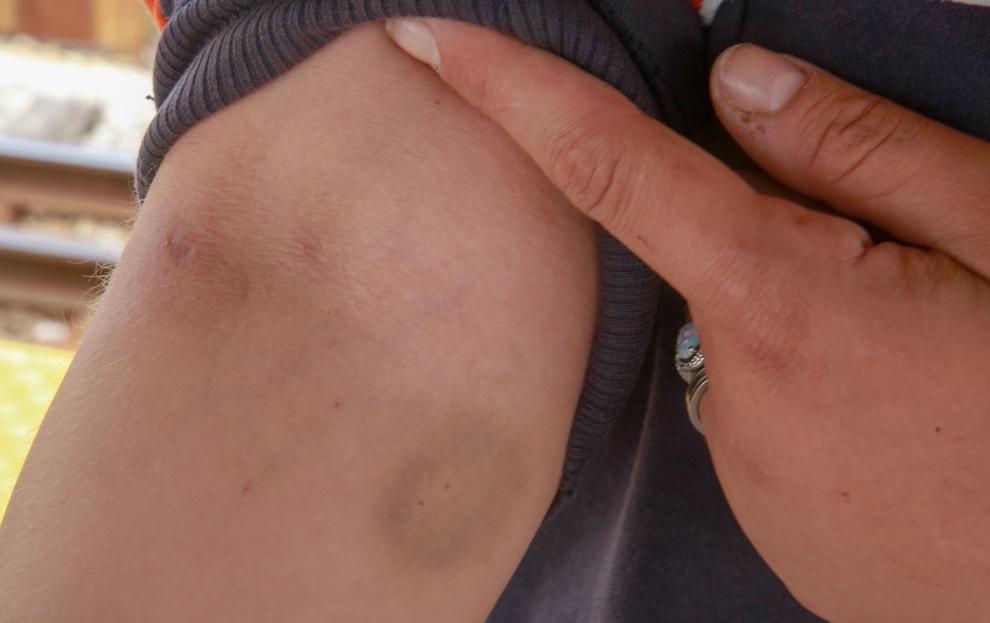 In late July, a spot opened up for her at a free drug treatment program in South Bend. A caseworker found her a doctor there who prescribes Suboxone. Medicaid transports her to the appointments.
The last time she did heroin she "got messed up bad," she said. It didn't feel like heroin. She thought she was overdosing again (she had overdosed a second time after the train incident, getting saved with naloxone by paramedics in Chicago).
That was the first wake-up call.
Then her mother-in-law gave her an ultimatum: Get help or move out. Her family stopped giving her rides. Her dad said he was done.
Her 7-year-old son had also started asking questions:
"Where do you go all day, mom?"
"What's that on your arm?"
At rehab, she got drug tested. Fentanyl and methadone were found in her system, confirming her speculation that the last heroin she did wasn't heroin.
She also was diagnosed with hepatitis C, cases of which have surged in the U.S. alongside opioid use (the disease is now largely curable, but with treatments that cost tens of thousands of dollars).
Two weeks after her arrival, she proudly showed off a Narcotics Anonymous key tag, marking 14 days of sobriety.
Now, nearly 30 days in, she said she might settle down in South Bend, where there seems to be more jobs. Maybe she'll finally pursue her dream of working in event planning.
One thing's for sure: Almost dying on a crowded train car in April changed her.
She thought back to just a few short weeks ago, when she was injecting heroin into wherever she could find a vein: her feet, the insides of her thighs, her breasts. She realized she was just as hooked on sticking needles into her body as she was the drugs.
"When you say it out loud, it's crazy," she said. "But that's drug addiction. It's insanity."