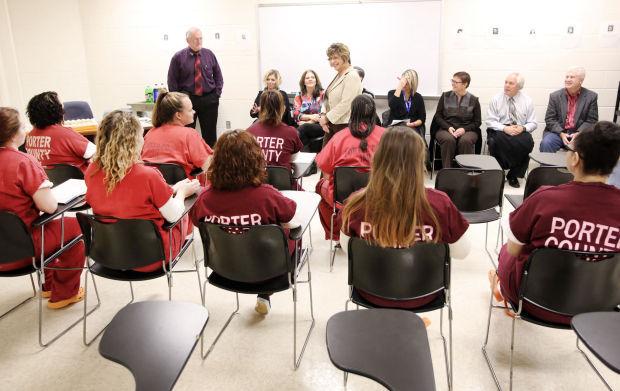 VALPARAISO — On a recent day, Krystal Rigoni, of Portage, sat in a visiting area at the Porter County Jail, wearing a red jumpsuit. Her 8-year-old son was in the custody of his father; her 4-year-old son was being raised by a foster family. All because of her heroin addiction.
The 31-year-old's path to being an inmate started after the birth of her eldest son, when she was a single mother, attending college and working, suffering from postpartum depression.
She thought finding a man would solve all her problems. In 2010, she met one, who was addicted to Oxycontin. A few months later, a relative's neighbor introduced her to a cheaper alternative: heroin.
She lost her job, and tried methadone for a time. She eventually got back on heroin, overdosed and got arrested. She gave custody of her son to his father.
In 2012, she got pregnant.
"I'm swallowing this terrible depression, I'm living with the lady who showed me heroin and I'm seven to eight months pregnant, and I have no idea what I'm going to do with my life," she recalled.
She kept using. She failed drug tests and was rearrested. She went into labor while in jail.
She was released on probation but arrested again, for forgery. At 2 months old, her son entered the foster care system.
"There's lots of moms who think their lives are over because they lost their kids," she said. "It makes them want to use more, because they don't have their kids."
In January 2016, she completed drug court and regained custody of her children. One year later, though, she overdosed. From a neighbor's house, her kids cried as they watched her being carted off on a stretcher. She lost them again.
Rigoni said her 8-year-old is well-adjusted. His paternal aunt raised him until age 4; he's used to being taken care of by different family members.
Keep reading for FREE!
Enjoy more articles by signing up or logging in. No credit card required.
"He seems to be happy, healthy and thinks I walk on water still for some crazy reason," she said. "He thinks because I play basketball" — she was on the team for four years at then-Purdue Calumet — "I'm the best player in the world. He's very sweet and loving."
Her 4-year-old, however, has had angry outbursts at his foster siblings, cried out for his mom at night and displayed signs of post-traumatic stress disorder, she said.
"He's confused," she said. "He's not sure if he's supposed to love the foster family or he's supposed to love me."
Kaysie Fugate, a fellow inmate at the Porter County Jail, was on the opposite side of that dynamic. The 19-year-old from Michigan City was raised by her grandmother because of her mom's heroin addiction. Her siblings were lost to the foster care system.
Fugate's dad died of alcoholism. Her mom's husband went to prison for dealing heroin. Her infant brother died in his sleep.
At 15, she tried heroin. It took the blues away.
"I was depressed a lot. I hung around a lot of bad people, too. It was just the easiest way to cope for me," she said.
She dropped out of high school. She crashed her car on Interstate 94 while high on Xanax. She was jailed for possession of a hypodermic needle, which is also her current charge.
She hopes to attend inpatient rehab or live in a halfway house after her expected release date later this month.
In the drug treatment room at the jail is a reminder of what could be: pictures of 36 former inmates who have died of drug overdoses.
"It's sad because I knew some of them," she said. "I was in jail with some of them. One of them is my friend's mom."