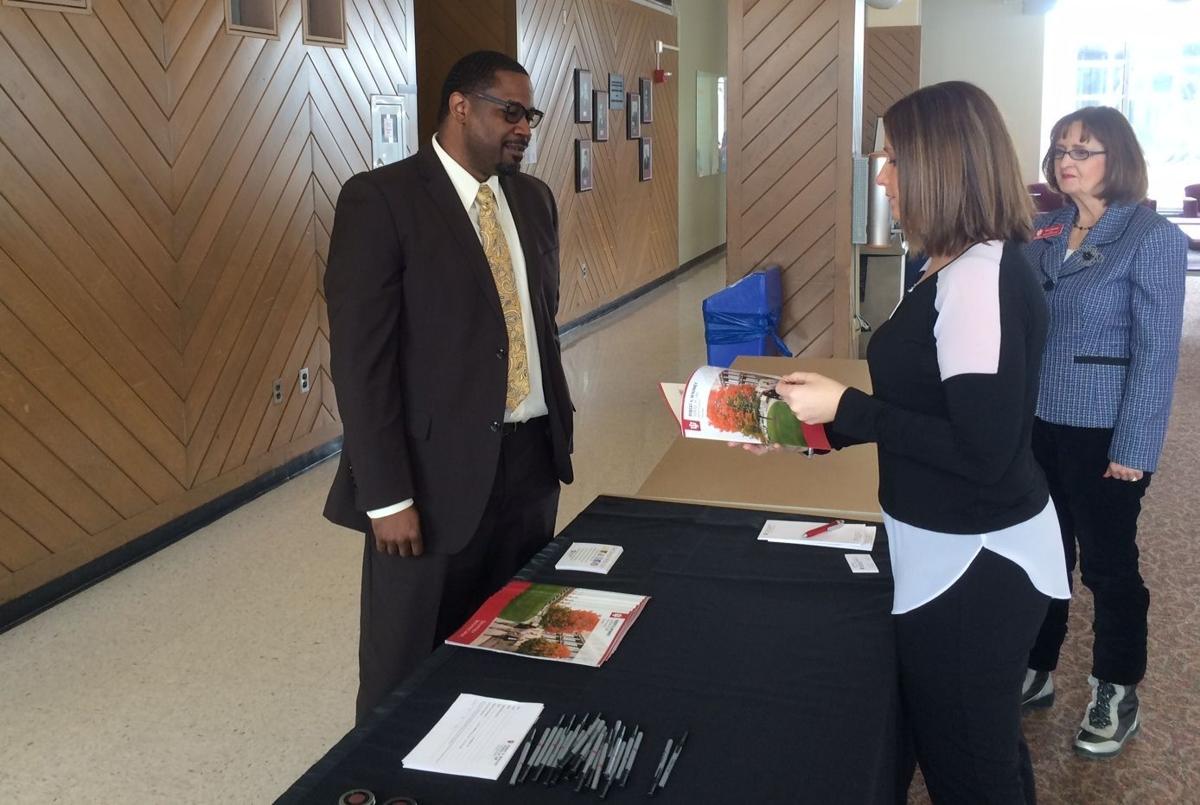 GARY — Indiana University Northwest students interested in becoming an attorney have a new opportunity for financial assistance and professional experience through the Indiana University Regional Law Scholars program.
The program is a partnership between the IU Robert H. McKinney School of Law in Indianapolis and each of the university's five other regional campuses.
Julie Smith, McKinney School of Law student recruitment director, visited IUN last week while on a tour of regional campuses.
"It's very, very well-received," Smith said of the program. "It gives us an opportunity to keep great IU students in the IU family."
Alumni and current students at IUN, as well as campuses in South Bend, Kokomo, Richmond and New Albany, are eligible to apply for the program. For the fall 2016 semester, students must submit a law school application to McKinney by March 1, and be nominated for the award by their own campus by March 31.
Three award recipients will be selected by April 15. They will receive a minimum of a half-tuition scholarship, as well as experiential learning opportunities or a paid research assistant position after completing 31 credit hours.
While the application timeline is tight for next fall's law school class, Smith said the campus visits she's doing this winter will help in "building a pipeline for next year and beyond."
Anna Rominger, dean of the IUN School of Business and Economics, is a campus pre-law adviser, and said IUN is setting up a selection process to determine nominees for the Regional Scholars Program.
"This could get them the funds to get there," she said of the Indianapolis school. "There are not always a lot of scholarships available for law school."
IUN offers a pre-law minor that generally includes about 20 students each year, Rominger said. The minor has five required courses, and one elective.
"These courses are great foundations for them," Rominger said. "They're going to get introduced to a lot of concepts."
The scholarship portion of the program pays up to half the cost of tuition — about $12,600.
IUN alumnus Eden Strange, already admitted to IUPUI's law school for the fall, made the trip to Gary from his Indianapolis home to reconnect with IUN and learn more about the Regional Law Scholars program.
"It would mean the world to me," Strange, a logistics manager for Fed Ex in Indianapolis, said. Opportunities for networking and forming connections through the program would also be valuable, he said.
"I could stay in the IU family; it's right there in Indy," Strange said of IUPUI law school.
The Regional Law Scholars program joins existing agreements the IUPUI McKinney School of Law has with nine private institutions in Indiana and Illinois: Marian University, Wabash College, Bradley University, Franklin College, the University of Southern Indiana, DePauw University, Albion College, Anderson University and Butler University.