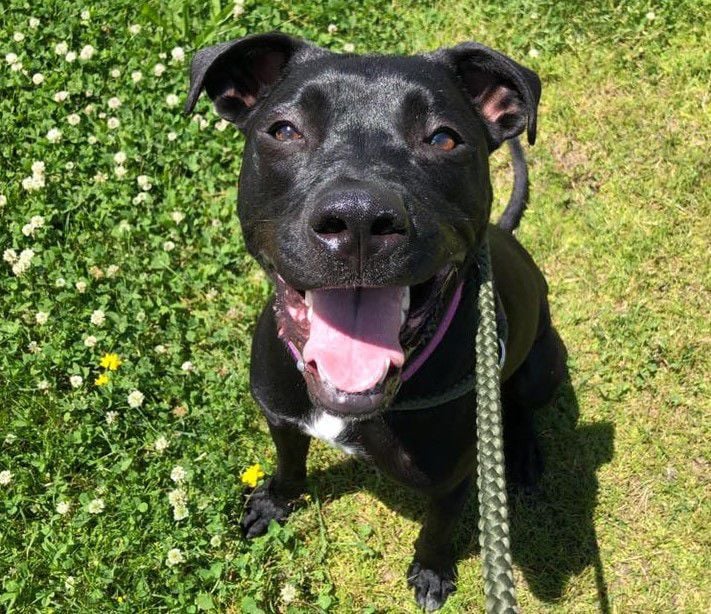 ST. JOHN — Casino has been in a shelter for most of his life. 
The 2-year-old Labrador Retriever mix has been with Cache Creek Rescue for 705 days, and he's ready for his fur-ever home. 
To help find the pup a home before his two-year anniversary, Cache Creek volunteer Aleece Spasevski posted about Cas on Facebook — but she wasn't expecting what happened next.
The Dec. 29 post has received 2,500 shares on Facebook and the rescue has received at least 10 phone calls and 30 messages about Cas. 
"I was really nervous to post that post on Facebook because I thought he wasn't going to get any interest," Spasevski said. 
Spasevski said no one has shown interest in the dog and it's likely because he has black fur. 
Black dog syndrome, also known as big black dog syndrome, is a phenomenon that suggests dogs with darker fur are often adopted less than those who don lighter coats. 
Similarly, a study in 2016 that looked at adoption rates at a metropolitan shelter said entirely black dogs showed lower odds of adoption and a higher euthanasia risk than dogs with secondarily black fur. However, breed, size and purebred status was a better indicator of adoptability rather than the color of a dog's fur.
Cas is going to need a slow introduction to people, as he has been in a shelter for most of his life, said volunteer Lisa Aumend. 
Right now, Cas is getting the VIP treatment, Aumend said. Instead of being able to visit with Cas immediately, those interested need to inquire with the shelter to receive an application, which will then be reviewed by adoption coordinators. 
The process, Aumend said, ensures Cas will be matched with the family that best matches his personality. 
Cas plays well with other dogs and has interacted with cats through a cage, but would do better in a home with older children, since he's still a puppy that likes to jump, Spasevski said. He doesn't have any health requirements and is up-to-date on his vaccines, heart worm negative, microchipped and neutered. 
Volunteers don't know much about Cas' history before he came to Cache Creek Animal Rescue in Frankfort, Illinois. 
Chrissy Spasevski, who has volunteered at Cache Creek since March 2019, said Cas takes time to warm up to people. 
"If you think about it, this dog has been in the shelter his entire life," Chrissy said. "He hasn't learned how to be a dog." 
Chrissy said whoever is interested in Cas needs to devote time to visiting him to help build trust.
When The Times met with Cas early last week, a reporter wasn't able to pet him — he was afraid of the camera. Howver, the medium-sized dog enjoyed frolicking outside in the windy, wintry weather and happily received pets from rescue volunteers Aleece and Chrissy. 
"He needs a chance. He just needs a chance," Chrissy said. 
For more information on Cas, call Cache Creek Rescue at 219-365-7426 or visit the rescue's Facebook page at Cache Creek Animal Rescue Saint John, IN. 
Adoptable pets at Cache Creek Rescue