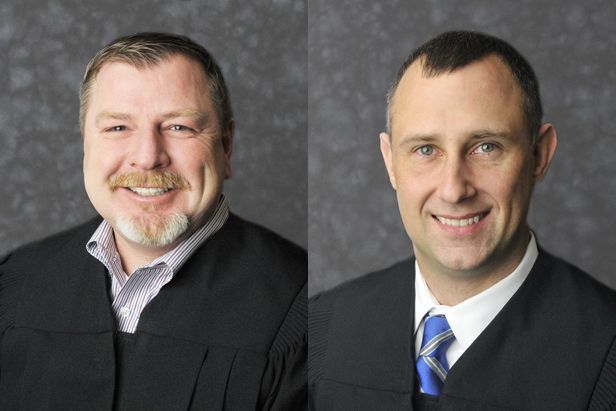 INDIANAPOLIS — Two judges from southern Indiana's Clark County were shot and wounded early Wednesday in the parking lot of a downtown Indianapolis White Castle restaurant.
The shootings occurred about 3:30 a.m. and police retracted an earlier report that the men had just left the Red Garter Gentlemen's Club, located immediately south of the White Castle near Lucas Oil Stadium.
It's not yet known what sparked the shootings. Police said detectives found no evidence suggesting the judges were targeted because they are judges.
Judges from Northwest Indiana, and across the state, are in the capital city this week for an annual judicial conference at the Indiana Convention Center.
Kathryn Dolan, Indiana Supreme Court chief public information officer, identified the judges shot as Clark County circuit court judges Andrew Adams and Bradley Jacobs.
Both have served since their election in 2014, she said.
Jacobs is in critical and stable condition, and Adams is in stable condition, Dolan said.
"(Indiana Supreme Court) Chief Justice Loretta Rush has visited with both judges and their families and expressed the support of the entire judicial branch," Dolan said.
"Our judges across the state are heartbroken to learn of this violent act against our colleagues," she said. "We send our prayers for a speedy recovery for both Judge Jacobs and Judge Adams and our love and support to their families and the Clark County community."
Clark County Circuit Court Judge Vicki Carmichael "is shocked to learn of the overnight violence involving her fellow judges," according to Dolan.
"Judge Carmichael has been assured that there is no reason to believe the judicial officers were targeted because of their positions with the Judicial Branch," Dolan said in a statement. "This appears to be a random act of violence."
Carmichael spoke with fellow judges who were with Adams and Jacobs "and she been advised certain reports circulating about the event are inaccurate," Dolan said.
Clark County courts are closed Wednesday, but will reopen Thursday.
Indiana State Bar Association President J. Todd Spurgeon issued a statement saying, "I am saddened to hear the terrible news that two Judges were victims of a shooting overnight. I have appeared before these judges many times, and count them among my friends in this community. Although our justice system is generally adversarial by nature, we are one legal community, and at times like this we come together to lift up our colleagues and their families. Personally, and on behalf of the Indiana State Bar Association, I offer our heartfelt support and prayers for the judges' recovery."
Altogether, five people were shot in Indianapolis in three separate overnight shootings.
The Associated Press contributed to this report.
Copyright 2019 The Associated Press. All rights reserved. This material may not be published, broadcast, rewritten or redistributed.
Sign up for our Crime & Courts newsletter
Get the latest in local public safety news with this weekly email.