It was nineteenth century German statesman Otto Von Bismarck who labeled politics as "the art of the possible, the attainable — the art of the next best."
Widely considered the mastermind behind the unification of Germany and a skillful practitioner of balance of power diplomacy that helped maintain his country's position in Europe, Bismarck clearly knew a thing or two about politics.
His words can be applied to the practice of politics more broadly and the Illinois General Assembly more specifically. 
No piece of legislation is perfect. Lawmakers, lobbyists, interest groups and others will often shape it into a form that is at least somewhat acceptable to all parties and can win enough support to pass both chambers and attain the governor's signature. 
In recent history, gaming expansion bills getting passed have been more the exception than the rule in Illinois, often due to the competing interests within the industry.
But the appetite was strong for a capital construction program in 2019, fueling the push for gaming expansion, which would help pay for things like new schools, state facilities and university buildings. 
With that, the whole package was approved with significant bipartisan majorities. But not before several key compromises were made.
The biggest one involved a "penalty box" provision locking out online-only operators like FanDuel and DraftKings for at least 18 months past the launch of the state's first sportsbook.
It was added at the insistence of brick-and-mortar casino owners, most notably Rivers Casino owner Neil Bluhm.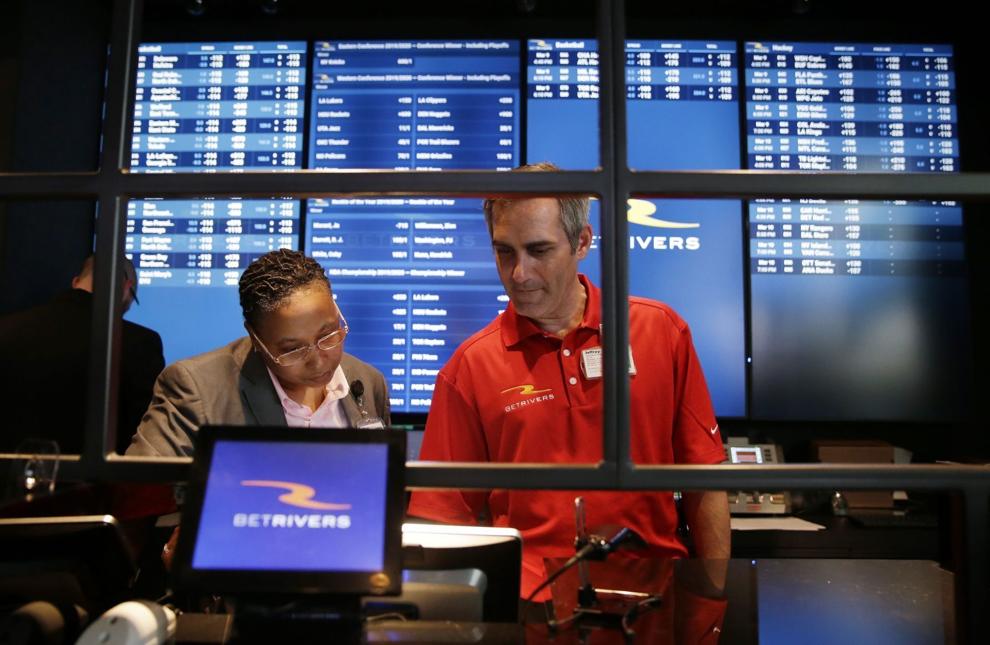 They argued that the online companies had been operating illegally in Illinois for years and would have an unfair leg up on the casinos if not held back. 
So the law was written to require gamblers to first register in-person at the casino, track or sports facility before being able to use the mobile betting features.
Online operators were allowed to partner with existing casinos to access market share. The first retail sportsbook went live in the state in March 2020.
But, with the pandemic closing casinos at times and limiting capacity at others, Gov. J.B. Pritzker signed an executive order waiving the in-person registration requirement. Besides a brief lapse in July, the rule had been in place since last June. 
This allowed market leaders like DraftKings and FanDuel, which both partnered with casinos, essentially unfettered access to the Illinois market.
Until this past Sunday, that is. 
A spokeswoman for Pritzker confirmed last Friday that the in-person registration was back on, noting that "Illinois is currently in phase four with vaccination rates rapidly increasing and casinos around the state have reopened with safety guidelines in place, so the suspension of in person sports betting registration requirements is no longer needed." 
But for residents in communities like Decatur, Bloomington and any other place where there's not easy access to a casino, racetrack or off-track betting facility that hosts a sportsbook, it just got much, much harder to open a legal sports betting account in Illinois. 
Sports betting became legal in Illinois a year ago. Then came COVD — and an opportunity. 
From a revenue standpoint, it does not make much sense as more than 96% of all sports wagers in Illinois this past year were made online, according to state data. 
Even with business at casinos likely to pick up as the COVID-19 pandemic recedes, the online sports betting market accounts "for at least 75%, and as much as 90%, of the total sports bets placed in a state that offers both online and retail sports betting," said Chris Grove, an industry analyst for Eilers & Krejcik Gaming.
"The in-person registration requirement can only limit the market," he said. 
That's less money for schools, universities and other state facilities — the reason many believe sports betting was allowed in the first place.
This is likely true, though it ignores the fact that the legislation likely would not have passed in the first place if the provisions placating the brick-and-mortar casinos were not included. 
Still, Illinois emerged as a top-five sports betting market in the entire country the past few months, mostly fueled by the online market. 
"It's too early to say definitively," Grove said. "But the reality is that Illinois is a big state with strong sports fandom and a roster of top-tier sportsbooks, so there's no reason why it won't be one of the more productive markets in the United States." 
But closing off online registration is likely to limit further growth of the market and cut off folks who can't easily get to one of the handful of retail sportsbooks.
Lawmakers will have the opportunity to revisit the issue this spring along a few other cleanup items, but will they? That's not a bet I'm prepared to make.
---
Brenden Moore is the state government reporter for Lee Enterprises.