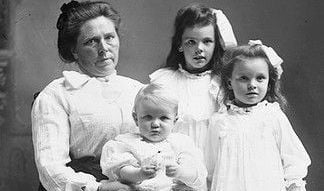 By most accounts Belle Gunness is an American-ized version of a Norwegian name, for a woman who biographers say was born Nov. 11, 1859, the youngest of eight children who lived on a farm with her family southeast of Trondheim, a large city in Norway. The family was poor, so Belle worked for three years as a servant at a large and wealthy farm to earn her passage to the U.S. in 1881.
As an adult, Belle Gunness was reportedly a very large and physically strong woman who weighed more than 200 pounds and was six feet tall. She next turned up in Chicago where she married Mads Ditlev Anton Sorenson in 1884. The Sorensons opened a candy store but the business floundered and within a year the shop went up in flames. The insurance money from the fire paid for the Sorensen's home. There is controversy about whether or not the couple had children. But some historians reported that there were four children living in the home that died as infants. Officially the deaths were attributed to infant colitis, but they could have been poisoned. Two of the babies had life insurance collected by the Sorensons. Then on July 30, 1900 Gunness's husband died on the only day on which his two life insurance policies overlapped. The family doctor listed the cause of death as heart failure, although another doctor who saw him before he died thought he had been poisoned with strychnine.
Both Caroline's and Axel's lives were reportedly insured, and the insurance company paid out. An article in The New York Times (May 7, 1908) states that two children belonging to Gunness and her husband were interred in her plot in Forest Home cemetery. On June 13, 1900, Gunness and her family were counted on the United States Census in Chicago. The census recorded her as the mother of four children, of whom only two were living: Myrtle A., 3; and Lucy B., 1. An adopted 10-year-old girl, identified possibly as Morgan Couch but apparently later known as Jennie Olsen, also was counted in the household. She used the insurance money from her husband's death to purchase a farm in LaPorte. The $8500 payment was the equivalent of $240,000 today.
The next year the boat and carriage houses on the property in LaPorte burned to the ground as soon as Belle took possession. She married a recent widower Peter Gunness in LaPorte the following year and soon after Peter's infant daughter died. Her second husband died in a tragic accident involving scalding and being hit in the head with a sausage grinder. Of course, Peter was insured for $3,000 at the time of his death. Peter's brother Gust took his brother's oldest daughter to Wisconsin. She was the only known child or husband to have survived living with Belle.
In 1903, Belle had a son, Philip and she killed a foster daughter, Jennie Olsen, sometime during the three years after Philip was born. Jennie's body was found in 2008, buried on the Gunness farm. In 1907, Belle hired Ray Lamphere to help run the farm. Lamphere would ultimately bring about her downfall but not before she lured dozens of men with money to come to court her in LaPorte. Belle Gunness had begun inserting matrimonial ads in newspapers around the Midwest and respondents came to LaPorte trying to win her hand.
During 1906-1908 the Gunness farm was a killing field. In May 1908, after Gunness faked her own death and fled into the woods, her hog pen was dug up. Two small children's bodies were found as well as the body of Andrew Helgelien, whose brother was making inquiries about his whereabouts. That was about the same time that Belle Gunness became estranged from Lamphere, who claimed to be in love with her. But Lamphere had been in on Andrew Helgelien's murder, as well as others. The bodies discovered in the hog pen included widowers, married men, aspiring handymen, most of Scandinavian descent.
The hog pen was dug up after a fire gutted the Gunness house in 1908. Even though the handyman who had replaced Lamphere ran into town to get help, by the time a hook-and-ladder arrived there were only smoldering ruins and four bodies including that of a headless woman. The children's bodies were in their beds. After comparing the body's measurements with those of Belle Gunness' dress-makers, the authorities quickly determined that the woman was not Belle Gunness. The doctors who examined the headless body said that whoever she was, she had been poisoned with strychnine.
When the two sets of measurements were compared, the authorities concluded that the headless woman could not possibly have been Belle Gunness, even when the ravages of the fire on the body were taken into account. (The flesh was badly burned but intact). Moreover, Dr. J. Meyers examined the internal organs of the dead woman. He sent stomach contents of the victims to a pathologist in Chicago, who reported months later that the organs contained lethal doses of strychnine.
Lamphere was arrested and charged with murder and arson, but his defense rested mostly on the premise that there was no evidence linking him to any of the murders directly. Lamphere was convicted of arson and sentenced to 20 years in the prison at Michigan City. After his death of tuberculosis in 1909, a minster reported that Lamphere had made a confession that he never killed any of the men, but he helped Belle bury their bodies, which she sometimes cut up and fed to the pigs. Lamphere also said that the headless corpse was a woman Belle hired to be a housekeeper as she was planning her escape. According to the deathbed confession, after Belle bashed the woman's head, she decapitated her and buried the head in a nearby swamp. Next she dressed the headless woman in her clothes. Belle also chloroformed her children and smothered them to death before the fire. Belle set the fire and then disappeared with her belongings. Lamphere said that she murdered 42 men before she left and had accumulated a huge fortune, more than $250,000 that she took with her.
She had been declared legally dead in 1908 and the headless corpse was buried next to that of her first husband, Mads Ditlev Anton Sorenson. There were reported Gunness sightings around the country that continued until at least 1931. That year a woman named Esther Carlson was arrested in Los Angeles for allegedly poisoning a man named August Lindstrom. Whoever Esther Carlson was, she died before she could be tried for Lindstrom's murder.