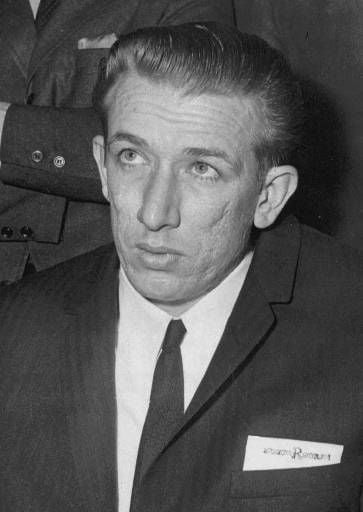 One night a little more 50 years ago at 11 p.m., Richard Speck broke into a townhouse on the south side of Chicago in the Jeffery Manor neighborhood and murdered eight of the nine student nurses from South Chicago Community Hospital he found there. Only Corazon Amurao, who managed to hide under a bed as Speck led the other victims — Gloria Davy, Patricia Matusek, Nina Jo Schmale, Pamela Wilkening, Suzanne Farris, Mary Ann Jordan, Merlita Gargullo, and Valentina Pasion — one-by-one into another room, was physically unhurt. The only witness crawled out of the bedroom window around 6 a.m. and began screaming "They're all dead!" Police made a sketch from Amurao's description and Speck's fingerprints were found at the scene. Another identifying detail about the killer, the "Born to Raise Hell" tattoo on his arm she described seeing on his arm, was all over the news.
The city was terrified, particularly teenage girls who lived on the south side. Speck remained at large for two long days and nights. He drifted downtown to West Madison Street, then a Skid Row type area, and turned up in a room at the seedy Starr Hotel. The room's tenant Claude Lunsford recognized Speck from the drawing in the newspapers and called the police. There was no response to that 9:30 p.m. call, but later, after Speck tried to commit suicide, the Starr's desk clerk called an ambulance around midnight. The killer was identified by the resident on duty at nearby Cook County Hospital in the early morning, July 17th. Dr. LeRoy Smith recognized the tattoo, called police and Speck was arrested.
Dr. Smith told prosecutors and the police that Speck had confessed to the murders but he did not testify because Speck has sedated at the time of the confession. The most damning evidence was Cora Amurao identified the killer in court during the trial in Peoria in April, 1967. Though he was sentenced to die in the electric chair, the death penalty was declared unconstitutional by the Supreme Court in 1972 and Speck was re-sentenced to serve eight consecutive sentences, which in theory would amount to 400-1200 years. During the trial Speck maintained that he didn't remember what happened that night, but he confessed to Chicago newspaper columnist Bob Greene in 1978 and he said again that he had killed the nurses on a video made in Stateville prison in Joliet by other inmates in 1988. The night before his 50th birthday, he died of a heart attack at a hospital near the prison. He was cremated and several people witnessed the scattering of ashes, although the location has always been kept secret.