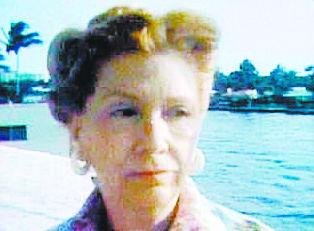 Candy heiress Helen Vorhees Brach would be 104 next Nov. 10, if she were still alive. But that is not likely. Mrs. Brach was declared legally dead as of Feb. 17, 1977, allegedly the last day she was seen alive having just received a clean bill of health from the Mayo Clinic in Minnesota.
But the actual date of her death is unknown, as well as the location of her final resting place. Northwest Indiana folklore has an abiding rumor that her body was thrown into a blast furnace at a steel mill. That story originated with a federal informant's 2005 tip given to a Chicago television reporter that her body was incinerated at Inland Steel, now ArcelorMittal, in East Chicago. (Psychic Dorothy Allison, of Nutley, N.J., reportedly told police in 1991 that "they burned her." By the time the informant's info came to light, the psychic was dead, too.)
Brach would have been 65 years old and quite wealthy when she was probably murdered. And in the seven years between her disappearance and the date she was declared legally dead, her fortune grew from less than $20 million to $30 million. Brach had inherited the proceeds of the sale of the E.J. Brach & Sons Candy Co. to American Home Products in 1966 when Frank Brach died.
The amount of money, and its trail and dispersal, is one of the few facts around the case never in dispute. Helen Brach set up the Helen V. Brach Foundation in 1974 to help and protect animals, and the foundation has been working on that cause and building the endowment ever since.
Even after hundreds of thousands of hours of investigation by various entities and hundreds of articles in magazines and newspapers -- no one knows for sure what happened to Brach.
One of the two suspects thought to have knowledge about her disappearance is Jack Matlick, who was the caretaker, houseman and chauffeur at her Morton Grove estate. He was fired by Brach's brother, Charles, several months after she went missing. Matlick died in a nursing home in Pennsylvania at age 79 on Valentine's Day in 2010. He always denied involvement in the disappearance but he also never had a job after Helen Brach disappeared. (Matlick was an ex-con and petty thief originally hired by Frank Brach to drive him around and take care of his house.)
Richard Bailey, the other suspect -- a former boyfriend of Brach who had a pattern of defrauding and horse-trading with wealthy widows -- was convicted in 1995 of racketeering, wire fraud, money laundering and "more probable than not" was involved in a conspiracy to murder Helen Brach, as Judge Milton Shadur wrote at the time. Bailey was 67 when he was sentenced to spend the rest of his life in prison in Florida and pay a $1 million fine. Bailey was known to have been involved in racehorses, stable fires, miscellaneous unexplained horse deaths and numerous schemes involving known criminals. (There were 19 other people charged along with Bailey in a federal probe in which he was convicted).
The problem with theories about whatever happened to Helen Brach's death was with the motive. Why would Bailey or Matlick want to kill her when she was worth so much more money to them alive than dead? The argument for Matlick as the killer said that Brach had fired him, was moving to Florida and he killed her in a rage or argument -- a crime of passion. If Bailey did it, or paid someone else to do it, it was likely to keep her from blowing the whistle on his shady horse deals. According to the lead prosecutor on the Bailey case, Steven A. Miller, "His motive was damage control, and the only way to protect himself was to silence her."
Physical evidence could have likely settled the argument but there was none. In the early years of the investigations there were diggings and hundreds of dental work comparisons on female bodies found in forest preserves around the Midwest. They dug in backyards of Chicago and at Brach's house. Several prisoners serving lengthy sentences "confessed" to being involved in the burial of "the candy lady" and led the police into the woods of Wisconsin, Ohio and numerous other places.
Perhaps it was the nature of Brach's interest in the occult and automatic writing or just the nature of mysterious stories without an ending like hers, but there were always mediums, paranormal psychologists and astrologers around the Brach story.
What do you think happened to Helen Brach?