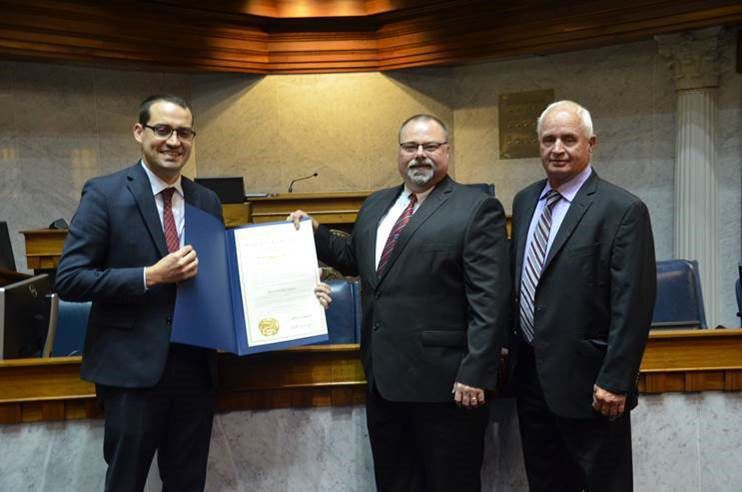 CROWN POINT — For 12 years, Crown Point Police Sgt. Dave Benson met with fifth-graders to discuss the dangers of drug use, violent behavior and gang membership. 
That role has been filled by another officer as Benson campaigns for the role of Crown Point Clerk-Treasurer. However, his legacy as a D.A.R.E. officer continues. 
State Sen. Rick Niemeyer, R-Lowell presented Benson Tuesday with the Circle of Corydon Award, according to a news release.
The award is the second-highest honor a Hoosier can receive and recognizes citizens who have made significant contributions to the betterment of Indiana, according to the release, and is given by the governor of Indiana. 
"It's a pleasure to present Sgt. Benson with the Circle of Corydon Award," Niemeyer said. "Benson is a true example of what it means to be a public servant, and his passion for encouraging students to lead a clean life has made a positive impact on many young Hoosiers, their families and teachers."
Benson worked with 600 students annually through the D.A.R.E. program and still interacts with students as the school resource officer at Wheeler Middle School. 
"My breath is taken away," said Benson Tuesday after driving home from Indianapolis. "I just couldn't believe it — it was just so humbling."
Benson said receiving the award at the statehouse in the Senate Chambers made it an even better recognition of his work. 
"It's just a great honor to just to be a part of them (the student's lives) all these years," he said. "To finish up with this and still being with them at the middle school ... all the effort and 12 years of my tenure and hard work, it's really honoring and humbling to be recognized not only by Indiana, but by the state senate and the governor, it's really awesome." 
"Investing in our youth is the of the upmost importance, and I think that's understood by everyone and that's why these awards come out," Benson said. The youth is our future and the most important resource."