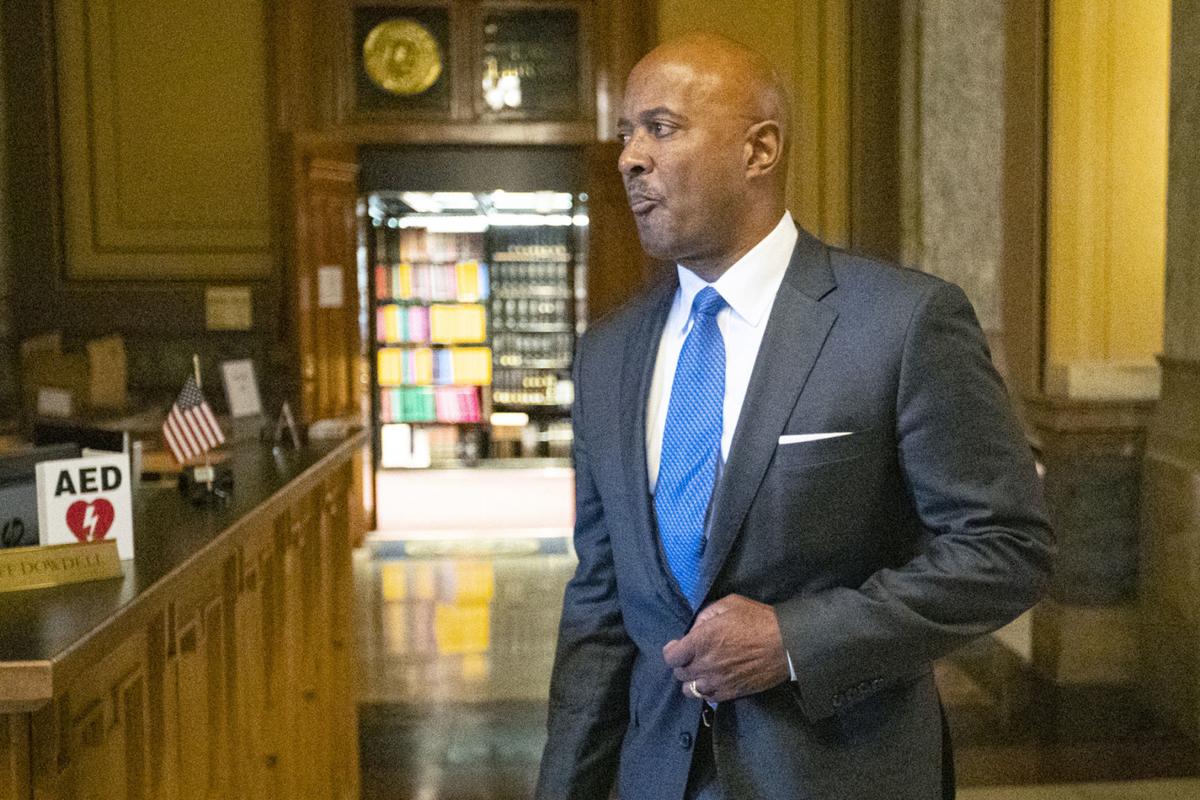 Attorney General Curtis Hill Jr. is setting up a showdown for the ages between Hoosier Republican activists, who generally support his unyielding stands for conservative values, and the leaders of Indiana's GOP establishment, who have called on Hill to resign following accusations that he drunkenly groped four women at an Indianapolis bar.
On Thursday, Hill announced in an email to supporters he will ask delegates at the June 20, 2020, Republican State Convention to nominate him for a second term as Indiana's chief law enforcement officer.
Hill said he's running for reelection because "Indiana needs strength, courage and bold conservative leadership."
"Standing for what's right is harder than ever, but I do it every day with courage and conviction as attorney general — and I'm just getting started," Hill said.
"At a time when freedom and our way of life are under attack, I'll continue to work with President Trump, and others, on important issues facing our nation and state. I'll never back down from partisan attacks, the media and even Republicans embarrassed to defend our values."
Hill has proven quite adept at commanding support among the Republican convention delegates who will award the party's attorney general nomination next year. There is no primary election for the office.
The former Elkhart County prosecutor won the GOP attorney general nod in 2016 by defeating three other candidates at the convention, including former Attorney General Steve Carter and then-state Sen. Randy Head, R-Logansport.
In 2018, Hill successfully persuaded convention delegates to buck Republican Gov. Eric Holcomb, Indiana GOP Chairman Kyle Hupfer and the party's platform committee to retain a clear commitment to opposite-sex marriage in the biennial declaration of state Republican principles, even though polls show a majority of Hoosiers have no problem with gay marriage.
Hill last year was accused by state Rep. Mara Candelaria Reardon, D-Munster, and three female legislative staffers of both political parties, of touching their backs and/or buttocks without consent and making sexually charged comments to them, during a late-night party at an Indianapolis bar celebrating the adjournment of the 2018 General Assembly.
The attorney general repeatedly has denied any wrongdoing in connection with the incidents. A special prosecutor last October declined to file criminal charges against Hill after concluding "a protracted, contentious and expensive legal proceeding" was not in anyone's interest for a possible misdemeanor.
Nevertheless, the governor and the Republican leaders of the Indiana House and Senate stood by their calls for Hill to immediately resign.
In May, the Indiana Supreme Court's Disciplinary Commission alleged Hill's behavior at the party violated the professional standards for Indiana attorneys and said Hill's law license should be sanctioned.
A four-day hearing on the allegations was held last month before former Indiana Supreme Court Justice Myra Selby.
She's been tasked by the state's high court with reviewing the evidence against Hill presented by the Disciplinary Commission, as well as any rebuttal by Hill, and putting together a report on the case for the five Supreme Court justices, who ultimately will decide whether Hill's alleged conduct warrants professional sanction.
Selby has not yet submitted her report to the Supreme Court.
When she does, the court has four discipline options: do nothing; issue a public or private reprimand; temporarily suspend Hill's law license; or remove Hill from the practice of law altogether.
It's believed a suspension or disbarment would end Hill's current term as attorney general and allow Holcomb to appoint a replacement, since Indiana law mandates the attorney general be "duly licensed to practice law in Indiana."
However, being removed from office following a law license suspension would not necessarily prevent Hill from seeking renomination and reelection as attorney general if the suspension ends before his next term would begin.
So far only one Republican is challenging Hill for the attorney general nomination: Zionsville attorney John Westercamp.
On the Democratic side, state Sen. Karen Tallian, D-Ogden Dunes, is the sole candidate seeking her party's attorney general nomination.
John Zody, Indiana Democratic Party chairman, said following Hill's reelection announcement that Hill is "a disgrace."
"His conduct is below the standard of an elected official, let alone the state's top law enforcement officer," Zody said.
"In his announcement, Hill lights the fuse on what could be a powder keg of a Republican convention by openly taunting Governor Holcomb and other Indiana Republicans. Nothing says unity like targeting the de facto leader of the party."