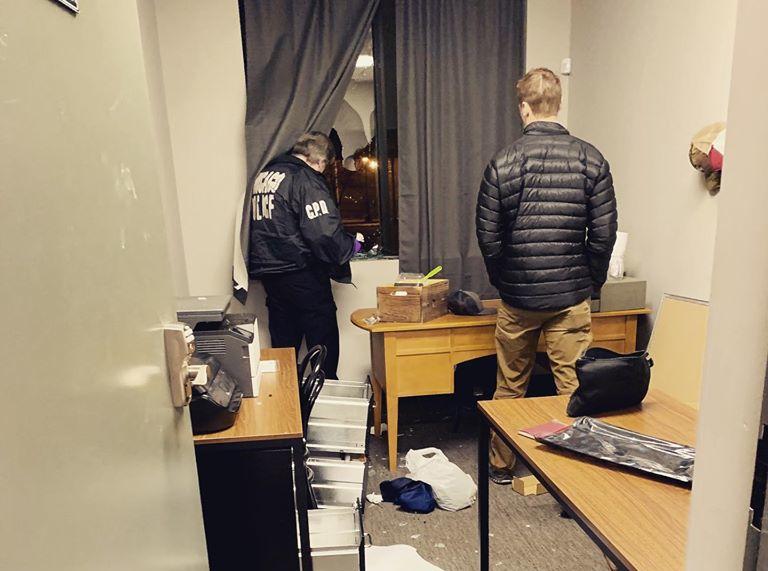 CHICAGO — A 5-pound bag of gummy bears from Albanese Candy Factory helped lead police to a suspect who allegedly burglarized a business and may be connected to other break-ins.
Cameron Compton, owner and head brewer of Midwest Coast Brewing Company in Chicago, said the business was hit with three burglaries that happened Feb. 28, March 3 and March 19.
He said each one happened around 1:30 a.m. and each time the burglars used the same area of entry, smashing the same brewery window to get inside.
The burglars took cash, tools, pallets, food from the kitchen and a 5-pound bag of Albanese gummy bears an employee bought from the Merrillville company that he brought to work. 
"The first two times we never saw this coming," Compton said. "It had minimal impact on business at first and it was more of a peace of mind violation. But then right after we received the order that we will not be able to operate our brewery as normal, the third burglary had a heavy impact. It was especially frustrating."
On March 19, following the third early-morning burglary, investigators met with Compton and staff at the brewery. A window was shattered and the brewery office was ransacked in a search for valuables, Compton said.
It was then that the gummy bears were registered as evidence, he said. 
"The gummy bears were stolen in the first burglary," Compton said. "With all of the other things taken of high value, the candy was an after-thought. But then my wife made an off-handed comment, sort of joking, saying, 'They even took our gummy bears.' Then the officer said, 'Wait, gummy bears? You're joking.' He left and came back with a bag of gummy bears asking if these were the ones stolen."
Compton asked the employee who owned the candy to come take a look and he confirmed that was it was his bag.
"It was distinct-looking bag," Compton said. "And the officer said, 'OK, we know who did this.'"
Compton said the officer told him Chicago police arrested someone a couple weeks ago for breaking into another nearby business, and the suspect happened to have a mostly eaten bag of Albanese gummy bears with him.
Later that same day around 7 p.m., Compton was notified an arrest was made.
Terrence Cole, 55, of Chicago, was charged with burglary and taken into custody, according to a report from the Chicago Police Department.
"Among other things, it was kind of the gummy bears that made the connection," Compton said. "I spoke with the detectives, who said they refer to the case as the 'gummy bear caper' in their precinct. If my wife hadn't mentioned it, I don't know if they would have made that connection."
Surveillance footage showed the suspects breaking in and Compton said each time, one to two men were caught on camera.
"Gummy bears aside, based on the camera footage, I believe it's the same people," he said.
The Chicago Police Department's investigation is ongoing and police could not confirm the man arrested is responsible for the other two burglaries.
Staff noted that not all of the stolen bears were recovered as the once nearly-full 5-pound bag was now only a quarter-full.
"They must have ate a lot of gummy bears," Compton said.
However, out of the odd situation, came a new brew called "Gummy Bandit," a blueberry lemon Berliner Weisse, which is available for pickup at the brewery.
"Between the time we brewed it to the time it was done and packaged, all three break-ins happened, so it was obvious what we would call it," Compton said.
Wesley Dault, Albanese Candy Factory social media specialist, said he learned of the sweet tip through a social media post from the brewery Monday. He said it was the first time he has heard of Albanese candy being used as evidence.
"It's not their manufactured intention but I am glad they could help in this instance," Dault said.
Dault said he and the company felt bad for the employee whose treasured bag of gummy bears was taken.
"The person is probably not happy they had their candy taken so we wanted to do something to help out," Dault said. "We got the address and are sending them a new bag of gummies."
Compton said that now he and his staff can feel at ease and continue navigating the murky waters of the coronavirus pandemic.
"The arrest gave us a sense of relief and closure," Compton said. "Chicago police were amazing through the whole process. They really put forth effort and I am glad we were able to help the investigation because, if it's the right guy, he could be responsible for several other break-ins. Helping keep other businesses in the neighborhood safe feels great. It's a strange, comical story when you look back at it. Truth is stranger than fiction."