5 stories you need to know today: In 'the darkest day' of his life former Sheriff John Buncich is sentenced to 188 months in prison.
Here are the top 5 trending stories today. 
In 'the darkest day' of his life former Sheriff John Buncich is sentenced to 188 months in prison
HAMMOND — A federal judge has sentenced former Sheriff John Buncich to immediately begin serving a 188-month prison term — a little more than 15 years — for public corruption.
The man who had been the face of law enforcement in Lake County for decades appeared stunned by the pronouncement, which his lawyer, Bryan Truitt, called tantamount to a death sentence for his 72-year-old client.
U.S. District Court Judge James Moody refused the usual courtesy to public corruption figures, the freedom to report directly to his federal penitentiary at a later date.
Moody said the embarrassment Buncich caused to his police department and the harm he caused to Lake County's reputation in the state was staggering and denounced Buncich's abuse of power for self-enrichment and his "blind obedience to the political cult. Shame on you."
Buncich's voice was reduced to a whisper after learning of his sentence. He only had time to briefly look back to the court audience, which contained a number of his supporters, before court security officers led Buncich in restraints out of the court and into a holding cell.
The court also imposed a $250,000 fine on Buncich.
U.S. Attorney Thomas Kirsch II said his office requested Buncich be detained immediately for fear he would flee to avoid having to serve such a lengthy sentence. Kirsch said there was evidence of large amounts of "unexplained cash" associated with Buncich's bank accounts.
Truitt said it was ridiculous to believe a man of Buncich's age and poor finances would be able to live long on the run. Truitt said his client will appeal the conviction and sentence within weeks.
What's next?
Buncich likely would spend the next 45 to 60 days at Chicago's Metropolitan Correctional Center until he is transferred to a federal penitentiary. Truitt said Buncich preferred to spend his sentence at a federal camp in Yankton, South Dakota.
"This is the darkest day of my life," Buncich told the judge earlier in the six-hour sentencing hearing. Nevertheless, he said he was proud of his career and that he brought more minority police officers and civilian employees into the department than any previous sheriff.
The judge said he was struck by Buncich's almost complete lack of remorse, as was Kirsch, who said he is forming a new task force "to root out public corruption wherever it exists in the Northern District of Indiana."
Kirsch declined to comment on who might be indicted next, although testimony by FBI Agent Nathan Holbrook during the sentencing hearing hinted the towing investigation extended beyond the Sheriff's Department to the towns of Merrillville and Schererville.
Assistant U.S. Attorney Philip Benson reminded the court of evidence during Buncich's trial in August that the sheriff received tens of thousands of dollars in illegal payments from William Szarmach, a Lake Station towing firm owner and longtime Buncich associate, and undercover government informant Scott Jurgensen, owner of Samson's Towing of Merrillville, between 2014 and 2016.
Buncich found guilty of bribery
A jury last August found Buncich guilty of bribery counts on evidence the payments from Szarmach and Jurgensen amounted to bribes because they were made on condition Buncich provide them the choicest towing districts, and that Buncich delivered.
Prosecutors said the bribery took place under the cover of campaign fundraising. Buncich was elected sheriff in 1994, 1998, 2010 and 2014, and named chairman of the Lake County Democratic Party in 2014.
A federal grand jury indicted Buncich, Timothy Downs, Buncich's second-in-command at the time, and Szarmach in November 2016. Downs later revealed he had become a cooperating government witness, as did Szarmach eventually. Both have pleaded guilty and are awaiting sentencing themselves.
The government equipped Jurgensen with audio and video equipment that recorded payments. The evidence was used by the government to win its conviction of Buncich, who was forced from office by the guilty verdict.
Buncich told the court he worked 70-hour weeks to ensure public safety as well as rehabilitate the County Jail, which was under federal mandate to correct nearly 100 deficiencies in inmate medical and mental health care.
But Benson presented evidence that Buncich was so obsessed with receiving bribes from towing firms that he directed his gang unit to put off their regular duties to ticket more cars for towing.
Holbrook said the department was receiving complaints from the public about their cars being towed for minor infractions and costing their owners hundreds of dollars to recover their vehicles. Holbrook said the joke around the Sheriff's Department was they had become the "towing police."
Benson said Buncich's list of approved towing firms were all political contributors, and he considered those who didn't buy fundraising tickets, or who contributed to his political opponents, to be unfriendly and unworthy of county business.
Truitt argued Buncich didn't feel remorse, because he still doesn't believe he did anything wrong. He said Buncich only engaged in political fundraising like any other local elected official and had cars towed for legitimate reasons.
The guilty verdict in August forced Buncich from office. One of his political opponents, Oscar Martinez Jr., now occupies Buncich's old office. The Lake County Board of Commissioners has taken control of awarding towing contracts away from the Sheriff's Department.
Buncich's girlfriend goes to his sentencing and lands in the hot seat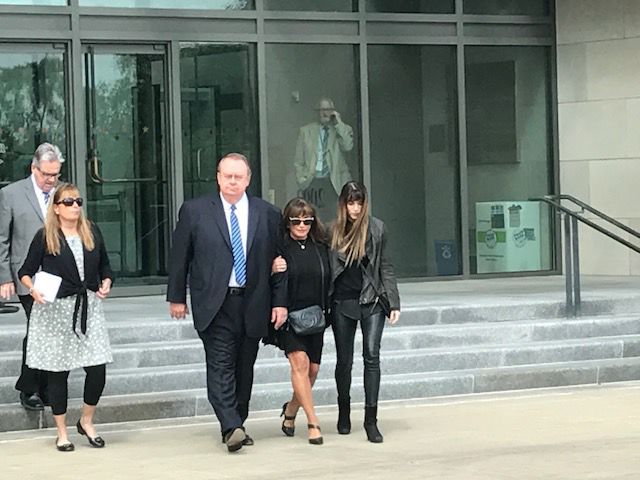 HAMMOND — Former Lake County Sheriff John Buncich's significant other admitted Tuesday she used a restricted police data system to dredge up sensitive background information on his accusers.
Assistant U.S. Attorney Philip Benson confronted Deborah Back with evidence of the unauthorized data collecting when he called her to the witness stand, as a surprise witness, during Buncich's sentencing for public corruption in U.S. District Court Judge James Moody's courtroom.
"I know it was wrong," Back said.
Sheriff Oscar Martinez Jr. said Tuesday afternoon he is banning her from working in the Sheriff's Department, where she has been director of nursing for the lockup's medical unit the last six years.
Benson accused Back of twice using her access to the Lake County Sheriff Department's Spillman's data system in February to investigate the government's lead investigators against Buncich — Benson and Scott Jurgensen and Jurgensen's family.
Benson led the U.S. attorney's office prosecution team against Buncich at the August trial and Tuesday's sentencing. Jurgensen, a retired Merrillville police officer and towing firm owner, was an undercover informant for the FBI investigation gathering evidence of bribery against Buncich.
Back had access to the system because of her position at the county jail, a job that paid between $158,000 and $230,000 a year — more than Buncich, who made $146,000 last year. She said she routinely used it to determine the medical status of jail inmates.
"Do you think you should continue to have access to this system after you've abused it?" Benson asked her. She said she didn't understand, and no one warned her, what she did was improper at the time. Benson asked, "It that because you were the significant other of the sheriff?"
Back said she and the sheriff have been dating for four years — two years after she first began working at the jail — and they have been living together recently. Benson said federal authorities arrested Buncich at her Crown Point home in November 2016 when he was first indicted on bribery charges.
She said Dr. William Forgey, owner of Correctional Health Indiana Inc., hired her to be his nursing administrator in 2012. Forgey is a close friend of and has been a personal physician to former Sheriff Buncich.
Back's future in the jail is in jeopardy. Martinez, who took over the Sheriff's Department in September after Buncich's removal from office, said his investigators have been cooperating with federal authorities who discovered Back's unauthorized use of the data system.
He said he had agreed to wait until the U.S. attorney's office made the violation public before he would act. He said he has immediately denied Back access to the Spillman system and to work in the jail until his department completes an investigation into whether she violated any laws or department rules.
Employee at Munster doctor's office charged with prescription forgery
CROWN POINT — A former employee at a doctor's office in Munster is accused of forging prescriptions for pain medication.
Michele Anna Marie Kawzinski, 25, of Hobart, was charged Friday in Lake Criminal Court with two counts of forgery, two counts of obtaining a controlled substance by fraud or forgery, unlawful possession of a legend drug and misdemeanor theft.
Kawzinski is alleged to have forged prescriptions while employed at Orthopaedic Specialists of Northwest Indiana, 730 W. 45th St. in Munster, according to court documents.
A manager for the doctor's office told Munster police Aug. 17 that Kawzinski created several fraudulent patient accounts, and those phony patients were prescribed Norco, an opioid medication, documents state.
Doctors told police their signatures were forged on the opioid prescriptions, according to documents.
Kawzinski was taken into custody and a search of her handbag turned up a blank prescription pad for one of the doctors, documents state.
A search of patient records revealed Kawzinski created fraudulent prescriptions for several persons who shared her last name.
One of those prescriptions was filled Aug. 9 at a Walgreens in Lake Station. Surveillance footage from the Walgreens showed Kawzinski was the person who picked up the prescription.
Kawzinski remained wanted on the warrant Tuesday, according to the Lake County Sheriff's Office. 
Kawzinski's bond is $10,000, according to court records.
A manager for Orthopaedic Specialists declined to comment.
Williams late free throw gives E.C. it's 17th straight win over Hammond
EAST CHICAGO — And the long and painful streak continues for The Times No. 2 Hammond Wildcats.
The program hadn't beaten E.C. Central for 16 years to the day before Tuesday night's game at the John A. Barrato Athletic Center.
The Wildcats held a 10-point lead in the fourth quarter and let it slip away as E.C.'s Syrrus Nunn hit a basket to force overtime.
Then, the 'Cats had the ball inside of five seconds left in the extra session when Louis Williams stole the ball. After a timeout, Williams dribbled down the floor and threw the ball up as time expired.
Hammond's Manny Anderson looked to have all ball on the shot, but the foul was called.
After a 15-minute discussion, Williams missed his first free throw, then sunk the second to give the Cardinals the 75-74 win.
"The delay was probably why I missed the first one," Williams said. "So I just acted like I was in the gym all by myself and made it. We won the game. This is the kind of game that can turn our season around."
The Cardinals (5-7, 1-1) had five players in double-digit scoring. Nunn led the way with 17. Juwan Jones had 15, with four 3-pointers. Josh Morgan scored 14 with eight rebounds. And Louis Williams and Shammon Williams each scored 10.
The Hammond bench exploded in anger after the call, then walked to the locker room after the program's 17th straight loss to E.C.
"That was not a foul, not at all," Hammond coach Larry Moore Jr. said. "He went straight up and it was all ball. This game should've went into a second overtime. My guys work too hard every day to let something like that happen."
The Wildcats (11-3, 3-1) were led in the Great Lakes Athletic Conference game by Amari Young, who scored 25. Anderson had 14 points and 10 rebounds. Montell Bates had 12 and Malik Miller, who struggled much of the night, had 11.
"We have to do a better job handling the ball," Moore said. "We didn't close the game out and that's on us."
In the fourth quarter, Hammond missed five free throws that would've won the game.
The last time Hammond had beaten the Cards was 53-52 on Jan. 16, 2001.
The first half was a series of swings by both teams. E.C. jumped out to an 8-2 lead, then the Wildcats went on a 14-0 run, picking up four turnovers in the span. Hammond held a five-point lead after one quarter.
In the second quarter, Bryson Jenkins nailed two 3-pointers for the Cards and Juwan Jones his one, his fourth of the first half. Hammond started to pick up fouls which took E.C. to the line, hitting 9 of 10 to take a 33-31 lead into the break.