5 stories you need to know today: Murder charges filed against Merrillville man after family fight ends in shooting; Weather causes delays on Chicago-bound South Shore trains, deep freeze on the way
Here are the top 5 trending stories today. 
Murder charges filed against Merrillville man after family fight ends in shooting
MERRILLVILLE — Police have secured murder charges against a 35-year-old in connection with Tuesday's double homicide that killed a mother and son.
Robert Stewart, of Merrillville, was charged Thursday with two counts of murder — along with enhancements for using a gun during the crime — in the shooting deaths of Ryan Halbe, 27, and his mother, Candy Halbe, 55, in the 2400 block of West 61st Place, Lake Criminal Court records show.
Police responded at about 9:20 p.m. Tuesday to the home for a report of two people shot. Around the same time, a Crown Point K-9 officer used a police dog to track down Stewart hiding blocks away in a shed.
In an interview with police, the suspect's girlfriend told police Stewart lives with the family at Candy Halbe's 61st Place home. She said Stewart has "issues with abusing alcohol" and "when he drinks, he gets violent," according to court records.
The woman said while out running errands with Stewart and her young son, she questioned Stewart about his drinking, but he denied it, records show. When they returned home, a family argument ensued after an intoxicated Stewart allegedly "forcefully grabbed" and "pushed aside"  a young child in the home.
Shortly after Candy Halbe and Stewart's girlfriend began arguing with him in the basement, Ryan Halbe joined them and grabbed Stewart by the shoulder, prompting Stewart to grab a gun from his waistband, court records show.
The feud erupted in gunfire after Ryan Halbe said to Stewart, "Why you waving a gun around? I don't want to kick your (expletive)."
As Stewart fled the home, Ryan Halbe bled out onto the floor, records show.
"Dad, I'm dying," he said, as his mother, Candy Halbe, lay on a nearby mattress, bleeding from a gunshot wound to her stomach.
Ryan Halbe died late Tuesday at Methodist Hospitals Southlake Campus in Merrillville. Candy Halbe died early Thursday at Methodist Hospitals Northlake Campus in Gary.
Witnesses at the scene recall hearing three gunshots and saw Stewart fleeing the home with a gun. A person in the home allegedly had purchased the weapon for Stewart.
A K-9 officer used a police dog to track Stewart's footprints in the snow to a shed in the 5700 block of Roosevelt Place. An officer located a .45 caliber Springfield XD weapon to the right of the footprints and a missing magazine about 15 feet away.
Upon arrival at the shed, a police dog was employed to apprehend Stewart because he refused to comply with commands to show his hands, step out of the shed and get to the ground, the affidavit stated.
Stewart was interviewed Thursday morning by police, records show. He told police he doesn't remember much about the night, and that he blacks out often when he drinks.
He told police he "did not recall much until being at home that night, possibly getting into an argument (with his girlfriend), being downstairs and getting into a tussle with Ryan," and then running and hopping fences, the affidavit stated.
He added he remembered "hearing gunshots but did not recall pulling out a gun, pointing a gun, or shooting Ryan and Candy (Halbe)," records show.
Stewart is in custody. An initial court appearance was not yet scheduled as of Thursday.
Weather causes delays on Chicago-bound South Shore trains; deep freeze on the way
Several westbound South Shore commuter trains were delayed early Friday as the Region braced for more snow and cold.
Trains 112 and 110 were running 10 to 15 minutes behind schedule because of the weather, according to several South Shore service alerts.
Snow was expected to begin spreading across Lake and Porter counties on Friday afternoon, dropping 2 to 4 inches north of Interstate 80 and 3 to 5 inches south of the highway. LaPorte County could see 1 to 4 inches, according to the National Weather Service.
A winter weather advisory was scheduled for noon to midnight in Lake, Porter, Newton and Jasper counties and from 1 p.m. Friday to 4 a.m. Saturday in LaPorte County.
The storm could make the afternoon commute difficult, forecasters warned.
The snowstorm could be a prelude to another period of frigid temperatures, and many Region communities have opened warning centers.
By Saturday morning, air temperatures were expected to fall into the low single digits with wind chills as low as 20 below zero.
The cold temperatures were expected to persist through much of next week. Wind chills could fall to minus 25 Sunday night through Tuesday morning.
Lake-effect snow was possible Sunday morning in Lake and Porter counties, with accumulation most likely in Porter County. LaPorte County also could see periodic lake-effect snow, with accumulations expected by the end of next week, the weather service said.
Forbes' '30 Under 30' salutes 15-year-old Munster inventor, scientist, Annie Ostojic
MUNSTER — Annie Ostojic began winning state and national recognition for her scientific projects and inventions as a 9-year-old student at Frank Hammond Elementary School.
Recently, Forbes Magazine named the 15-year-old Munster High School sophomore to its "30 Under 30" list joining more than 4,000 past game-changers such as basketball's LeBron James and Facebook founder Mark Zuckerberg.
The youngest named in this year's energy category, Ostojic is the third-youngest selected for 2018.
Nominations span the world with 15,000 to 20,000 applicants vying for a spot in 20 different categories including art, education, finance, games, health care, manufacturing and industry, and science.
According to Forbes Magazine, one "30 under 30" alum serves as a judge in each of the 20 categories, with 30 honorees named in each category. The honorees are vetted by a panel of blue-ribbon judges in their respective fields.
"I don't know who nominated me," Ostojic said. "In October, I received an email from Forbes to send in more information."
On Nov. 14, Forbes notified Ostojic she had been selected, recognizing her as an innovator and student researcher for two inventions — her development of a novel microwave design, and her reflective device using indoor lighting to collect solar power and charge hearing aid batteries.
Ostojic's invention of a better microwave involves a cavity design that uses cylindrical parabolic reflectors to cook food thoroughly while also saving energy. In 2015, the then-13-year-old Wilbur Wright Middle School student was named the top middle school science student in the nation for that microwave design and winner of the $25,000 Samueli Foundation Prize.
For that Broadcom Masters science competition in Silicon Valley, California, Ostojic was selected from a field more than 2,200 students in the nation by a panel of scientists.
Ostojic said her newest invention honored by Forbes was inspired by a friend whose hearing aids require changing 200 batteries a year.
Her reflective device uses indoor lighting from LED bulbs to generate solar energy that recharges batteries in a process known as photovoltaics.
"One hearing aid battery can recharge in a half hour," Ostojic said about her invention that could prevent these batteries from being disposed of in landfills. "This is a huge problem. More than 3 billion of theses batteries are discarded every year."
Currently Ostojic has two provisional patents and met former President Barack Obama twice at the White House after winning national science competitions with her microwave design.
"We went to the EPA and the patent office," she said about her trips to Washington, D.C. "I also met Bill Nye the Science Guy and was interviewed on NPR."
As a freshman at Munster High School, Ostojic qualified for the INTEL International Science Fair as one of 14 delegates from Indiana.
"The first time you can compete internationally is when you're in high school. You have to be picked from your state," she said of the May 2017 experience in which she was one of four girls in the state delegation.
Some 2,700 delegates from the U.S. and around the world gathered at the Staples Center in Los Angeles for the INTEL science fair, she said. "The purpose is to network with other kids. Each of us was given pins and a lanyard," she said.
As the students networked, they exchanged pins that were attached to the lanyards.
Wearing her lanyard festooned with pins from various states and nations around the world, Ostojic said, "I'm still in contact with people from India, Singapore and China."
Networking also is at the heart of Ostojic's Forbes recognition.
As a member of Forbes' "30 Under 30" list, Ostojic will be able to network with all those previous, current and future innovators and industry leaders.
"For the past seven years, the Forbes '30 Under 30' list has emerged as the way that the world discovers the next generation of entrepreneurs and game-changers," said Randall Lane, editor of Forbes Magazine and creator of the Forbes Under 30 franchise.
"This is the ultimate club: the people that will reinvent every field over the next century."
Ostojic said she wants to concentrate on helping younger students achieve their dreams through science.
For her own future, she said, "I'm very interested in engineering and the medical field. And working with computers."
Andrean rallies past Munster for OT win in Highland holiday tournament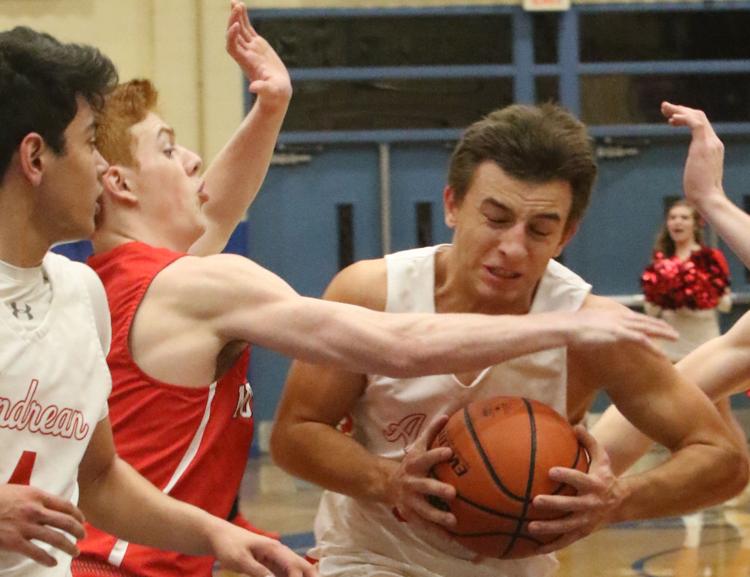 HIGHLAND — Kids these days, they grow up so fast.
Andrean's Kyle Ross is a freshman who plays like a grown man. The 59ers forward calmly drilled a 3 in the final seconds of regulation Thursday to force overtime against Munster, and his team scored all eight points of the overtime to capture a 65-57 victory over Munster in the semifinals of the Highland Holiday Hoopfest.
"My coaches and teammates tell me, every day, you're going to be playing older people, treat them like they're younger, go at them," Ross said. "That's what the weight room does. Don't back down."
Andrean overcame a nine-point deficit in the last four minutes, aided by Munster's turnovers and missed free throws.
"Coach (Brad Stangel) says, 'don't try to get it back in one play,'" Ross said. "Dig in on defense, try to make them feel uncomfortable. If we run our plays, move the ball around, we're going to get the open shots in the right spots."
The 59ers trailed 56-51 in the final minute before another freshman, Nick Flesher, drilled a trey. Munster missed two of three free throws to leave the door open for Andrean and Ross busted it down, popping off a pick to crush a 21-footer from the key.
"The play's called 'Slice,'" Ross said. "Coach said, you've got the hot hand, set the screen, slide out and if you see an opening, let it go. It felt good coming out."
Gallery: Highland Holiday Hoopfest boys basketball
The Niners took control in the OT when John Carrothers rebounded a miss and flipped it to James Hudson for a layup. Carrothers dropped another dime to Ross for a basket and Munster couldn't answer, drawing a zero in the extra period.
"We were so pumped," Ross said. "We just had to play good defense and and the offense was going to come if we ran our plays."
Ross finished with 21 points and four steals. Carrothers was huge in the overtime, totaling seven rebounds and four assists while making seven of his eight free throws.
"He's physically mature. He has a great basketball IQ," Stangel said of Ross. "You see the stats and he's in the right position defensively. Sometimes, he looks like a freshman, but most of the time, he looks like a mature basketball player. (Carrothers) does everything. He's the glue guy every team needs, but he also a glue guy who had 20, 15 and five in the noon game. He was about the only one who wasn't in foul trouble, so he probably played 60 minutes (today)."
Balanced Munster had 12 points from Nick Fies and Tommy Maloney and 10 from Jevon Morris. It missed four of its last six foul shots in regulation.
Andrean rolled to a 17-6 first-quarter lead behind Kyle Ross and James Hudson before Munster found its offensive rhythm. The Mustangs chipped away at the deficit, tying the game at 24 on a Josh Davis 3, one of three they hit in the quarter, and took a 32-30 edge to the break.
Munster used a 14-0 run starting in the third and spilling over into the fourth to turn a 49-44 deficit into a 53-44 advantage before Andrean began its rally.
"We had plenty of time," Stangel said. "We just needed a few stops. Caden made a terrific play after getting (an apparent) broken nose. We hit some shots and got it where it was manageable."
The Market closes restaurant, converts ex-Strongbow Inn into just events space
The Market at the former Strongbow Inn site at 2405 Morthland Drive in Valparaiso closed the restaurant portion and has been re-conceptualized as a special events space.
The restaurant group that also owns Valparaiso's Ricochet Tacos and the popular Tomato Bar pizzerias decided the sprawling 10,000-square-foot building at U.S. 30 and Ind. 49 where generations of Region residents ate Strongbow's famed turkey dinners would better serve as a banquet hall hosting events including wedding receptions, corporate office parties and trade shows. It also will stage pop-up events such as an upcoming one-night-only return of the Valley Kitchen & Bar that was a dining destination in downtown Valpo.
Owners Cory and Blair Muro decided to pull the plug on the chef-driven contemporary Southern restaurant that replaced the Strongbow Inn in 2016.
"It was hard to manage the restaurant," said owner Cory Muro. "You couldn't see the bar from the hostess stand. You couldn't see the kitchen from the bar. It was laid out so wide it was hard to feed people. Tour buses would pull up on a Monday when we weren't ready because we were staffed for a Monday. The size of it makes it well-suited to events, but challenging to do a restaurant. We gave it a shot."
The 250-seat restaurant served high-end versions of down-home favorites including chicken and waffles, shrimp and grits, smoked brisket with Miller High Life barbecue sauce, bone marrow-braised greens, and the Ol' Dirty Biscuit, a biscuit and gravy dish named after the legendary Wu Tang Clan rapper.
Some of the food, such as the fried chicken, brisket, pulled pork and pimento cheese, will remain on the catering menu, which Muro said strives to be more than the usual "steamed veggies, instant mashed potatoes and dry chicken." The Market also does off-site catering for corporate functions, family reunions and other groups between 50 and 200 people.
The new main focus of the business however is now hosting wedding receptions, which are mostly booked a year in advance. The Market has rooms that can accommodate 40 people to 400 people, and can host as many as 600 at the same time.
The Market also plans to host special events, such as the  Valley Kitchen pop-up, a cabaret, brunches and a beer dinner.
The Market is partnering with a ticket service to sell tickets to these events, which gives it more flexibility to try new culinary concepts.
"We can do something fun and have a dining experience without the grind of a restaurant," he said. "We're not tied down to doing the same thing all the time and can create a little bit of excitement."