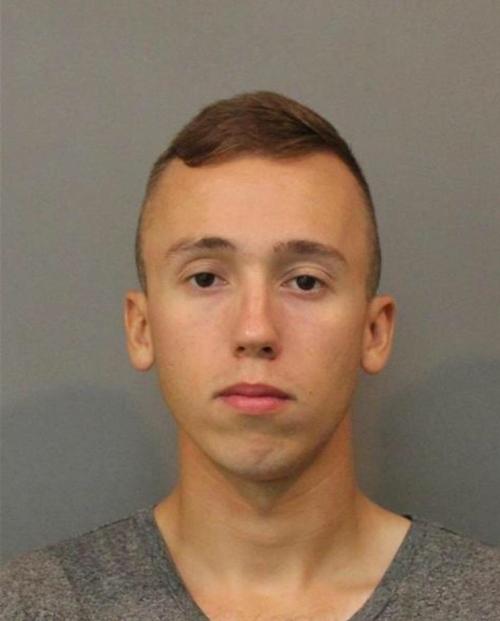 After allegedly kidnapping a Crown Point teen in August, a St. John man was indicted in Arkansas earlier this month for violating an interstate protection order. 
Alexander Curry-Fishtorn, 22, was indicted Oct. 4 on one count of violating the protection order. He remains in Arkansas. 
Curry-Fishtorn is facing 21 charges in Lake County, including four counts of kidnapping; five counts of criminal confinement; domestic battery resulting in moderate bodily injury; two counts of domestic battery; six counts of stalking; two counts of invasion of privacy; and intimidation, according to the Lake County prosecutor's office.
He was apprehended on Aug. 18 in Hot Spring County, Arkansas, after he allegedly forced 16-year-old Madison Elizabeth Yancy Eddlemon into his car and drove to Malvern, Arkansas, where he stayed at a friend's house. 
While there, Curry-Fishtorn stopped at Walmart and bought black hair dye. He later paid a friend $10 to dye Eddlemon's hair so she wouldn't be recognized, according to a probable cause affidavit released by the prosecutor's office. 
The teen first met Curry-Fishtorn at a Marine recruitment event in January, where Curry-Fishtorn asked for everyone's Snapchat information. The two then began communicating online. 
About a week later, Eddlemon said she and Curry-Fishtorn began dating. The teen said he appeared to be a good person at first, but allegedly became controlling after about three months. 
In March, Curry-Fishtorn gave Eddlemon a set of rules to follow, which stated the teen couldn't wear shorts, makeup or speak to other males, including coworkers, the affidavit states. 
On May 20, Eddlemon's mother obtained a protective order against Curry-Fishtorn on her daughter's behalf. 
He was charged with stalking, intimidation and invasion of privacy in July for violating the protective order.
About a month later, in mid-August, Curry-Fishtorn is accused of forcing Eddlemon into his car while she was walking to a friend's house after her car died. 
Once in the car, Eddlemon looked in the back seat and saw he had "packed his whole life into the car," realizing he planned it. He told the girl, "I have a gun, don't try anything," the affidavit said.
It is unclear when Curry-Fishtorn will return to Lake County to face charges. 
Be the first to know
Get local news delivered to your inbox!