Here are the top 5 stories you need to know today. 
Prohibition killed the Hammond Distillery. But did its liquor help fuel Chicago gangster Al Capone's criminal empire?
When the nation went dry, the Hammond Distillery went belly up. But is there truth to the rumors that gangster Al Capone moved the distillery's product across the state line to help fuel his organized crime empire?
Rich Barnes, former president of the Hammond Historical Society, said he heard Capone purchased the distillery's existing inventory when Prohibition began and sneaked it across the state line.
Before Prohibition killed the Hammond Distillery, it was arguably the second largest in Indiana, cranking out 25,000 to perhaps 50,000 gallons of alcoholic beverages daily.
The distillery was such a big operation in Hammond that its owner, John E. Fitzgerald, had a seat on the Chicago Board of Trade, allowing the distillery to make large grain purchases to fuel production, Barnes said.
The Hammond Distillery was on the southeast corner of Calumet Avenue and 150th street, just north of the Grand Calumet River. It began operations in December 1901, according to Barnes.
In The Lake County Times' first issue, on June 18, 1906, the Hammond Distillery said it had a capacity of 25,000 gallons daily, offering Hammond Bourbon, Hammond Sourmash, Hammond Rye Malt Gin, Hammond Dry Gin, Cologne Spirits and Refined Alcohol.
In 1909, Fitzgerald built a $50,000 plant that would eliminate the need to keep cattle at the distillery to consume the byproduct. Instead, the new building would have enormous evaporates that, it was said, would use 700 to 800 tons of copper. That would dry the slop so it could be shipped to farms for cattle feed.
On Dec. 16 1911, the distillery paid $40,742 in excise taxes to the federal government for a record-breaking shipment of whiskey, taxed at $1.10 per gallon.
"Three revenue days like today would pay the cost of building the splendid Hammond federal building," The Times reported that day.
The push for Prohibition began before the Civil War, but accelerated in the progressive era, fueled by the push for women's suffrage.
Jason Lantzer, assistant director of the University Honors Program at Butler University in Indianapolis, is considered one of the state's top experts on the alcoholic beverage industry.
"The temperance pledge card, there were several of those large national campaigns starting before the Civil War that (would) sweep the country," Lantzer said.
But a card in the wallet won't protect you from lure of saloons, the thinking at the time went, so Prohibition was needed to enforce abstinence.
"Until we remove the temptation, good people are going to (be) hurt by Demon Rum, and King Alcohol and John Barleycorn and all the other wonderful names they had for alcohol," Lantzer said.
Finally, in 1917, the reformers succeeded in Indiana.
"Indiana goes dry ahead of the nation, so we actually enact Prohibition in April 1917, giving brewers, distillers, saloons, everybody a year before they have to close down," Lantzer said. 
"We are not the only country to do that. Just about every nation has some sort of restriction on alcohol, and the rational is twofold — one is on the battleground that soldiers are not drunk, and the other is that grain can be better used for foodstuffs. So there is a definite slowing down on the national level," Lantzer said.
The Hammond Distillery was hit hard by Prohibition, although World War I kept it in business. It got a government contract to produce alcohol for use in making smokeless gunpowder. 
On Dec. 27, 1917, Peter W. Meyn, president of the Lake County Savings & Trust Co., bought the distillery for $65,500 "as an investment to locate a new industry," The Lake County Times reported. Before Prohibition, the plant was worth five times that price.
Former saloons, a majority owned by breweries by the time Prohibition is passed, become ice cream parlors, selling ice cream and soft drinks, Lantzer said.
A lot of the breweries switched over to other products, whether near beer, which has such a low alcohol content that it didn't violate Prohibition laws, or medicinal alcohol, or milk and other nonalcoholic beverages.
"A lot of the breweries own their own canning and bottling infrastructure, so they switch over to canning and bottling, or at least try to," Lantzer said.
Barnes said he heard that "Scarface" Al Capone moved alcohol across the state line to fuel his criminal empire. That has Lantzer intrigued.
"There's this mythology that organized crime in the greater Chicago area, in Northwest Indiana, had to all been linked to Capone," Lantzer said. "And there's enough truth to that in that you do have definite Capone-owned or -operated outfits and purchases of different things, and it became very easy to mythologize that that was also by Capone. Whether or not we ever will be able figure out it was or not. But if had to do with organized crime it must have been linked to Al Capone."
Here's how it works: "This building was around in the 1920s, so it must have been used by Capone, or there are these stories that they were used by organized crime. Whether that actually happened, I don't know, but that's what I've been told, or that my uncle's cousin told him that Capone came here on vacation or something," Lantzer said of the mythology
Lantzer has heard the rumors, too.
"There's a story that Capone owned or ran bootleg liquor out of the Paramount Theater in Hammond. Whether or not that's true, I have no idea."
May 8, 1929, brought the Capone empire into Hammond if it wasn't there already. That's when the bodies of three gangsters were found in what is now Douglas Park. Two of them, Giovanni Scalise and Alberto Anselmi, had been implicated in the St. Valentine's Day Massacre.
Right across the state line, in Calumet City, known then as West Hammond, the Capone gang or his organization owned several establishments.
Could the Hammond Distillery have been in clandestine use during Prohibition? It's feasible, Lantzer said.
Unless the distilling apparatus was scrapped, it would be easy to continue production, Lantzer said. "So if you're Capone, you don't have to bring all that malt in from, say, Canada, and you definitely don't have to rely on people who were sort of figuring it out on their own, a sort of bathtub gin and moonshine and whatnot."
What the Hammond Distillery had that other would-be producers didn't was the know-how to make good alcoholic beverages.
"The problem wasn't the availability of things. If you've got corn, yeast and some sugar and can fashion a still, you can make yourself some alcohol. The problem was whether it would be good. Or whether you would kill your customers, because that doesn't really breed a lot of confidence and repeat confidence when it gets around that Joe down the street bought from you and he's dead now because he drank what you made," Lantzer said.
Former alcoholic beverage sites were a target of frequent federal, state and local enforcement agencies. "They knew where those were. So it's not uncommon for those places to get visited."
"Maybe it's fun to attach it to Capone, but maybe it's a way to say that wasn't really us, that was an outside element. I think that is something for the 1920s that we need more study on," Lantzer said.
Attacks at the distillery
The distillery saw repeated attacks.
In 1919, The Lake County Times reported, 10 barrels were stolen. In 1921, "whiskey bandits" stole 2,000 gallons after attacking the guards. In 1922, a barrel of whiskey was found in the gasoline tank of a new Auburn Six automobile at the distillery. Thirty bandits cleaned out the distillery in September 1923, and there had been other thefts earlier that year.
Prohibition agent Robert Anderson was shot to death at the Hammond Distillery on April 16, 1923. He had been stationed there less than a year. The Bureau of Alcohol, Tobacco, Firearms and Explosives has a page dedicated to him on its website.
On Jan. 28, 1924, The Lake County Times published a banner headline, "Rob Hammond Distillery As Guard Gets Drunk." Twenty armed bandits stole thousands of dollars worth of whiskey before the Prohibition agents could move it to another location.
In 1933, Prohibition was repealed. The distillery was incorporated in December 1933 with 100,000 shares of stock to be listed at $10 apiece on the Chicago Board of Trade. The plan was to resume distiling operations at the building then occupied by Nowak Milling Corp., with Nowak moving its feed mill to another site.
In March 1934, the distillery was delisted from the Chicago Board of Trade, and plans were made to seek private financing.
On Aug. 15, 1934, the plug was finally pulled on the plan to restart the distillery.
When the plan to restart the distillery was announced, whisky was selling at $1.25 to $1.75 a gallon. A year later, the price had dropped to 40 cents as additional capacity came on line.
Nowak operated at the site until February 1938, when owner Maxwell M. Nowak told The Times he couldn't afford to pay high taxes and still expect to make a profit.
UPDATE: Valparaiso High School principal abruptly resigns
VALPARAISO — Valparaiso High School Principal Reid Amones resigned suddenly Monday morning, according to Ric Frataccia, superintendent of Valparaiso Community Schools.
"He wants to pursue some personal and professional (endeavors)," Frataccia said.
Frataccia said the first he heard of the resignation was Monday morning, and it was effective immediately.
Repeated attempts to reach Amones Monday morning at his home were unsuccessful.
The resignation came less than two weeks after the school's football coach, Dave Coyle, resigned amid unrest dating back to an Oct. 13 game against Lake Central and subsequent problems resulting in numerous players walking out on practices.
Frataccia said the two resignations do not appear to be related.
"Not to my knowledge," he said.
Frataccia said he also knew nothing about the possibility of another upcoming resignation.
Amones has served as principal at the school for the past six years after having served as associate principal for two years prior, Frataccia said.
Associate Principal Veronica Tobon will take over as interim principal, and Frataccia said he too will be spending a lot more time at the high school.
"Right now, we just need to maintain what we have," he said.
The principal's position will eventually be posted as part of the search for a full-time replacement for Amones, Frataccia said.
Before working in Valparaiso, Amones had served as the principal at George Rogers Clark Middle/High School in Hammond.
Amones also worked as an advance placement and math teacher at Portage Township Schools, according to his Facebook page.
Check back at nwi.com for updates to this story.
C.P. loses top scorer, Class 4A title game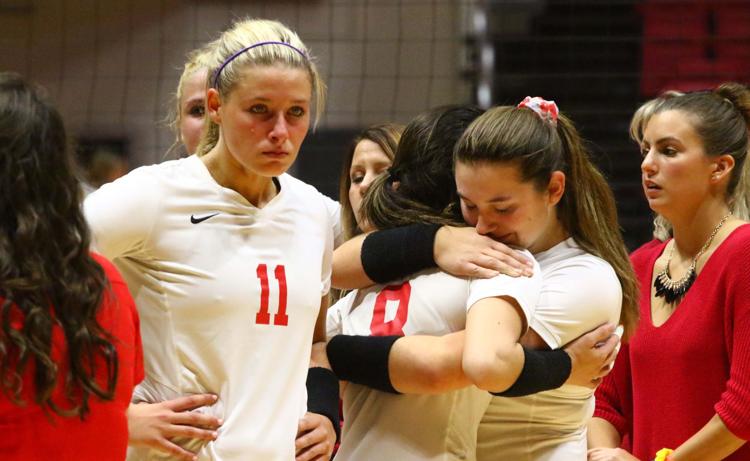 MUNCIE — Morgan Chacon shaped her hands into a heart and flashed them at younger sister Savana as the Crown Point senior was wheeled off the court.
In a horrific, fluke injury in the first game of Saturday's Class 4A state volleyball finals, Morgan Chacon broke her leg after jumping for a block and was taken to Ball Memorial Hospital a mile away from Worthen Arena at Ball State University.
Morgan Chacon had just connected on her sixth kill, pulling the Bulldogs within 14-12 in Game 1 against Avon. When the 'Dogs lost their best hitter and key team leader, the wind was taken out of their sails. C.P. fell to Avon 25-17, 25-18, 25-18 to finish runner-up in Class 4A for the second straight season.
"She is such a big part of this team," setter Alex Equihua said. "I have no words. It kills me that she wasn't out there with us."
The Crown Point team that had ridden an emotional high to return to the state finals after falling to Cathedral here last year lost its momentum with that fall.
"That changes everything because Morgan does a lot of work for us," coach Alison Duncan said. 'She takes a lot of balls in the middle off of the back row attack. When you change a lineup at this stage of the game, or when a player isn't in at this stage of the game especially someone that gets a lot of reps, you tend to be a little out of system."
Gallery: Crown Point in Class 4A state volleyball championship
Crown Point takes on Avon in the Class 4A state volleyball championship.
Photos by Kale Wilk, digital producer.
Morgan Chacon finished with six kills, still tying to lead her team offensively. Maddie Banter also had six kills and Reece Kral added five. Savana Chacon had nine digs, leading the Bulldogs (35-4).
Katie Marcinek was tabbed to take Morgan Chacon's back row reps and had six digs; Hannah Wold had two kills moving in to Chacon's front row duties.
"You can't fill a hole of Morgan Chacon," Duncan said. "I felt the kids that did go in played hard, but that's not easy."
After falling in the first game, C.P. tried to rally emotionally in the second, taking an early lead and holding on at 13-12 in time for the first TV timeout. After that timeout, Avon went on a 7-1 run to take the lead.
In the third game, the Bulldogs rallied to tie at 12-12 before Avon pulled away late with kills by Holly Eastridge. The 6-foot-3 junior Eastridge had 13 kills and 6-3 senior Jael Johnson had 12 kills.
"We wanted to stay aggressive as always," Equihua said. "We didn't want to be scared off the block and stay out of our head."
The Bulldogs graduate six seniors, including starters Morgan Chacon, Equihua, Alexis Woodburn (three block assists), Kral and Peyton Yelich (two block assists, four kills). Abby Negri, who also graduates, had a dig in the championship game. 
"You hate for this to happen to a kid like (Morgan) on this stage," Duncan said. "Someone who had such great work ethic and worked so hard with this team to get back here. Ultimately, we are all winners in our program because of the heart and dedication that we have."
UPDATE: 16-year-old Hammond teen killed was HAST student, 8th teen fatality this year due to gun violence
Students, staff and teachers at the Hammond Academy of Science and Technology are mourning Thursday's shooting death of a high school junior in the Miller section of Gary.
Police said Diego Serna, 16, of Hammond, was found shot to death in the 400 block of South Huntington Street. Authorities said he was with a 20-year-old East Chicago man, who also had been shot but was taken to the hospital for treatment.
Police received the call at 6:24 p.m. Thursday, according to a news release from the Gary Police Department. When police arrived in the area, they saw a man on the ground with gunshot wounds.
The East Chicago man was transported to a hospital for treatment of multiple gunshot wounds. He told police he couldn't find his friend, Serna, who had been in his car.
While searching the area, officers located the teen between two vehicles. Authorities said Serna had been shot and showed no signs of life.
The Lake County coroner's office said Serna was pronounced dead at 8:03 p.m. They ruled the case a homicide but the manner of death is pending.
HAST Principal Sean Egan said Serna had been a student there since sixth grade after transferring from the School City of Hammond. Egan sent an email to the HAST family that stated:
"It is with very deep regret that I write this email to inform you that last evening a HAST junior was fatally wounded. HAST teachers informed students of this event just this morning at 9:30 a.m. We have counselors available at the school to meet with students."
Reached by telephone, Egan said Serna was a good student and came to class every day.
"Our teachers and students are in distress. We will have Regional Mental Health counselors here again Monday and for as long as we need them. Diego had an older brother who graduated from here a couple of years ago," Egan said.
Parents of students at HAST, who contacted the newspaper but did not want to be named, said students are "horrified" by what has happened to their classmate.
Authorities said there were multiple agencies involved in the investigation including the Lake County coroner's office, Gary Police Department, Gary Fire Department and Lake County CSI.
Anyone with information on this incident is urged to contact Detective Cpl. James Bond of the Lake County/Gary Metro Homicide Unit at 219-755-3855 or the Crime Tip Line at 866-CRIME-GP.
Teen gun violence in the Region
Serna's death marks the eighth teen fatality related to gun violence in the Region since the start of 2017, according to data from the Gun Violence Archive, a nonpartisan research group. 
Thirteen teenagers, between the ages 12 and 17, have also been injured in shootings in Northwest Indiana since the start of the year, according to the data. The nonprofit's data encompass Indiana's 1st Congressional District, which includes all of Lake and Porter counties, and some northwestern and western townships in LaPorte County. 
For comparison, in 2016, three teens died from gun violence; 20 were injured, according to the data. 
The Region's 2017 teen shooting deaths include the July 19 killing of Chloe Bell, a Hammond girl who went to go answer the door at her family's home but instead was met by gunshots through the closed door, authorities said. She was not the intended target. 
In another case, a 13-year-old boy, Noah Inman, was shot about 9:30 p.m. July 1 while playing basketball outside in the 7300 block of Harrison Avenue. It was later discovered he was struck by a falling bullet that was shot into the sky by someone in a nearby neighborhood, police said.  
Both cases remain unsolved and Hammond police continue to investigate. 
Times staff writer Lauren Cross contributed to this report. 
Don't eat fish from Clear Lake often, state agency warns
The Indiana State Department of Health is recommending just one meal of fish per month from Clear Lake and none at all for sensitive populations.
PCBs, or polychlorinated biphenyls, were discovered in a random sampling of fish taken from the shallow lake near the downtown a few years ago.
Amanda Lahners, environmental health and food supervisor for the LaPorte County Health Department, said test results of sediment collected from the lake over the summer will determine if there's any change in the restriction.
According to the ISDH, the source of the contamination is not known, but before PCBs were banned nationwide in the 1970s, they were used for things like lubricating machines and insulating electrical parts.
PCBs accumulate in the fat and tissues, and exposure is believed to increase the risk of developing cancer and other major illnesses.
"It's not something that you get rid of, so there could be some health concerns with that," Lahners said.
"Don't eat out of it every week," she said.
For well over a century, until the 1980s, the Rumely Co. and later Allis Chalmers made farm machinery just west of the shoreline. Kingsley Furniture was on the other side of the lake until shutting down more than a decade ago. Both sites were later declared contaminated.
The old Allis Chalmers property, after a clean-up, has since been redeveloped. The cleared former Kingsley site, now owned by NIPSCO, is surrounded by a fence.
Lahners said the reason ISDH  didn't test Clear Lake before because it didn't know about LaPorte's industrial history.
The advisory also recommends just one meal of largemouth bass every two months. Bottom-feeding carp from the lake should never be eaten.
Recently, the city has chosen to promote Clear Lake more as a destination with plans to create trails and a parking lot for people wanting to fish along the shoreline.
There's also been a proposal to build apartments close to the water's edge.
Nick Minich, the city engineer, said moving forward with those plans will not be impacted by the advisory.
Some people release the fish they catch and recreate in other ways around the lake.
"There are fish consumption advisories on lakes all around the area, with Lake Michigan one of them," Minich said.