The 5 stories you need to know tonight: Valparaiso High School principal abruptly resigns
Here are the top 5 stories you need to know today. 
UPDATE: Valparaiso High School principal abruptly resigns
VALPARAISO — Valparaiso High School Principal Reid Amones resigned suddenly Monday morning, according to Ric Frataccia, superintendent of Valparaiso Community Schools.
"He wants to pursue some personal and professional (endeavors)," Frataccia said.
Frataccia said the first he heard of the resignation was Monday morning, and it was effective immediately.
Repeated attempts to reach Amones Monday morning at his home were unsuccessful.
The resignation came less than two weeks after the school's football coach, Dave Coyle, resigned amid unrest dating back to an Oct. 13 game against Lake Central and subsequent problems resulting in numerous players walking out on practices.
Frataccia said the two resignations do not appear to be related.
"Not to my knowledge," he said.
Frataccia said he also knew nothing about the possibility of another upcoming resignation.
Amones has served as principal at the school for the past six years after having served as associate principal for two years prior, Frataccia said.
Associate Principal Veronica Tobon will take over as interim principal, and Frataccia said he too will be spending a lot more time at the high school.
"Right now, we just need to maintain what we have," he said.
The principal's position will eventually be posted as part of the search for a full-time replacement for Amones, Frataccia said.
Before working in Valparaiso, Amones had served as the principal at George Rogers Clark Middle/High School in Hammond.
Amones also worked as an advance placement and math teacher at Portage Township Schools, according to his Facebook page.
Check back at nwi.com for updates to this story.
Hammond woman wounded in early morning shooting
HAMMOND — A 36-year-old woman was wounded following a confrontation at her home with a man she knew, police said.
Hammond police were called at 7:42 a.m. Monday to a home in the 6500 block of Tennessee Street for a report of shots fired, Lt. Steven Kellogg said.
The woman told officers she was sleeping when she awoke because her front door was being kicked in, police said. 
The woman, who owns a firearm, took her gun to the front door and encountered a man known to her, police said. The two argued, and the man left.
As the man ran back to a car, he turned and fired a gun back at the woman, striking her once in the leg, Kellogg said.
The woman was taken by ambulance to a hospital for treatment of non-life-threatening injuries, he said.
The man has been identified, but was not in custody as of early Monday afternoon, Kellogg said. Police were seeking charges against him.
Police believe the shooting is an isolated case, Kellogg said.
Anyone with information about the shooting is asked to call Detective Sgt. Nicole Duncanson at 219-852-2968.
UPDATE: 16-year-old Hammond teen killed was HAST student, 8th teen fatality this year due to gun violence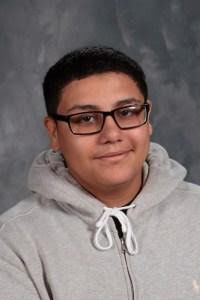 Students, staff and teachers at the Hammond Academy of Science and Technology are mourning Thursday's shooting death of a high school junior in the Miller section of Gary.
Police said Diego Serna, 16, of Hammond, was found shot to death in the 400 block of South Huntington Street. Authorities said he was with a 20-year-old East Chicago man, who also had been shot but was taken to the hospital for treatment.
Police received the call at 6:24 p.m. Thursday, according to a news release from the Gary Police Department. When police arrived in the area, they saw a man on the ground with gunshot wounds.
The East Chicago man was transported to a hospital for treatment of multiple gunshot wounds. He told police he couldn't find his friend, Serna, who had been in his car.
While searching the area, officers located the teen between two vehicles. Authorities said Serna had been shot and showed no signs of life.
The Lake County coroner's office said Serna was pronounced dead at 8:03 p.m. They ruled the case a homicide but the manner of death is pending.
HAST Principal Sean Egan said Serna had been a student there since sixth grade after transferring from the School City of Hammond. Egan sent an email to the HAST family that stated:
"It is with very deep regret that I write this email to inform you that last evening a HAST junior was fatally wounded. HAST teachers informed students of this event just this morning at 9:30 a.m. We have counselors available at the school to meet with students."
Reached by telephone, Egan said Serna was a good student and came to class every day.
"Our teachers and students are in distress. We will have Regional Mental Health counselors here again Monday and for as long as we need them. Diego had an older brother who graduated from here a couple of years ago," Egan said.
Parents of students at HAST, who contacted the newspaper but did not want to be named, said students are "horrified" by what has happened to their classmate.
Authorities said there were multiple agencies involved in the investigation including the Lake County coroner's office, Gary Police Department, Gary Fire Department and Lake County CSI.
Anyone with information on this incident is urged to contact Detective Cpl. James Bond of the Lake County/Gary Metro Homicide Unit at 219-755-3855 or the Crime Tip Line at 866-CRIME-GP.
Teen gun violence in the Region
Serna's death marks the eighth teen fatality related to gun violence in the Region since the start of 2017, according to data from the Gun Violence Archive, a nonpartisan research group. 
Thirteen teenagers, between the ages 12 and 17, have also been injured in shootings in Northwest Indiana since the start of the year, according to the data. The nonprofit's data encompass Indiana's 1st Congressional District, which includes all of Lake and Porter counties, and some northwestern and western townships in LaPorte County. 
For comparison, in 2016, three teens died from gun violence; 20 were injured, according to the data. 
The Region's 2017 teen shooting deaths include the July 19 killing of Chloe Bell, a Hammond girl who went to go answer the door at her family's home but instead was met by gunshots through the closed door, authorities said. She was not the intended target. 
In another case, a 13-year-old boy, Noah Inman, was shot about 9:30 p.m. July 1 while playing basketball outside in the 7300 block of Harrison Avenue. It was later discovered he was struck by a falling bullet that was shot into the sky by someone in a nearby neighborhood, police said.  
Both cases remain unsolved and Hammond police continue to investigate. 
Times staff writer Lauren Cross contributed to this report. 
Court records: Whiting man accused of dismantling Monon Bridge faces federal charges
HAMMOND — A Whiting man faces federal charges for allegedly stealing scrap from the Monon Bridge over the Grand Calumet River and selling the material illegally for $18,000.
Kenneth R. Morrison, operating as T&K Metals, was indicted last month on one count of interstate transportation of stolen property, federal court records show. 
Morrison's ties to the Monon Bridge date back to 1991, when he first approached the city of Hammond to purchase the bridge for $500 so he could "dismantle and sell the metal for scrap."
A month later, the city's Board of Public Works and Safety denied his request.
Fast forward 22 years later in September 2014, and Morrison "appeared before the (Board of Public Works and Safety) seeking permission to purchase the bridge," records show. 
On Oct. 16, 2014, before receiving a response from city officials, Morrison met with the board again and claimed that the property on which the bridge was located was owned by the railroad and that he was negotiating with Norfolk Southern, court records state. 
A week later, Morrison allegedly contacted the U.S. Environmental Protection Agency claiming the city of Hammond instructed him to consult the agency before removing the bridge. 
He was then advised he must obtain proper permits and that EPA did not have authority to grant such.
"Between in or about December 2014 and continuing through in or about January 2015, without authority from the city of Hammond, and without any permit, the defendant dismantled a portion of the bridge and transported and sold the metal to scrap dealers ... in Burnham, Illinois, and East Chicago, Indiana," the indictment alleges. 
A Hammond code inspector arrived at the scene of the bridge on Jan. 29, 2015, and put a work stop order on Morrison's dump truck that was parked nearby. 
A day later, an Indiana Department of Natural Resources conservation officer was at the bridge and saw Morrison, who claimed he had a permit to demolish and salvage the bridge, court records show. 
After confirming with the city of Hammond he did not have permission to salvage the bridge, the officer ordered him to stop work. A day later, the IDNR officer saw Morrison at the site and ordered him again to stop all work on the bridge. 
The Monon Bridge, which was built in 1910, has been owned by several railroad companies throughout its history, including CSX, court records show. 
CSX deeded real property, including the bridge, to the city on March 3, 1987, records show. According to The Times archives, the bridge is an important remnant of the city's history. The bridge was the last remnant of the Hammond Meatpacking Co., one of the city's first industries.
Indiana officials cited Morrison in 2015 for violating state water quality standards when he sent creosote-soaked railroad ties into the waterway as he dismantled the structure.
In 2015, Morrison defended his actions in an interview with The Times, arguing the bridge was "like a shipwreck," and that "if a ship sinks, that's abandoned and it's fair game."
He also insisted that by allowing a private entity to remove the structure, he was doing officials a favor by saving the city some money. 
Prison time for Philadelphia oil spill
Morrison did prison time for spilling thousands of gallons of oil and tar into a Philadelphia river in the 1990s, according to The Times archives. 
Hammond Historical Society officials revealed recently that back in 1995, Morrison was sentenced to a year in prison and ordered to pay $50,000 after he attempted to salvage a metal tank and ended up discharging 2,000 gallons of waste oil into the Schuylkill River in Pennsylvania, and another 3,000 into the ground.
The cleanup of the 1993 spill cost an estimated $1.3 million, according to the Philadelphia Inquirer.
At the time, Morrison was operating as the owner of LaSalle Central Contracting in Pennsylvania. He had told investigators in Pennsylvania he didn't report the spill into the Schuylkill because it "wasn't a big deal," according to Inquirer archives.
Morrison surrendered to authorities on Friday and was released on a $20,000 bond, court records show.
Indiana Harbor general manager says ArcelorMittal will hire hundreds across NWI next year
ArcelorMittal has made deep cuts at ArcelorMittal Indiana Harbor in East Chicago, reducing 35 percent of the capacity and basically taking the equivalent of a smaller steel mill offline.
The sprawling mill on Lake Michigan, cobbled together from the former LTV and Inland mills, can now only produce 6.5 million tons of steel per year as the result of recent Action 2020 cutbacks, down from 10 million tons a year a decade ago.
"We have basically shut down permanently two blast furnaces, a steel shop, a hot strip mill, a pickle tandem complex and then a reduction of one coating line," ArcelorMittal Vice President and Indiana Harbor General Manager Wendell Carter said at the Northwest Indiana Business Roundtable's and Construction Advancement Foundation's 2017 Business & Economic Outlook at Ivy Tech in Valparaiso on Friday. "That is the equivalent of our Cleveland operations. Our Cleveland operations still continue." 
But the cuts have made the mill in East Chicago more competitive, by letting it run blast furnaces and other production facilities more efficiently and cost-effectively. Now in a stronger position, ArcelorMittal Indiana Harbor is hiring 75 more steelworkers this year. Carter anticipates ArcelorMittal will hire 300 more steelworkers across Northwest Indiana next year.
"Don't be concerned about companies like ArcelorMittal or U.S. Steel with their Carnegie Way attempting to be competitive, to improve ourselves so that we can be sustainable for the long run," he said. "Nobody lost a job through any effort that we took at ArcelorMittal. We lived off the fat of the land for years and reduced the facilities to supply the current demand, and reduced our workers through the attrition that is ongoing."
ArcelorMittal now needs to add staff but can't afford to train the workers itself, so Carter wants prospective job candidates to enroll in the Steelworker for the Future program that's available at Ivy Tech and other schools.
"The issue is we got to find the right 300 people," Carter said. "We are choosy. We can't just hire people off the street with just high school diplomas any more."
Steelworker jobs at ArcelorMittal mills pay around $90,000 initially with overtime. Eventually, workers can earn $140,000 to $160,000.
"Steel's not dead in Northwest Indiana," NIPSCO Director of Economic Development Don Babcock said. "There are still opportunities."
For more information, visit usa.arcelormittal.com/people-and-careers/steelworker-for-the-future.