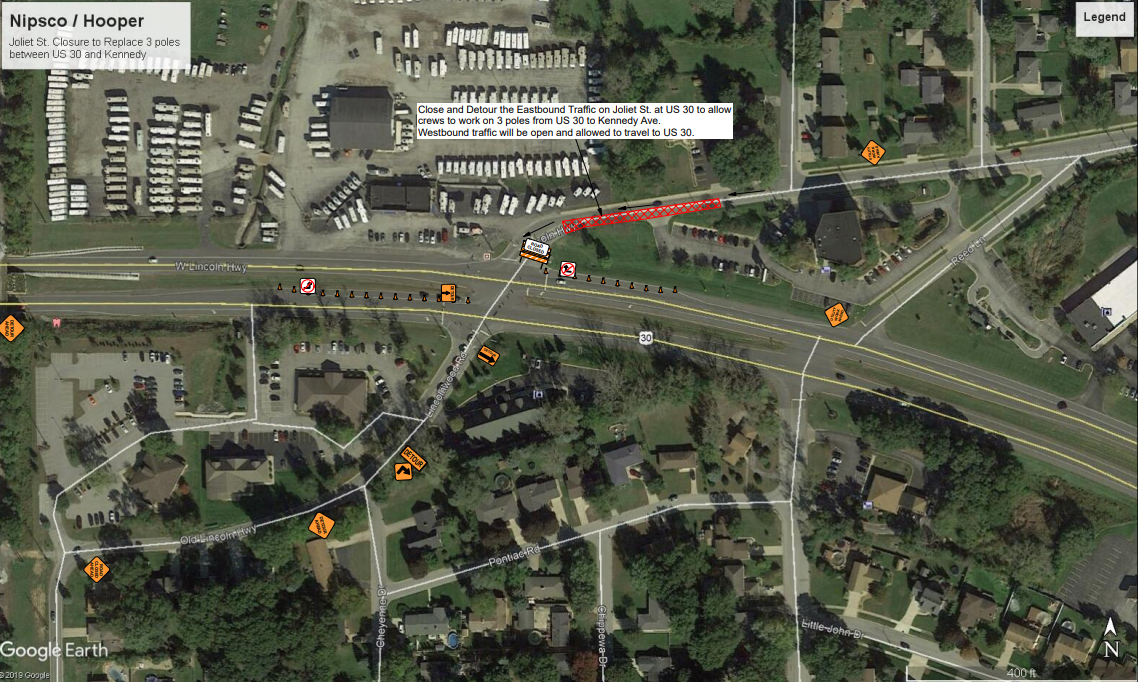 SCHERERVILLE — A popular intersection in Schererville will close early next week for NIPSCO repairs, according to a news release. 
The work, slated to begin Monday weather-permitting, will cause detours near the U.S. 30 and Joliet Street intersection, as NIPSCO workers replace electric poles on Joliet Street between U.S. 30 and Kennedy Avenue. 
There will be lane closures on the northbound lanes of U.S. 30 and eastbound lane of Joliet Street, near First Financial Bank and Pete's RVs. 
The right turn lane on U.S. 30 westbound and left turn lane on U.S. 30 eastbound will be closed at the intersection. The eastbound lane of Joliet Street also will be closed.
"They are going to have to close the westbound lane primarily because of its proximity to Route 30 and the inability to flag traffic around that," said Jeff Huet, the town's public works director. 
Drivers looking to turn north on Joliet will be redirected to Austin Avenue. 
The work is expected to continue until Friday, with lanes expected to reopen during the evening, "when work hours end, around approximately 5 p.m.," the release states. 
Huet said in mid-February, U.S. 30 will be restricted to one lane in each direction at U.S. 41 to Robinhood Boulevard for more NIPSCO work. 
The work is expected to take place Feb. 10-15, weather permitting, he said. 
"We will be experiencing some definite traffic backups and slow downs through this entire period," Huet said. "We encourage the general public to seek alternate routes and avoid the work zone whenever possible." 
Be the first to know
Get local news delivered to your inbox!