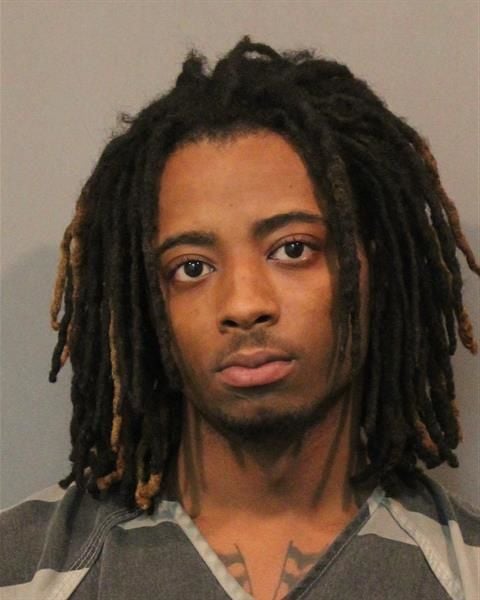 HOBART — A driver accused of fleeing from law enforcement while an officer was hanging halfway inside his car early Wednesday had a loaded, fully automatic gun and two high-capacity magazines in the car, police said.
Darron D. Ross, 22, of Park Forest, Illinois, allegedly admitted he purchased the gun for $600 to $700 a few months ago and the weapon was fully automatic, Hobart police Capt. James Gonzales said.
Ross and his two passengers, 19-year-old Armani T. Jones, of South Holland, and a 17-year-old, were arrested on suspicion of resisting law enforcement and other charges. 
Jones, who was removed from the car and placed in handcuffs, is accused of attempting to run from police when Ross allegedly accelerated with the officer half in the car.
A Hobart police officer stopped Ross about 11:15 a.m. Wednesday near 37th Avenue and Colorado Street for speeding, Lake Criminal Court records show.
The officer noticed a smell of marijuana from inside the black Dodge Durango and asked Jones for his age and name. Jones allegedly gave a false identity, leading the officer to order Jones out of the vehicle and place him in handcuffs.
The officer told Ross to shut off the car, but Ross didn't and said he had all his legal documents, court records state.
Ross put the Durango in drive and started to leave, so the officer took out his gun and ordered Ross to stop, according to documents. 
The officer was halfway inside the Durango in an attempt to shut it off when Ross accelerated, record allege. 
Jones, who was still in handcuffs started to run, police said. The officer called for backup and again ordered Ross to stop, records say.
Ross came to an abrupt stop, and the officer shut off the Durango's ignition. Ross failed to place his hands behind his back, so the officer struck him in the chest and eventually deployed his Taser, police said.
Ross and the officer struggled, and Ross managed to run off, records show.
Ross ran into a Family Dollar store and out its back door with the officer in pursuit. A K-9 was brought to the scene after Ross fled into a mobile home park, but another office found Ross in front of a Dollar General store and arrested him, court records state.
The 17-year-old passenger was arrested on suspicion of attempting to interfere with police trying to arrest Ross, Gonzales said.
After recovering the gun from the car, detectives noticed it had an extended metal piece off the rear of its slide, Gonzales said.
"This piece (was) possibly used to manipulate the weapon from semi-automatic to fully automatic," he said.
Hobart police test-fired the gun and confirmed it was fully automatic, he said.
Ross allegedly told police he didn't pay for the gun to be altered. Officers determined the gun could shoot only in fully automatic mode because of the alteration, court records say.
Ross was charged with felony counts of possession of a machine gun, kidnapping, resisting law enforcement and misdemeanor counts of carrying a handgun without a license, resisting law enforcement and possession of marijuana, court records show.
Ross was being held at Lake County Jail on Friday on $75,000 bail. His initial hearing was set for Friday morning.
Jones was wanted Friday on misdemeanor charges of resisting law enforcement and theft. 
The 17-year-old was taken to the Lake County Juvenile Center at the request of his legal guardian, police said.
Gonzales said Hobart police saw a 50% increase in vehicle pursuits and a 33% increase of batteries against officers between Nov. 1, 2019, and Oct. 31, 2020, compared to the same period during November 2018 and October 2019.
"The firearm recovered from this young adult is an unfortunate trend that is occurring throughout the Region, but the more concerning detail of this firearm is that it was converted from semi-automatic to fully automatic, coupled with the fact that there were also two additional high-capacity magazines recovered with this weapon.
"These types of firearms recovered will only intensify the amount violence we see on our streets here in the Region and make it that much more dangerous for our communities and law enforcement as a whole," Gonzales said.
Staff writers Sarah Reese and Anna Ortiz contributed to this report.