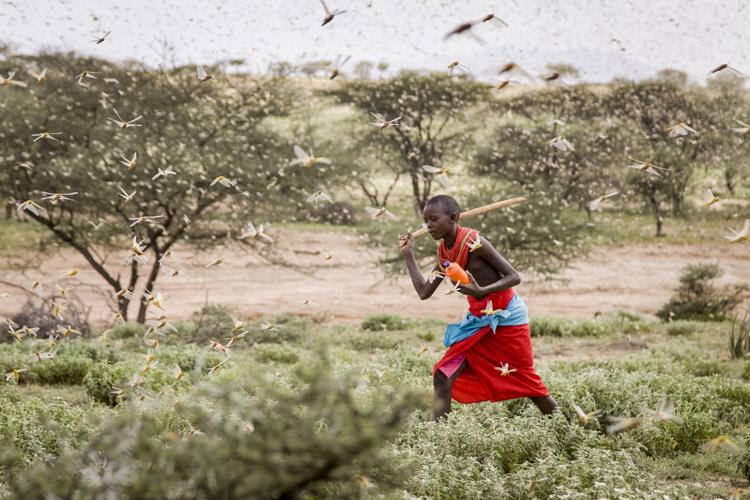 The swarms of desert locusts hang like shimmering dark clouds on the horizon as they scour the countryside in what are already some of the world's most vulnerable countries, including Somalia. Roughly the length of a finger, the whirring insects in huge numbers have destroyed hundreds of square kilometers (miles) of vegetation and forced people in some areas to bodily wade through them.
"A typical desert locust swarm can contain up to 150 million locusts per square kilometer," the East African regional body, the Intergovernmental Authority on Development, has said. "Swarms migrate with the wind and can cover 100 to 150 kilometers (62 to 93 miles) in a day. An average swarm can destroy as much food crops in a day as is sufficient to feed 2,500 people."
Alarm and exasperation mix with curiosity as people try to shoo the locusts away by shouting, waving pieces of clothing or banging on sheets of corrugated metal. In rural Kenya, men dashed along a path waving leafy branches at the insects and laughing in astonishment.
"These things here, they came to us from Ethiopia and are destroying everything along the way including our farm," said Esther Ndanu in the Kenyan village of Ngomeni. "We want the government to move very quickly to bring the plane to spray them with the medicine that can kill them, otherwise they will destroy everything."
"I am seeing a catastrophe," local official Johnson Mutua Kanandu said.