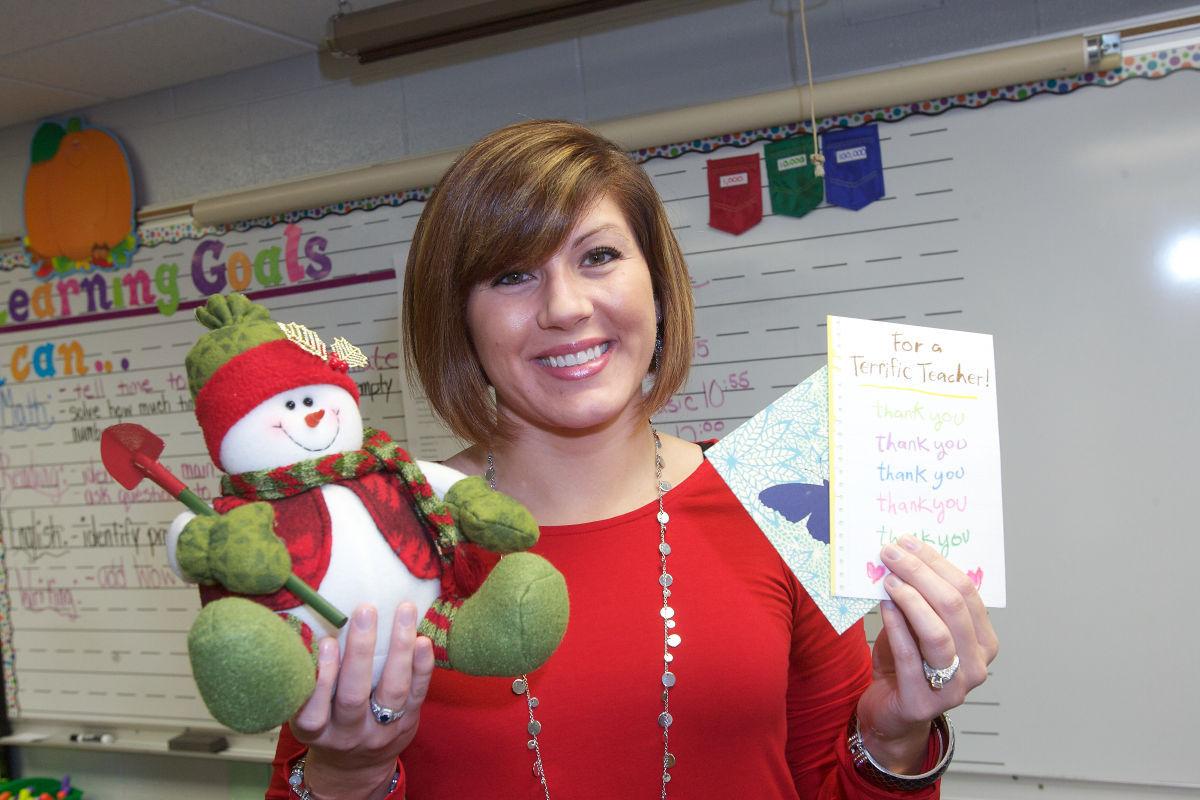 It's a question many parents face each December just before the school holiday break: "What present should I buy for my child's teacher?"
Giving a holiday gift to the person responsible for educating your child is a nice way to say thank you, but with so many options available, how do you pick the perfect gift for the educator in your kid's life?
Bonnie Stephens, principal at Hayes Leonard Elementary in Valparaiso, said during her years as an educator, it's nice when parents go to lengths to find out more about her interests.
"I do appreciate all of the tokens of thanks and gifts I have been given over the years," she said. "And I know as a parent myself, it has always been important that my children recognize their teachers with gifts and cards to help them develop gratitude for the work others do on their behalf."
Although she has received several mugs, candles, candy and gift cards during her career as an educator, she says what the kids offer her every day at school is the best gift.
"The things I remember most have much more to do with interactions I have had with kids," Stephens said.
Here are a few ideas of how your kids can help make the holiday break a little more special for their teachers.
To help teachers relax over break, give the gift of a ZENBand ($22.99, bloomingwellness.com), a headband with inserted specialized speakers. Created by wellness-minded doctors, the bands are perfect for stress reduction because the soft and lightweight fabric applies almost no pressure. Pair the ZENBand with Hawaiian Essential ($9.99-$12.99, hawaiianessential.com), essential oils that provide insomnia, headache, insect bite or allergy relief. Or try adding a bamboo bathtub caddy by ToiletTree ($39.95, toilettreeproducts.com) to allow your teacher relaxation time while playing games on the computer or reading a book.
Another option that gives back as well is SoapBox Soaps' Holiday Bundle, ($20, SoapBoxSoaps.com), featuring Hibiscus Body Wash and Bar Soap and Tea & Ginger Liquid Hand Soap and Bar Soap. For each item sold, SoapBox donates a bar of soap or a month's supply of clean water to communities in need around the world.
Though your teacher may already have a stapler, if she or he is a football fan, the Limited Edition NFL Swingline stapler ($49.99, swingline.com) is a gift to impress. It's available in both the Chicago Bears and Indianapolis Colts, as well as several other teams. Students can also give their favorite teachers a traditional apple gift with an Apple Coin Purse ($25, mywalit.com).
If your teacher is a coffee drinker, Cameron's Handcrafted Coffee ($6.99 and up, cameronscoffee.com) prides itself on offering high quality beans and direct pricing. In fact, 50 percent of the beans will be globally sourced via direct trade this upcoming year. Dancing Moon Coffee Co. ($23 and up, dancingmooncoffee.com), which offers Fair Trade Certified and organic products, donates 5 percent of profits to the Semper Fi Fund — an organization that benefits injured Marines and their families.
For those who enjoy reading and history, "The Witches: Salem, 1692" ($17.60, Amazon.com) is a psychological thriller that recalls the Salem Witch Trials, a moment when women played a central role in American history. "Black Cat 2-1" ($19.95, Amazon.com) is the story of one Vietnam War pilot who made it home and the men he served who risked their lives for the ground troops. Be sure to check out the Colorama Coloring Book ($12.99 and up, Amazon.com) as well, a coloring book for adults that allows them to channel their creative and inner child spirit.
Treats are popular gifts for teachers each year, and this year, rise above the rest with a Tastefully Simple Celebration Cake Mix and Mug ($19.95, tastefullysimple.com). Stonewall Kitchen's Maple Mustard Dip ($5.95, stonewallkitchen.com) pairs well with pretzels, and Taste Weavers' Chocolate Peanut Butter Cup Dip ($8.99, tasteweavers.com) will satisfy a sweet tooth.
AnnieB's caramels ($5, anniebscandy.com) make a great gift for those on a budget. The popular candy, named as one of Oprah's Favorite Things, is slow-cooked in copper pots, just as they have been since 1978. A box of Hershey's KISSES Deluxe ($10.99, amazon.com) also are a thoughtful way to say more to the ones you are grateful for this season.
If your teacher loves the outdoors, the Mystery Tackle Box ($15 per month and up, mysterytacklebox.com) is a unique gift for someone who loves fishing and the outdoors. The company, based in Chicago, sends fishing gear monthly, with gift options available for 3-, 6- and 12-month plans. PowerWrapz ($24.95, 4id.com) are LED safety bands and are perfect for those who like to bike, though can be attached to other objects like strollers and umbrellas as well.
Mugs are another popular gift, but set the Christmas tone this year with Fiesta's 12 Days of Christmas mugs ($59.92, fiestafactorydirect.com). The first four days in the collectible set are now available.