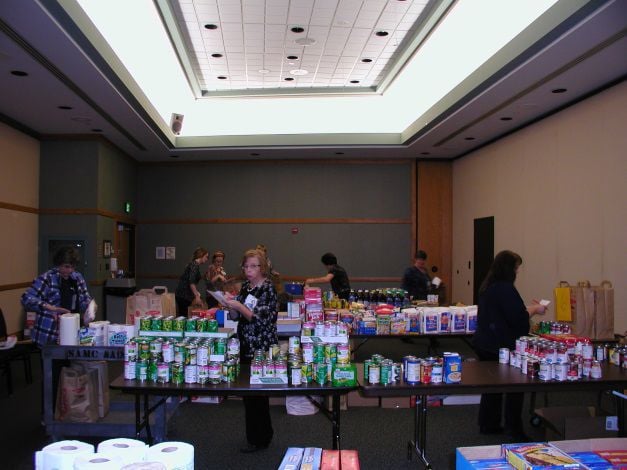 Franciscan Health believes in giving back to the community it serves, and in 2016 donated more than $85.7 million, in the form of financial assistance for care and subsidized health services, community health improvement, health professions education, and donations.
More than 364,000 people received assistance in some form or another at one of the hospital's campuses: Crown Point, Hammond, Dyer, Michigan City, Munster, and Rensselaer.
The number is up from about $77.2 million in 2015, when the system served approximately the same number of people.
"Our mission is continuing Christ's ministry in our Franciscan tradition," says Kate Hill-Johnson, administrative director, community health improvement post-acute and compliance division for Franciscan Health. "We live our mission each day by providing person-centered, compassionate care inside our facilities and joyfully caring for the most vulnerable in our communities. We are privileged to serve, from leading support groups to providing free health services, to offering necessities to those in need."
At Franciscan Health in Hammond, Munster and Dyer, the Community Health Needs Assessment (CHNA) is designed to help understand the health status and needs of area residents. In 2016, it was determined that the area had a high rate of pediatric asthma. So the organizations plan to conduct quarterly asthma education workshops in an East Chicago school to help reduce asthma occurrences.
The Hammond, Dyer and Munster campuses also collect nonperishable food, baby items and hygiene products, school supplies and clothes to support local charities, food pantries and shelters. In 2016, they donated an estimated 4,000 items. In addition, Hammond and Dyer donated unsold food items to food pantries and homeless shelters in Lake County, totaling about $27,000.
Around the holidays, employees also donate items including hats, coats and mittens to St. Clare Clinic patients and St. Monica Home families, as well as adopting a family in need at Christmas.
In Rensselaer, the staff adopted 25 children through an Angel Tree and two families in need this holiday season. It is also hosting a food drive and a free "Visit Santa" event.
In Crown Point, the staff implemented a Walk with a Doc program at the Lake County Fairgrounds from May 3 through Nov. 1, as a way to combat sedentary lifestyles and engage community members.
Participants were encouraged not only to talk with doctors about their health concerns but also improve their cardiovascular health with better walking times.
Franciscan often partners with other organizations to maximize services to community members in need.
Organizations appreciate the partnership opportunities, says Renae Vania-Tomczak, president and CEO of Mental Health America of Lake County.
"The best partnerships aren't dependent on just one common goal, but on a shared path of creating a strong foundation for a healthy community," she says. "The partnership with Franciscan Health that includes hosting the first The Big Latch On event in Lake County, ensuring pregnant women and new moms have the support they need to strengthen family functioning, and enhancing infant safe sleep are examples of achieving greater impact than any organization could generate on its own."