SCHERERVILLE — "Are you ready?" the gym teacher called out. "Line it up."
The students proceeded to march, hitting drumsticks together above their heads. They stopped at their stations, exercise balls atop buckets, and started drumming to the beat of Flo Rida's "My House."
Later, they circled and tapped on the balls, hitting one another's sticks in the process. They changed speeds and rhythms throughout the routine, at the end drumming together, fast, on the same ball.
St. Michael School in Schererville recently started incorporating DrumFIT, a workout routine fusing music and fitness that has been spreading to schools across the country, into their physical education program. The students and educators say it's a fun way to get into shape.
"It's something different — it's not the normal soccer, basketball, volleyball," gym teacher Jody Ritchie said. "It combines the development of music education and cardiovascular conditioning set to the soothing rhythm and patterns of drumming."
Ritchie began teaching DrumFIT to eighth-graders this past school year and plans to expand it in the future to the school's younger students. Parents donated the supplies, and John Powers, a cheerleading coach at Lake Central High School whose twin girls go to St. Michael, taught the choreography. The eighth-graders performed it at their recent year-end pep rally. The school's priest even has started learning the routine.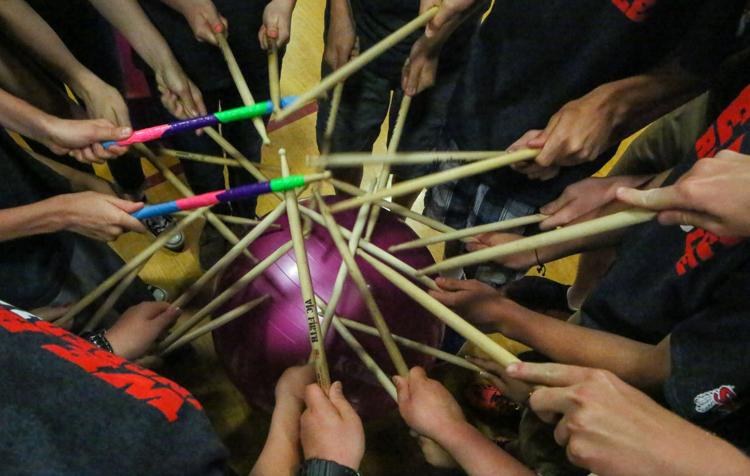 "I liked that it was different from what we normally do in gym class," said Mary Keith, 14, of St. John.
"It's not something you don't want to do. You look forward to it," noted Christian Alexander, 14, of Schererville. "I liked how it's fun. You're also getting active and working up a good sweat."
Monica Jimenez-Susoreny, a spokeswoman for the school, says the benefits to DrumFIT are legion and that St. Michael is excited to introduce it to the rest of the student body next school year.
"It raises the heart rate, boosts creativity, and improves hand-eye coordination," she said. "It is good for the brain, great for the body and students love it."
Be the first to know
Get local news delivered to your inbox!