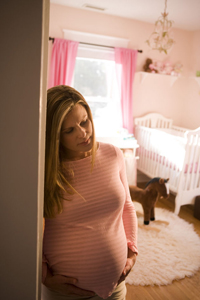 More women in the United States are choosing to give birth at home in recent years.
After decades of decline, a new study found home births increased by 20 percent between 2004 and 2008.
Researchers Marian F. MacDorman, Eugene Declercq and T.J. Mathews, analyzed U.S. birth certificate data, including maternal race information, from the 4.2 million live births in 2008 and compared it with similar data from previous years.
Home birth certificates are completed by a home birth practitioner or a family member and hospital birth certificates are completed by the hospital birth registrar.
The study, published in the online journal Birth: Issues in Perinatal Care, showed that a century ago almost all births took place at home. But by 1969, the number had consistently dropped to only about one percent and remained there until 2004.
By 2005 however, the practice increased, from 0.56 percent of the 4.2 million births each year in the country to 0.67 percent. That meant about 28,000 births took place at home every year after 2004 compared to about 23,000 previously.
MacDorman, lead author of the study and statistician for the Centers for Disease Control and Prevention, said via email that the increase relates to several factors. Women may be seeking to give birth in a familiar environment without a lot of medical intervention, she stated. They may like the idea of being surrounded by family and friends or they may have cultural or religious concerns.
"Lack of transportation in rural areas and cost factors may also play a role as total costs for home birth are about one-third those for a hospital birth," MacDorman added.
Declercq, professor of community health sciences at Boston University, said women seek home birth options because they have a desire for more control over their labor and delivery process. "They want to avoid what is called the 'cascade of intervention' where one intervention [at the hospital] leads to another which leads to another which leads to another," he said.
The study showed the increase involved largely non-Hispanic white women - 94 percent of the increase in home births from 2004 to 2008 was due to them.
The number of home births for Asian and Pacific Islander women also increased slightly while the number for non-Hispanic black women decreased and the number for Hispanic women and American Indian women remained unchanged.
The increase occurred despite disapproval from physicians. The American College of Obstetricians and Gynecologists (The College) released a statement in 2007 strongly supported hospital births and cautioned against home births, citing concern for the health and safety of mother and child.
A separate statement released earlier this year still discourages the practice. Richard N. Waldmen, president of The College, said hospitals and birthing centers are the safest places for labor and delivery overall.
"As physicians, we have an obligation to provide families with information about the risks, benefits, limitations and advantages concerning different maternity care providers and birth settings," Waldmen said. "It's important to remember that home births don't always go well and the risk is higher if they are attended by inadequately trained attendants."
Sarah Simmons, a certified nurse-midwife from New Life Midwifery, 4140 N. Maplewood Ave. in Chicago, said more women are weighing the risks of home births compared to a hospital births, however. She said the benefits of home birth outweigh the risks.
"There has been more media attention highlighting that it is a safe and available option, starting with the [2008] documentary, The Business of Being Born," Simmons said. "More women are realizing that having a baby in the hospital can be risky, now that our C-section rate is about 1 in 3."
The Business of Being Born is a documentary produced by former TV show host Ricki Lake advocating home birthing. The film documents Lake's own home birth experience.
Simmons said benefits of home birth include: fewer complications and unnecessary interventions including lower C-section rates, lower infection rates, greater breastfeeding rates, easier sibling adjustment, heightened sense of autonomy, control and satisfaction with experience and lower postpartum depression rates.
Authors of the study noted that they believe that this increase in home births that will be of interest to practitioners and policymakers.