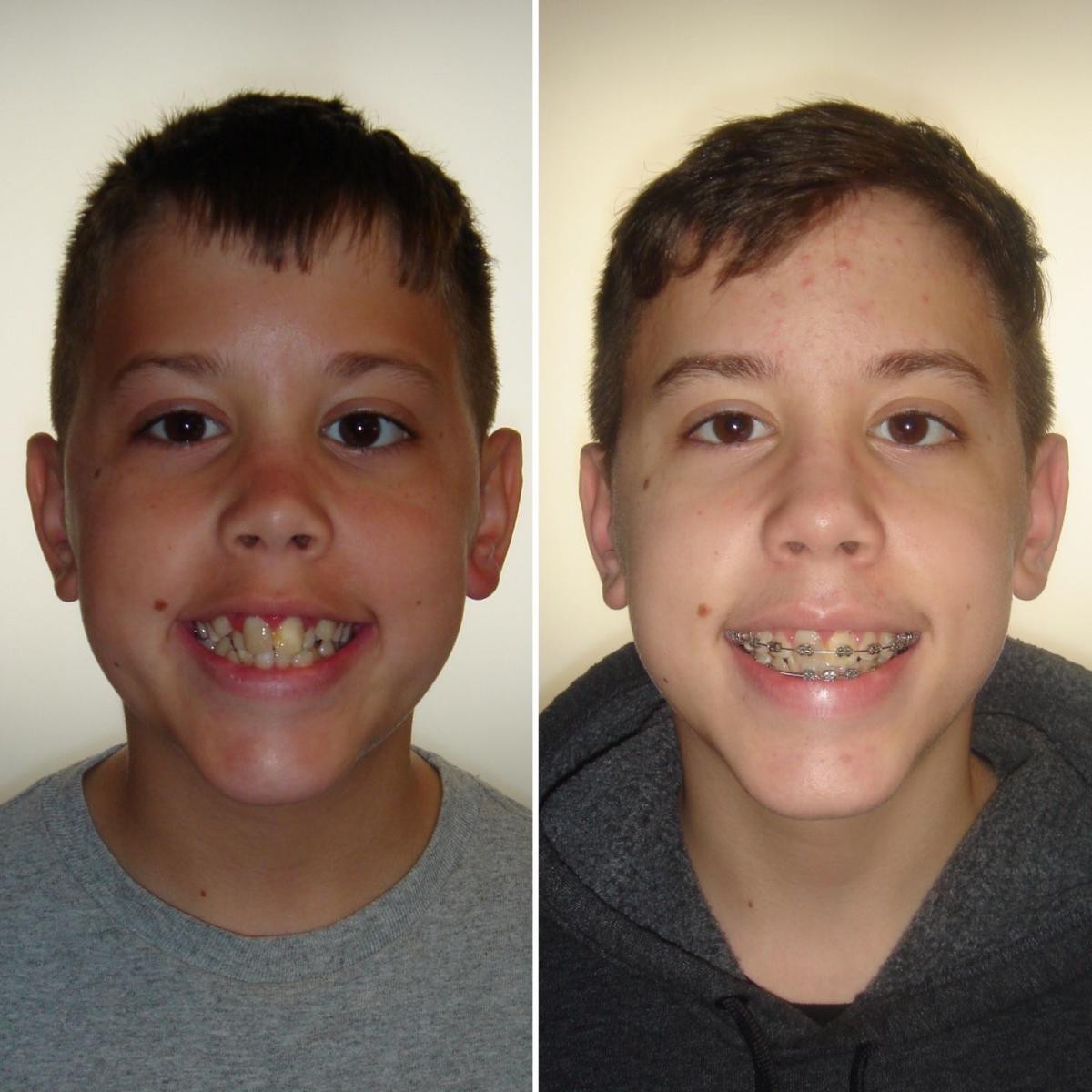 Many people think an orthodontist is a doctor who fits braces. While that is true, it's not the whole story. Actually, orthodontics is a specialty of growth and development as well as the diagnosis, prevention and correction of dental and facial irregularities.
I also serve as a health-care strategy partner, guiding patients to receive the care they need.
Orthodontists understand we can address problems more easily when our patients are young, still growing and developing. In my practice, In Harmony Orthodontics, I view the mouth as a mirror, which reflects what's going on in the entire body. I take a holistic and collaborative approach in order to treat the whole child.
That's what happened with a patient named Jakob. He first saw an orthodontist when he was 11 years old. The approach was very traditional: wait for treatment due to his age.
There also was discussion of possibly needing to extract four teeth to correct his bite.
When I met Jakob, he was 12. I noticed he had poor tongue posture and a tethered/tied tongue. I noticed mouth breathing and forward head posture.
Through discussions with his father, I learned that Jakob suffered from teeth grinding and anxiety. He also had some behavioral and sleep concerns. In fact, he was unable to sleep without the aid of medication -- all of this despite Jakob having his adenoids removed earlier that year.
A sleep study was performed.
Although there was no diagnosis of sleep apnea, he only entered REM sleep once during that night. This is of concern because REM sleep is a critical part of the sleep cycle, essential to learning and making/retaining memory.
Regarding Jakob's teeth, my examination revealed crowding and crossbite or scissor bite, which is a misalignment of the dental arches. The roof of his mouth was narrow, and he had difficulty placing his lips together.
We discussed the connection between orthodontics and overall health. It was agreed that no teeth would be removed to correct his bite. We started with brackets on his top teeth while his custom-made expander was being fabricated.
An expander is an orthodontic appliance that helps to widen the roof of the mouth. Jakob struggled with his tongue during placement of appliances, as many patients with tongue ties do, but he did permit treatment. We discussed oral hygiene, and Jakob showed improvement as treatment progressed. I stressed the connection between mouth breathing and oral hygiene.
During treatment, I referred Jakob to Stacy Lashenik, LDH for orofacial myofunctional therapy (OMT) evaluation. OMT is the treatment of disorders of the oral and facial muscles, consisting of behavioral modification and simple, therapeutic exercises for muscles of the tongue, lips and jaw. I believed that Stacy's expertise would help Jakob tremendously in addition to the braces I fitted for him.
Stacy Lashenik, LDH summed up her treatment plan for Jakob this way:
"When I first met Jakob, he had been breathing through his mouth so long that his tongue and facial muscles had become very weak. Years of living with enlarged adenoids had restricted his ability to breathe through his nose, causing his tongue to drop to the floor of his mouth to allow air to flow through open lips. Even though his adenoids were removed, his muscles didn't automatically start working properly.
"I saw Jakob twice a month to teach him proper oral rest posture and swallowing. During each session, he learned exercises to practice at home on a daily basis. Jakob had difficulty simply lifting his tongue, so we started with tasks focused on strengthening and gaining control of his tongue and orofacial muscles.
"Over the next year, we taught Jakob to use his tongue to suction against his palate and his lips to rest closed. We improved his nasal breathing and corrected his tongue thrust swallow. With Jakob's hard work and Dr. Murphy's orthodontic treatment, we have seen positive changes in his health and appearance that should last a lifetime."
Jakob's remarkable results
Jakob has improved his open-mouth posture, which decreased his mouth breathing. His oral hygiene has improved, and his teeth are better aligned. In addition, Jakob has improved function and control of his tongue. The good news is that the benefits are not limited to his teeth. His behavior has improved, and he sleeps better. Jakob's overall appearance has benefited, and he now has a more attractive smile.
If you notice that your child has similar characteristics or you have other concerns, call my office at 219-924-4031 to schedule a free consultation. Your child deserves the very best treatment designed to achieve total health and wellness.
Be the first to know
Get local news delivered to your inbox!