Before & after
Hobart man tells of day his heart stopped beating and how he was brought back by St. Mary Medical staff
Mark Wilkins, 57, was at work when sharp pain began radiating through his elbow.
"I thought I pulled a muscle moving wooden blocks on the job," he said. "It would ease up, but kept coming back."
That Sunday — Feb. 5, 2017 — Mark looked and felt terrible. He didn't sleep the night before. His wife, Connie, noticed his pale complexion and upset demeanor.
"I work at Community Hospital," she said. "I'm familiar with the symptoms of a heart attack. It was obvious to me that the pain in his arm was causing him a lot of discomfort."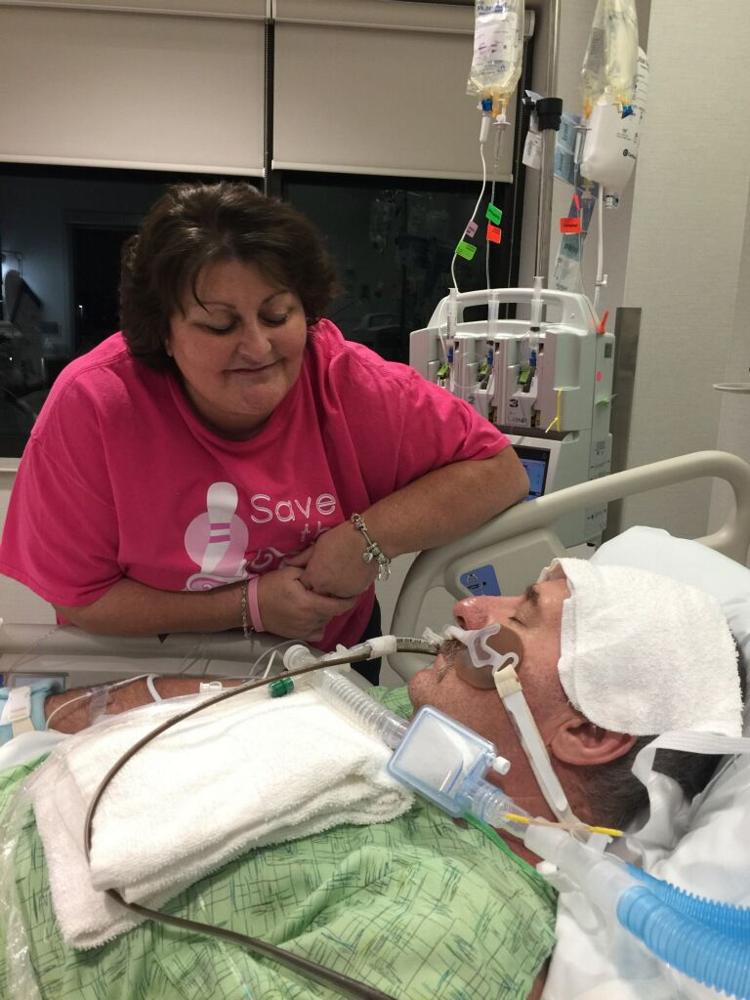 Over his objections, she took him to the closest emergency room at St. Mary Medical Center in Hobart. Medical professionals quickly diagnosed Wilkins with AFib, or atrial fibrillation, an irregular and rapid heart rate. Dr. Zlatan Stepanovic, the cardiac physician on duty, decided to admit Mark and scheduled an angiogram a few hours later.
"The angiogram showed a blockage in Mark's right coronary artery," Stepanovic said. "I used a balloon and stent to relieve the blockage. His condition improved, and we returned him to his room."
But a short while later, Wilkins suffered a major heart attack and his heart stopped beating. His attendants performed CPR, shocked his heart multiple times to bring him back and rushed back into the cath lab. Stepanovic performed another angiogram.
"Mark had another blockage behind the original one," he said. "The second blockage completely closed his artery. His heart went into cardiogenic shock, and dropped to 30 beats per minute. The beat was so weak that his heart could not provide adequate blood to his brain."
Even with the help of the entire cath lab team, Stepanovic couldn't get the lead wire through the blocked artery to balloon it open. Wilkins' weak heartbeat increased the danger by the minute. Dr. Abdulrazzak Kawamleh, another cardiac surgeon at St. Mary, joined the team. Working with Stepanovic, he installed an Impella ventricular assist device into Wilkins' left ventricle through the aortic valve. The Impella is a heart pump that did the work Mark's heart could not.
"The Impella is an amazing heart pump that we use on high-risk patients," Kawamleh said. "It helped us stabilize the blood flow to Mark's brain and other organs while Dr. Stepanovic tried to open his artery."
The Impella helped the blood flow, but the artery wouldn't cooperate. After he and the cath lab team spent six hours trying to work the wire through Wilkins' heart, Stepanovic stepped out and told Connie to call the family.
"He came out and told me that they had tried everything possible," she said. They had been married for three years, together for seven. "I wasn't ready to let go. I asked him to please try one more time."
"The cath lab team had been on their feet in high stress mode for six hours," Stepanovic said. "I felt bad for them, and much worse for Connie and Mark. I decided I'd try again before we gave up."
Stepanovic believes there is a higher power that watches over all. "And just like that, the wire finally slid through, and I was able to open Mark's artery."
Seven hours after the second procedure began, Wilkins stabilized. The cardiac team added additional stents to keep the artery open and the blood flowing. They placed Wilkins in an induced coma to allow his heart time to recover before removing the Impella. Five days later, they were able to remove the Impella and bring him out of the coma.
"Mark suffered a stroke as we brought him back to consciousness," Stepanovic said. "That complication extended his stay and rehabilitation."
It has been one year since Mark's heart attack and subsequent stroke. Today, the stepfather of two and grandfather of five has regained the use of his right side and returned to a fairly normal routine.
"I can't say enough about the team at St. Mary Medical Center," Mark said. "What they did for me was absolutely amazing."
People at higher risk for heart attacks and strokes may be easier for doctors to spot in the future through testing for a specific type of cell.
Erica Hein can't even list all of the changes she has seen in cardiac rehabilitation over 20 years.
"This ordeal really brought home how precious life is," Connie Wilkins said. "Every day is a new blessing for us. Dr. Stepanovic and the team were wonderful."
Mark's stepson, Josh Huddlestun, a Hobart councilman, added: "The technology and extraordinary effort at St. Mary Medical Center is a blessing for this community. We're very fortunate to have them here."
Stepanovic and Kawamleh credit the cath lab team members who fought with them on that long day.
"The cath lab team members are genuine unsung heroes," Stepanovic said.
"It is estimated that the average patient will encounter as many as 100 different members of a care team during the course of a hospital stay," added St. Mary Medical Center CEO Janice Ryba. "In the case of patient Mark Wilkins, whose life was saved by his cardiovascular care team at St. Mary Medical Center, the number of caregivers involved in his treatment and recovery was almost certainly greater. We thank all of the emergency physicians, cardiologists, nurses and surgical staff who worked tirelessly in the Emergency Department and cath lab to save Mark's life.
"We thank also the many physicians and caregivers who have continued to treat and support Mark throughout his recovery. At St. Mary Medical Center, our care providers save lives every day with their expertise, with teamwork, and with the most advanced life-saving medical technology. And, as Mark Wilkins's story illustrates, they do it because they truly care about our patients. We congratulate Mark on his wonderful recovery."