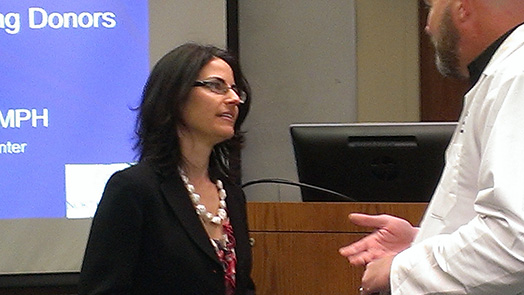 Living organ donors enter the operating room to save a life, often unaware of the risks.
"The idea of being a living donor ... is clouded in this vocabulary of 'being a hero' and 'saving a life' and 'the gift of life,'" Cristy Wright, 41, said in a phone interview. "It really minimizes the experience of being a donor."
Wright, a writer living in Akron, Ohio, said she was unaware of the consequences when she donated a kidney to her sister in 2008. She suffered depression and anxiety for two years after her operation.
Organ donors may not fully understand the risks involved in their procedures, according Eliza Gordon, a medical anthropologist at Northwestern University's Feinberg School of Medicine. Eighty-three percent of live liver donors she studied said donation was "not at all" to "somewhat risky" to themselves, even though living donation carries with it significant potential complications, including infection, organ failure and even death.
Gordon, who followed 30 organ donors at Northwestern University, presented research from a 2012 study in the American Journal of Transplantation to a packed room of clinicians at the University of Chicago Wednesday.
Her findings cast a shadow on the idea that "informed consent"--the practice of disclosing risks to patients prior to agreeing to a medical procedure--is being successfully implemented at transplant centers.
Wright said that while she was given cursory information about her operation, she was not ready for her surgery's aftermath.
"No one prepared me at all, and there were no resources at the transplant center," she said. "They didn't even bother to check up on me."
Wright created the website "Living Donor 101" shortly after afterward to educate others about the potential risks of being a donor.
For kidney donors, those risks include high blood pressure, reduced kidney function or hernias, according to the United Network for Organ Sharing (UNOS). Liver donors risk abdominal bleeding, bile leakage or intestinal problems. Both operations carry the risk of organ failure and death, along with the normal risks of surgery, such as infection, blood clot, pneumonia and tissue damage.
In February 2013, the Organ Procurement and Transplantation Network introduced policies to create uniform living kidney donor policies across the country, replacing inconsistent protocols. It is currently developing living liver donor policies.
The new policies clearly guide health care professionals on what information to disclose to patients, including the risks of reduced kidney functioning or failure, surgical complications, post-surgery depression and financial impact from follow-up costs, travel expenses and lost wages during recovery time.
The policies also mandate stricter reporting requirements from transplant centers in order to increase the data about health outcomes for kidney donors, so "future patients can make as informed consent as possible," according to Anne Paschke, public relations manager at UNOS in Richmond, Va.
Wright said the policies are a "step forward" but not sufficient.
"If you look at the policies, there's still a lot of vagueness," she said. "If we're talking about truly informed consent, you need to put some concrete numbers in there."
But the numbers, themselves, might not be enough, according to Gordon, who delineated the distinction between the disclosure of information and comprehension by patients.
Doctors often disclose risk information and statistics to potential living donors, but that information doesn't always "sink in," she said. While it may help patients feel prepared for surgery, "it's not influencing decisions, which is what informed consent is designed to do."
She said that to achieve better understanding, health care professionals should not only present risks, but ensure patients envision "how their lives will be affected" if complications arise.
"What's treatment like? If I got a hernia, how would I treat it? How long will I be held up at home?" she asked.
Wright also said that information for donors needs to be more comprehensive.
"If we perpetuate this idea that you can just give up this kidney and you don't have to change anything about your lifestyle, we're leaving these donors vulnerable," she said.