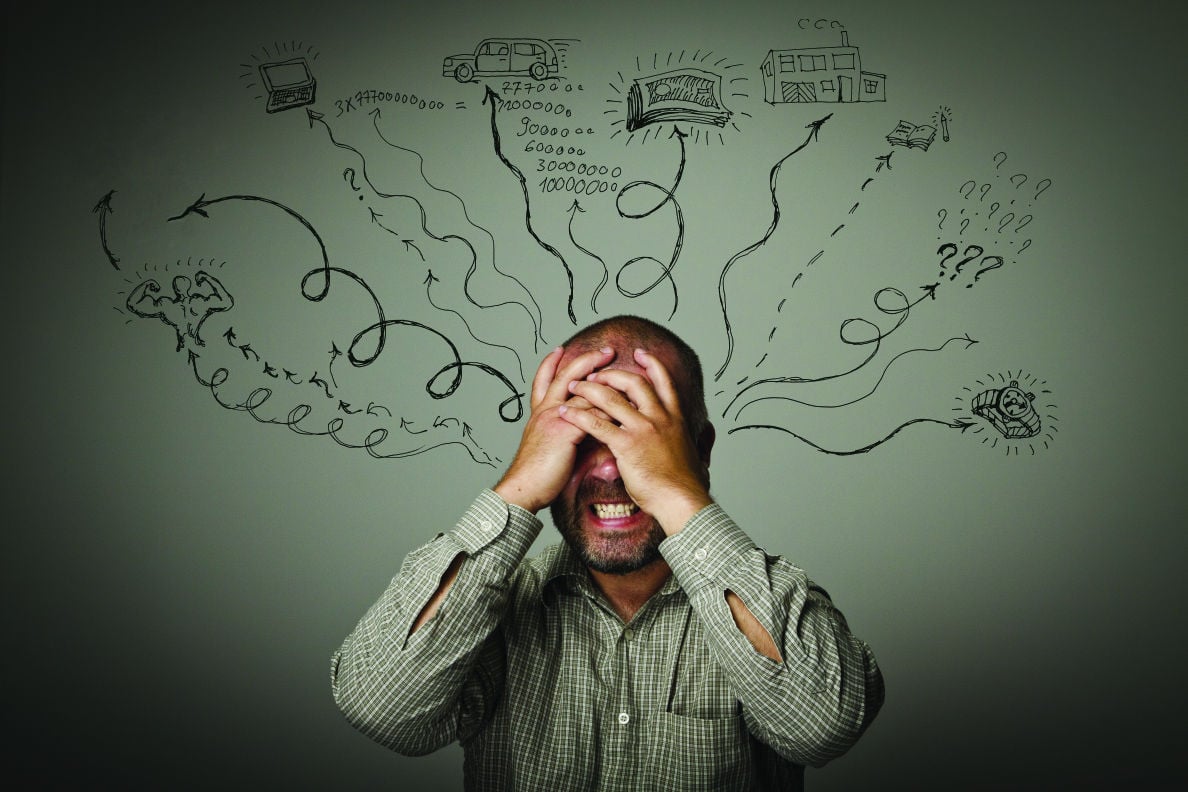 The numbers themselves are enough to make one anxious: An illness affecting 18 percent of the U.S. population—more than 40 million adults, only about one third of whom are actively seeking treatment—at an annual cost of more than $42 billion.
If these statistics were outlining a more high-profile and tangible malady like heart disease or cancer, Americans would no doubt be stunned into some sort of definitive action. But because they're actually associated with the most common mental illness in the country—anxiety disorders—they are much more likely to go unaddressed and remain in the shadows, despite their alarming prevalence.
"There's a stigma attached to mental health treatment, including treatment for anxiety issues," says Donna Southard, a family therapist at New Leaf Resources in Crown Point. "Although society is making progress in this area, many still often see therapy as OK for others but not for themselves. People are prone to telling themselves they can handle it on their own. I often ask people what their thoughts are if they see someone who refuses to get medical treatment for their diabetes, and most respond that it is essential for their life.
"When I ask why we don't have the same belief for someone who has just experienced a major trauma or is struggling to maintain because of stress, most will agree that it doesn't make sense to have a double standard between physical health and mental health, but that the thought of seeing a counselor makes them uncomfortable."
Southard also believes that many people who are experiencing the symptoms associated with serious anxiety issues like panic attacks, phobias, adjustment disorder, social anxiety disorder and post-traumatic stress disorder often simply learn to deal with their conditions and therefore don't think to seek out professional help. In a fast-paced, technologically bombarded world filled with more stressors than ever before, people may simply come to accept their anxiety as "the new normal," as opposed to a potentially serious medical issue in need of attention.
"Many people don't seek treatment simply because they don't know they should," she explains. "Anxiety is often something people just learn to live with and incorporate into their being, rather than seeing it as something that can be changed. Many people don't know how to identify what they're feeling as actual anxiety. Symptoms such as a racing heart, upset stomach, head or body aches and trouble sleeping or concentrating just become one's reality. People are often surprised to realize they've been dealing with anxiety much longer than they thought."
The trouble with ignoring or dismissing anxiety by simply trying to "deal with it" is the potential for that anxiety to develop into a more serious case of depression or manifest itself in physical ailments such as chronic migraine headaches, digestive issues and thyroid problems. Growing anxiety can also lead to a variety of professional and personal complications as the problem snowballs and becomes all-consuming.
"Anxiety is normal for everyone from time to time, but when it begins to negatively hinder someone's life that's a good time to seek professional help," says Angie Cerniglia, a marriage and family therapist, also at New Leaf in Crown Point. "Anything from keeping someone from doing the things they'd like to be doing, to causing physical symptoms can be a sign that a person's anxiety has gotten beyond their control. Often it comes to feel like anxiety is running the show rather than being managed by the person struggling with it."
When the anxiety gets to the point where fear is out of control and everyday activities are impeded, it's time to get treatment, adds Lorna Hecker, the director of the Couples and Family Therapy Center at Purdue University Calumet in Hammond. "For example, you may have a fear of heights—lots of people do—but if it gets in the way of you getting to your job on the 10th floor, it clearly is a problem," she says. "If any anxiety persists for months, it's time to get help."