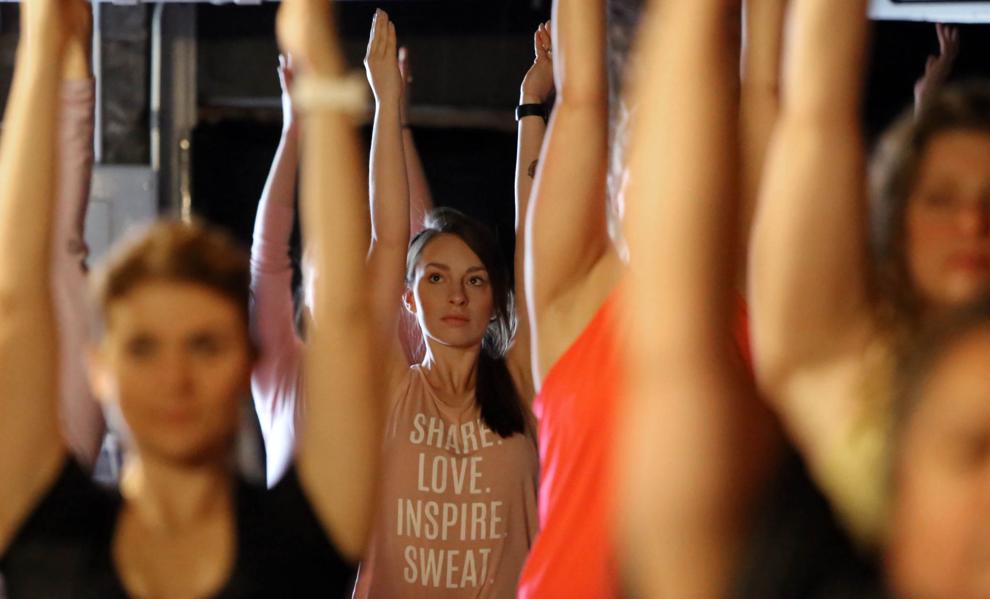 Like most pubs or bars, Running Vines Winery in Chesterton pairs its wine with events to engage customers — painting, trivia, small food plates, etc.
But this winery also offers yoga.
"I'm very committed to fitness and health, before owning the winery I was a personal trainer. Finding balance but still enjoying life is the utmost importance to me," owner Nicki Caylor said.
Running Vines Winery opened in 2015 and has since hosted fun runs as well as yoga.
"I started the yoga and wine class because I wanted to offer something a little different than running. Running isn't for everyone," Caylor said. "Yoga is something I've been personally trying to get into practicing and also, it's low impact."
Students take an hourlong class in the winery's cellar and then go upstairs to have a glass of wine or a wine tasting. Each student leaves with a souvenir wine glass.
Yoga instructor Dannielle Hunt, who works at Asana Yoga Center, said she likes to bring an accessible style of yoga to the winery.
"In flow yoga you link all of the poses together. The way I do it is, we do a pose and then we do another pose — the poses are not all linked together," Hunt said. "I read the room and see what's going to work with everyone. It's casual. There could be people with a lot of yoga experience or people with very little experience."
Hunt said she likes to make class lighthearted.
"I take my work very seriously but don't take myself seriously," she said.
Jasmin McCord, who participated in class and also manages the winery, said it was a great experience.
"The class had the best kind of vibe — easy, light, there was laughter, just happy," McCord said. "A lot of them stayed after class and that was so fun. When I'm working, I want Running Vines to feel like you've come to my home — you can lean over and talk to whoever you want to. And that's how it was; I mean everyone is family when it comes to wine."
The next Wine and Yoga Class will be at 11 a.m. Feb. 10. Total price for the class and wine experience is $20. Participants need to bring their own mats.