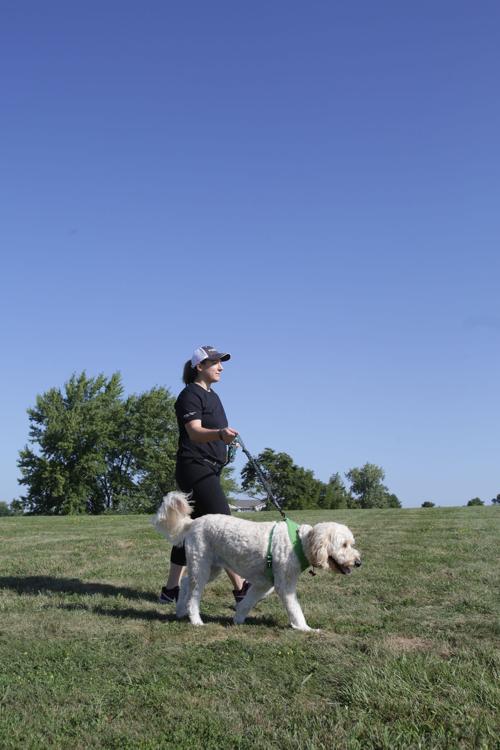 While spring temperatures may seem far away, they're just around the corner. For organizers of a walking program, that means opportunities to get out and enjoy the fresh air while getting fit.
The Get WalkIN program, developed by Purdue Extension and the School of Nursing, is a free, email-based walking program that offers participants the opportunity to receive support to help them reach their fitness goals. The program kicks off May 3, and participants must register by April 30.
"Being active is an important part of a healthy lifestyle, and yet so many people put off being active day after day," Purdue Extension Porter County Educator Annetta Jones said. "Then one day they receive information that they have a health problem. At that moment, they are ready to make a positive change and they are motivated to move."
The program's developers wanted to offer a flexible program that individuals could start and participate in at their convenience as a way to adopt a healthy lifestyle habit, she said.
Here's how the program works. The Get WalkIN program is available through most Purdue Extension offices and those interested can register with any office to participate. Once signed up, individuals walk on their own and will receive consistent emailed support and information. Residents must be 18 or older to participate.
"The great thing about this program is that it is flexible," Jones said. "It provides a start date, but the participant can choose when, where and how much they will walk or exercise. We will send a weekly email that will provide relevant information and motivation to continue to make strides toward good health."
The program follows the U.S. physical activity guidelines of 2-½ hours of moderate intensity each week, but because the program is flexible, the amount of activity can be tailored to the needs of the participant, Jones said.
Regular physical activity can lower risk of heart disease, high blood pressure, type 2 diabetes, osteoporosis, depression and falls in older adults, she said.
"We ask participants to sign up with their emails so that we can send a weekly email that will encourage them to set goals, overcome common walking barriers and stay the course, establishing a habit of being physically active," she said.
No special clothing is required to participate, though Jones recommends a good pair of walking shoes that provide foot support.