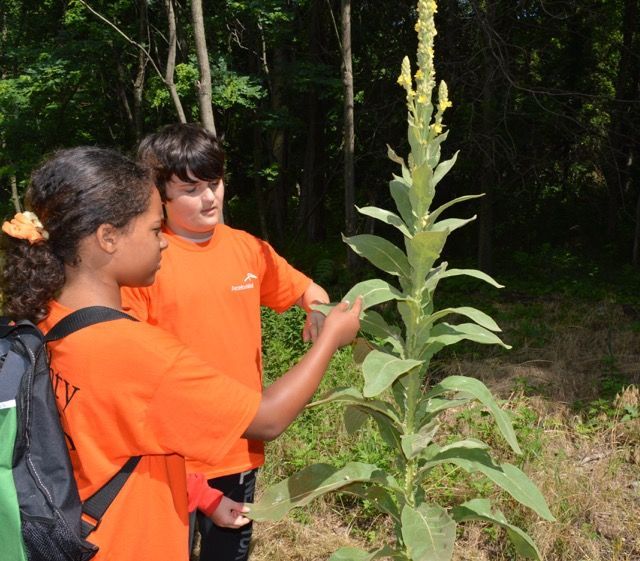 From skyscrapers to cars and washing machines, steel is vital to the modern world. From the shores of Lake Michigan to the Indiana Harbor Ship Canal and north to downtown Chicago, ArcelorMittal is at the heart of the Calumet Region: not just with the steel we manufacture or the employees who work in our facilities, but with the efforts we make in regional sustainability and our investments in our communities.
ArcelorMittal employs more than 10,000 skilled men and women in the Calumet Region, most both working and living in Northwest Indiana. Our company and employees value the rich, natural and cultural diversity of the Calumet Region. We believe in driving environmental education, ecological restoration and community partnerships in the region to ensure our employees, neighbors and communities will continue to thrive for generations to come.
At ArcelorMittal Burns Harbor, bordered on two sides by the Indiana Dunes National Lakeshore, our environmental team works alongside partner Wildlife Habitat Council to execute on-site restoration projects. Since 2012, ArcelorMittal has restored more than 40 acres of on-site dune and swale habitat that have now become walking trails for employees and visitors. The restoration work at Burns Harbor has resulted in the facility's certification by Wildlife Habitat Council as a Corporate Lands for Learning site in 2013 and a Wildlife at Work site in 2014.
At our Global Research and Development campus in East Chicago, ArcelorMittal partnered with The Field Museum and The Nature Conservancy to restore 7 acres of globally rare dune and swale habitat. This site was identified in the Chicago Wilderness Green Infrastructure Vision, a visioning project which identified 1.4 million acres that can be restored, protected or connected through conservation and thoughtful, sustainable development practices.
To complement these projects, ArcelorMittal identified a unique opportunity to use restoration as an education tool. We partnered with local nonprofit organizations Dunes Learning Center, The Field Museum and Shirley Heinze Land Trust on the Mighty Acorns® program, a curriculum that annually introduces thousands of fourth- through sixth-grade students in the Calumet Region to nature and conservation stewardship through activities based on education, restoration and exploration. More than 200 students visit ArcelorMittal sites each summer to pull invasive species, study dune and swale and black oak savanna habitat and learn a bit about the daily operations of a steel facility. In addition, we provide grants to organizations like the Lake Heritage Parks Foundation to purchase equipment such as microscopes, binoculars and stereoscopes that broaden educational offerings and augment STEM programming for area students.
Expanding our reach, ArcelorMittal has a long history of bringing together private sector companies and government agencies to enhance communities. In 2007, ArcelorMittal teamed up with the National Fish and Wildlife Foundation (NFWF), and a number of public agencies including the U.S. Environmental Protection Agency, to launch the Sustain Our Great Lakes (SOGL) program. Aimed at tackling key ecological issues, the SOGL program gives out competitive grants for projects that sustain, restore and protect fish, wildlife and habitat in the Great Lakes basin. ArcelorMittal remains the only corporate partner of the program and sits at the table in all grant-making decisions, working with other program partners to set project goals and strategy.
The success of SOGL — our flagship public-private partnership — continues to echo through the Great Lakes region and each year delivers hundreds of thousands of dollars of restoration funding specifically in the Calumet Region. In 2014, the program awarded $100,000 to Shirley Heinze Land Trust for its work to restore the Hobart Marsh in Hobart. Native plant communities will be restored on 247 acres at four sites within the Hobart Marsh complex. This project will reduce threats to protected areas and ensure habitats are improved for area wildlife including amphibians, waterfowl and other migratory birds.
We continue to partner with NFWF, and in 2013, established the Chi-Cal Rivers Fund, a public-private partnership with eight additional organizations working to restore the health, vitality and accessibility of the waterways in the Chicago and Calumet regions. Each year, these funds provide millions of dollars in on-the-ground restoration, habitat enhancement, stormwater infrastructure and public-use improvement grants to the Calumet Region.
ArcelorMittal recognizes the important role that the Chicago and Calumet watersheds play in promoting a positive quality of life for our employees and citizens as well as the economic viability of the Calumet Region on both sides of the Illinois–Indiana state border. We are committed to remaining a leader in public-private partnerships to protect and conserve not only the Great Lakes and Calumet regions, but those ecosystems near our facilities around the world. In dedicating ourselves to our communities, we place the importance of environmental sustainability and protection in those communities as a long-term priority.
All around Northwest Indiana, there are many ways to see the beauty of the Calumet Region in action. We encourage our employees and everyone who lives and works in the region to learn more about the natural ecosystems that surround us.
• Visit Shirley Heinze Land Trust at www.heinzetrust.org and participate in "Take a walk with Shirley," an initiative building awareness and raising funds for land preservation and protection in the region.
• Spend a Saturday at Taltree Arboretum and Gardens in Valparaiso, a dog-friendly oak preserve of gardens, woodlands, wetlands and prairies that offers exhibits year-round. Find more information at www.taltree.org.
• Learn more about the Calumet Region and the relationship between people and nature with The Calumet Stewardship Initiative, a collective of more than 40 member organizations focused on improving the Calumet Region at www.calumetstewardship.org.
These and so many other organizations are the heart of the Calumet Region and valued partners of ArcelorMittal. We hope you'll learn more about them and us at usa.arcelormittal.com.