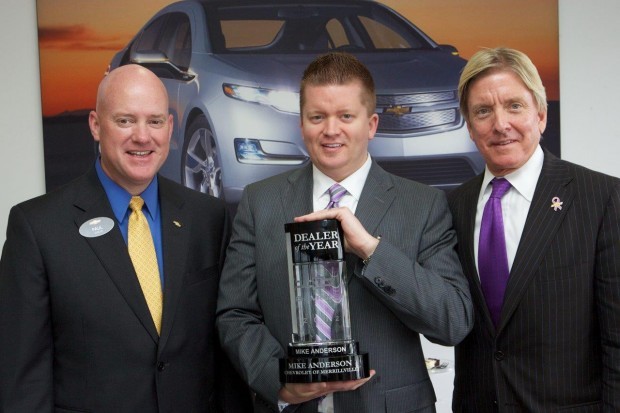 Mike Anderson is following a tradition of excellence which began when his grandfather opened Bob Anderson Pontiac in Crown Point, Indiana in 1969. Anderson has just been awarded General Motors highest honor as "Dealer of the Year" for his performance in Merrillville, Indiana dealership.
Each year General Motors honors the "best-of-the-best" Chevrolet, Buick, GMC and Cadillac dealers. Anderson has been invited to Detroit to receive the honor for the second consecutive year.
The program honors the top 2 percent of GM dealers throughout the country for exceptional performance in sales, service and customer satisfaction excellence.
This is an accomplishment reserved for only a select few outstanding Chevrolet, Buick, GMC and Cadillac dealerships and is a symbol of exceptional performance in delivering superior customer service while consistently growing sales.
So what is the key to his success?
"It all starts with the employees," Anderson said. However, anyone who visits his dealership will recognize the difference in the attention to detail that Anderson invests in providing his customers a remarkable experience.
The spotless polished showroom floors, enhanced air, comfortable furniture in the waiting room are just a few of the amenities provided by this award winning dealer. Complimentary Starbucks coffee, hot chocolate, tea, bottled water, mints, car washes, and service loaners are also part of the package available to Mike Anderson customers.
"It is often said it's easier to get to the top than to stay there. That is why we take this second year honor so seriously. Mike Anderson sincerely thanks each of our employees and customers for making and keeping us the premier Chevrolet dealer in Northwest Indiana," said Alexander A. Kuchar General Manager at Mike Anderson.
Mike Anderson is a full service dealership that also offers a body shop. They are a direct repair facility for many major insurance companies. Anderson's body shop is equipped with state-of-the-art equipment including a frame machine and a down draft paint booth which bakes your finish.
"I have worked at other dealerships and for other dealers, and Mike Anderson is truly unique," said Lisa Short, one of Anderson's dealership service advisors. "First, it is such a friendly atmosphere. We love our customers and want to make sure they have a great experience. Also, Mike Anderson spares no expense in providing us the means to do our job. If we need a new piece of equipment or special training – we get it."
Mike Anderson employees project a friendly, caring and knowledgeable impression. The combination of an immaculately cleaned facility and welcoming employees is hard to beat.
As manufacturers and dealers keep searching for the holy grail of customer satisfaction, it seems that Mike Anderson Chevrolet has gotten it right.