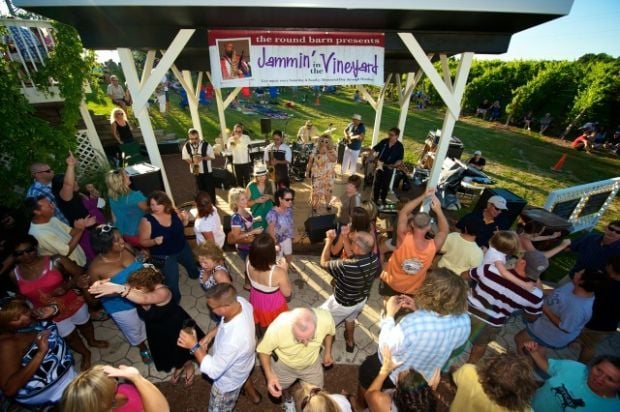 Saturday, May 24th and Sunday, May 25th, the Round Barn Winery, which makes award-winning wines, hand-crafted micro brews, vodka, rum and walnut crème and is located in Baroda, Michigan, is hosting their 8th Annual DiVine Intervention event featuring DiVine Vodka, Rum and Black Walnut Creme drink specials. There's live music and food available for purchase from our Round Barn Grille at this family friendly event. Bring lawn chairs and sun umbrellas.
As for the round barn itself, there really is one. More than 25 years ago, when Rick and Sherrie Moersch decided to start their own winery, they bought an old round barn made by the Amish near Rochester, Indiana, an area that bills itself as the round barn capitol of the world. Naming the winery after the barn, the winery quickly became a family business with sons Chris and Matt learning winemaking from their parents and opening their own, Free Run Cellars, just down the road and also working with their parents in running Round Barn and the newly opened Round Barn Brewery and Public House. Free run is the term used for first juice that runs off the vat without any pressing. Round Barn Winery, which also produces DiVine Vodka, made with grapes instead of grain, and award winning brandies made with local fruit, and have added other distilled spirits to their list including bourbon, rum and DiVine Black Walnut Crème. Free Run does small batch, limited release and single vineyard production.
Nicole Birmingham-Moersch, General Manager of Entente Spirits, shared some of Round Barn's cocktail recipes.
Round Barn's Famous Crantini
Add equal parts lemonade & Round Barn Cranberry Fruit Wine
Shake well and serve in Martini glass. Garnish with a lime wedge.
Top with DiVine Black Walnut Crème
Shake well and pour into rocks glass. Top with a cherry.
Round Barn Root Beer Float
Fill rocks glass with ice
Add 1/3 root beer of choice
Add 2/3 DiVine Black Walunt Crème
Stir and garnish with a cherry.