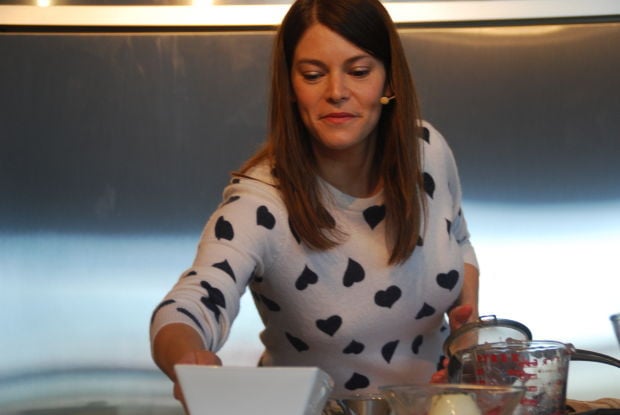 I got a chance to catch up with friends Deb O'Connor and Beth Robinson right before Gail Simmons, Top Chef Judge, author and Special Projects Director with Food & Wine magazine was demonstrating how to cook Grilled Fish Tacos with Mango-Cucumber Salsa and Panna Cotta with Rhubarb and Ginger at the 75th Senior PGA KitchenAid Fairway Club in Benton Harbor yesterday.
Both Deb and Beth have known Gail for a decade or so back when they worked with her in coordinating culinary events around the country like the annual Food & Wine Classic in Aspen considered to be one of America's premier culinary event
Deb is the Director of Global Sponsorship for KitchenAid and Beth is Senior Manager of Brand Experience for KitchenAid and both were onsite at Kitchen Fairway Club where the demonstration kitchen has been set up.
"It's so great seeing Gail here," they both were saying when Gail walked over to us. Since we were standing near rows and rows of sleek, lovely and colorful KitchenAid small appliances, we immediately began talking about Gail's new kitchen which is, yes, you guessed it, filled with KA appliances both big and small.
"I love my new refrigerator which is really spacious and bigger than anything I ever thought I could have in a New York apartment," she said. "I also have microwave conversion oven which is just perfect as I have a baby so I'm heating up a lot of baby formula. And when I got married one of my wedding presents was a raspberry colored KitchenAid Stand Mixer."
Very friendly in our encounter, Gail brings this to her cooking demonstrations as well which may be why she was recently named the number one Reality Judge in America.
"There are two types of cooks," she told us as she began to prepare what terms a perfect Memorial Day weekend dish-- Grilled-Fish Tacos with Mango-Cucumber-Mint Salsa. "There are those that just throw everything into a pot and those that follow a recipe step-by-step. I think the best is a combination of both. You can't be afraid to change, adapt, you don't need to stick to a recipe so closely that you don't have fun."
And so, when making the marinade for the fish, she said it was okay to use a little less of the shallots if you wanted and more cilantro if you like. Someone behind me asked why she used canola oil and Gail responded that it doesn't have a distinctive flavor like olive oil and also had a high smoking point which is good for cooking foods at high heats.
"People ask me why do chefs pour salt from high up, is it a show-off kind of thing," says Gail as she does the same thing. "But it gives you better control of where the salt goes."
Her dessert recipe was Panna Cotta which is Italian for cooked cream. It's a good warm weather dessert as it doesn't require turning on the oven.
"I'm using rhubarb for the sauce," she says, "because I think it's a much underused ingredient and it's in season right now."
TV chefs always make things look easy, but it's hard to imagine the dishes she was working on would be difficult to make even without a pro to show you what to do. Her instructions, like how to split the vanilla bean pod and scrape the beans into the cream mixture for the panna cotta were instructive.
Afterwards I ran into Betty Timmreck, a Southwest Michigan resident who wins many local and statewide baking contests, who was also at the demonstration and we talked about the things we learned. I said I hadn't known about putting individual ramekins into hot water to loosen them so they could be inverted on a plate and their contents come out all in one piece. Betty said she knew that but didn't know about using a very sharp knife or a sharp, narrow off-set spatula to loosen the sides before putting the holders into the water. So we both learned something new.
Grilled-Fish Tacos with Mango-Cucumber-Mint Salsa
2 limes, 1 zested and juiced, 1 quartered lengthwise
1 tablespoon finely chopped cilantro, plus more for garnish
1 medium shallot, finely chopped
1 pound skinless halibut, sea bass or striped bass fillets
1 cucumber, peeled, seeded and diced
3 tablespoons finely chopped mint
1 medium jalapeno, seeded and diced
1 avocado, halved, pitted, peeled and thinly sliced
4 radishes, halved if large, thinly sliced
Preheat grill to medium-high heat. In a medium dish, combine oil, zest and juice from 1 lime, cilantro and half the shallot. Add fish; turn to coat. Let stand 15 minutes at room temperature. Meanwhile, in a bowl, stir together remaining shallot, mango, cucumber, mint, half of the chile and generous pinch salt; stir to combine.
Remove fish from marinade. Grill flesh-side down, 4 minutes, then turn and cook until just cooked through, 3 to 4 minutes more. Transfer fish to a plate; let rest 5 minutes, then flake with fork.
Grill tortillas 10 to 15 seconds per side; remove from grill. Divide fish among tortillas; top with salsa, avocado and radishes. Garnish with cilantro and remaining chile, if desired. Serve with lime wedges.
1 cup whole milk, plus 1/4 cup for blooming gelatin
1 cup heavy whipping cream
6 slices of peeled fresh ginger
2 teaspoon powdered gelatin
1 cup crème fraîche, at room temperature
1/4 cup sweet white wine, like Sauterne
1 slice of peeled fresh ginger, finely diced
1 cup fresh rhubarb stalk, trimmed, washed and cut into one-inch pieces (or strawberries, hulled and quartered)
2 tablespoons chopped fresh mint
Begin by adding 1 cup whole milk, the heavy cream and superfine sugar to a pot; set over medium heat. Split and scrape the vanilla bean into the pot, then add pod. Add lemon rind and fresh ginger. Bring to a simmer, then shut off heat and cover. Allow to steep for 15 to 20 minutes.
While the mixture is steeping, bloom the gelatin. Whisk together 1/4 cup whole milk and gelatin until it is completely dissolved. Add bloomed gelatin to the cream mixture and whisk to dissolve evenly.
Spray four to six 6-ounce ramekins with nonstick spray to evenly coat the insides. Add crème fraîche to a large mixing bowl. Strain cooled cream mixture through a sieve into the bowl and discard the vanilla pod, ginger and lemon rind. Gently whisk to combine the mixture. Distribute evenly among ramekins, cover with plastic wrap and refrigerate for at least 6 hours or overnight until they are well set.
Meanwhile, make the rhubarb garnish. In a medium saucepan heat the wine and sugar until dissolved. Then, add the ginger and rhubarb, and cook until simmering. Add the water, lower the heat and cover for about 15 to 20 minutes, until the rhubarb is tender. Strain the liquid into a measuring cup, reserve the fruit and allow to cool. (If using strawberries, cook for only about 10 minutes in reduced liquid, then add water to finish, making one full cup of liquid.)
When panna cotta is set, carefully invert each ramekin into a shallow bowl. Sprinkle the panna cotta with the fresh mint. Pour about 1/4 cup of the poaching liquid into the bowl and place a tablespoon of the rhubarb on the side or on the top to serve.