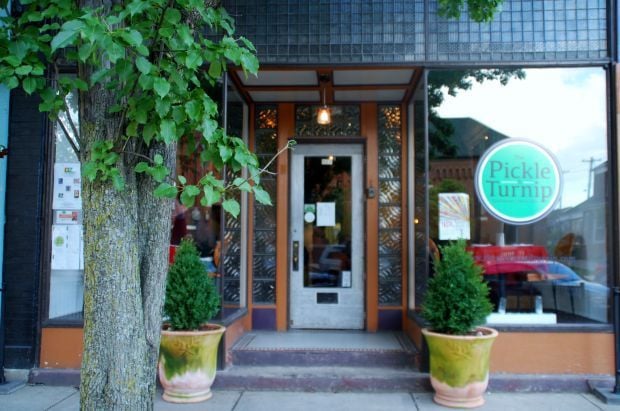 Even though he learned to cook more classical dishes from his mother as the family moved between West Africa and Lebanon, Moe Mroueh likes to add contemporary touches to the menu at The Pickle & Turnip, his newly opened restaurant and wine bar in a trendy historic district on Franklin Avenue in Michigan City, Indiana.
The menu reflects this modern take on traditional while retaining classic Middle Eastern dishes as well Moe tells me as we sit at table laden with time honored favorites-- bacon wrapped Medjool dates stuffed with feta and goat cheese and drizzled with pomegranate molasses, fried plantains in a spicy red pepper sausage, hummus-- that pureed chickpea delicacy that goes so well with fresh pita made here, lamb chops marinated with sumac, oregano and thyme mixed with the only olive oil Moe will use—the specially imported Kolossos brand (which is available at Al's Supermarkets which two locations in Michigan City, two in LaPorte, one in in South Haven, Indiana and also available at Barney's Market in New Buffalo), lamb sausage spiced with cinnamon and nutmeg and served with tahini, a paste made from ground, hulled sesame seeds and baba ganouj—toasted eggplant pureed with tahini sauce, garlic and lemon.
And there's the not-what-your-Lebanese-grandmother-would-make-- watermelon caprese, layers of watermelon and halloumi cheese sprinkled with mint, salt and pepper, sumac seared sea scallops and a variety of dips for including hummus—muhummara which is a blend of roasted red pepper, walnuts and pomegranates, aubergine which Moe describes as a type of baba ganouj only made with avocado, roasted eggplant, tahini and lemon along with my favorite, toum--egg whites mixed with olive oil, lemon, garlic and potato.
Moe always dreamed of owning a restaurant and for a while was a partner in Mezza in Valparaiso before going out on his own and opening Sahara in Michigan City, well known for its Middle Eastern cuisine. He closed Sahara the day before The Pickle & Turnip opened closer to the downtown which is undergoing a transformation with art galleries, shops and restaurants. Moe restored the pressed tin ceiling, built a large outdoor deck in the back, exposed brick walls and added large colorful paintings in the historic Victorian era commercial building.
Rick Cooper, a Three Oaks based beverage consultant with international credentials, oversees the selection of Middle Eastern, European and American wines and local and global brews including a black lager, X Inu from Brazil and Almaza, a Lebanese Pilsner as well as Closure Pale Ale from Greenbush in Sawyer and Robert the Bruce from Three Floyds in Munster. There's a great selection of wines by the glass at very good prices from the U.S. as well as such faraway places as South Africa, Uruguay, Galilee and Greece. Rick's wife Yuriko, who teaches Japanese cookery, worked with Moe on the menu.
For those who want to explore matching spirits with Middle Eastern meals, the last Thursday of the month there's VIP wine or beer themed small plates. It's free—just sign up on the restaurant's Facebook page. Every Thursday night in July and August, there's their Latin Beat--dancing with instructions (if needed).
Everything on the menu is house made, says Moe.
As for the name, I thought it might have to do with the food trends of root vegetables and adding layers with vinegar and other acidic foods. But the explanation was a lot simpler.
"I've always wanted to have a restaurant named with turnips," says Moe. "At almost every Middle Eastern restaurant, pickles and turnips are served on the side."
And indeed, along with all the other dishes, including Mom's Eggplant, pan fried eggplant topped with lemon and garlic, one of Moe's mother's specialties, is a small bowl of tasty light pink diced turnips and pale green sliced pickles.
The following recipes at courtesy of The Turnip & Pickle
Watermelon, cut into cubes
Halloumi cheese, cut into cubes
Alternately put one cube of watermelon and one of the cheese on small skewers. Mix the mint, salt and pepper together and roll the skewered watermelon and cheese in the spice mix. Place on platter, drizzle with olive oil.
Bacon Wrapped Stuffed Dates
4 slices beef or pork bacon
Cut a slit into one side of the dates. Mix feta and goat cheese together. Stuff each date with a small amount of the cheese, enough to fill them. Cut bacon strips in half. Wrap a half slice around each of the dates. Cook at 400 F for two to three minutes on each side or until bacon is done.
Drizzle pomegranate molasses over the dates.
Mix sumac, oregano and garlic together with olive oil to make a paste. Spread on lamb chops.
Cook at 400 F for two to three minutes on each side, depending on how you like lamb cooked.
1 to 2 green onions, finely chopped
I small fresh tomato, fine chopped
Lay the grape leaves flat on a work surface. Mix the remaining ingredients in a small bowl. Spoon a line of the mixture on a grape leaf and then roll up into a packet. Do that with the remaining grape leaves.
Place them in a pot, do not stack, and cover with water. Cover the top and let steam on low heat until the water is almost gone.
The Pickle & Turnip is open for lunch and dinner daily except on Monday when the restaurant is only open for dinner. 827 Franklin Street, Michigan City, Indiana. 219.871.1223 or theturnipandpickle.com